Student Development Staff & Faculty Newsletter | October 26, 2016

Telling the stories of students, staff, faculty and services in Student Development.
Care to share? Contact FSD Storyteller, Alicia Ashcroft, via email: aashcroft@tru.ca
With the increased presence of the drug fentanyl found in many street drugs, dabbling with cocaine, ecstasy, heroin, pharmaceuticals and even marijuana can turn a party into a tragedy. The risks are higher than ever; overdose deaths are terrifyingly commonplace. Think it can't happen to you? It can. This is a crisis—and the dangers are real.
Meaghan Hagerty from the Wellness Centre is working on a series of prevention, response and awareness initiatives so that everyone can better understand the dangers of fentanyl. Arm yourself and others with awareness.
Fentanyl—don't be caught dead.
New Learning Strategist Brad Harasymchuk discusses his work with at-risk youth in Saskatoon and post-earthquake volunteerism in New Zealand.
The YMCA Summer Work Student Exchange program, coordinated by TRU Co-op student Jaime Oetter, allows students to explore Eastern and Western Canada.
Student Employment Coordinator Susan Forseille recalls her recent travels, her research and receiving an international award in Oslo, Norway
Co-op student, Nick Saxby, is working as a marketing and communications associate with United Way, helping to change lives in the community.
Skylar Sitka-Sage, the newest member of our TRU Counselling team, practices a holistic approach to wellness.
The Writing Centre offers a letter-perfect place to perfect the written word.
The Wellness Centre has weekly offerings and a slew of upcoming special events.
Part silent art auction, part volunteer fair, part social outing—Kamloops Timeraiser makes volunteering a work of art.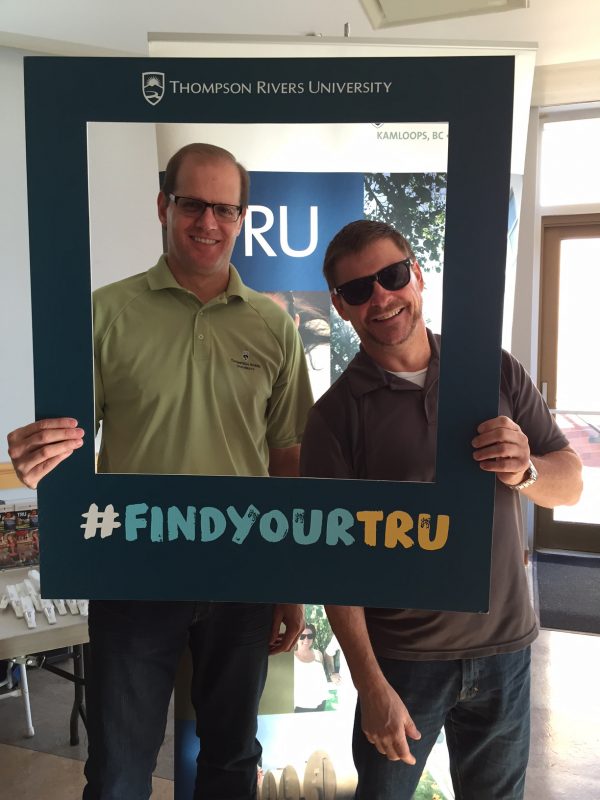 Feeling at home at Open House
The TRU Open House headquarters at the Campus Activity Centre was bustling on Saturday, October 22.
The resource fair ran throughout the morning with a variety of faculty and student service booths and displays introducing the wide variety of available options for support systems and educational programs.
Vince Watson, recruiter, said the day was a great success, offering a "hands on approach to the institution for inquiring minds."
Campus and residence tours, in addition to detailed information sessions were offered, "providing many opportunities to get a feel for the learning environment," Vince continued. "Exploring the university, connecting with faculty gives potential applicants a clear visual of services."
The afternoon offered a number of seminars such as University 101, Services for Aboriginal Students, Money Matters, Study Abroad and Career Education.
Vince concluded, "for students and their families, open houses are absolutely essential to the decision making process."

Old Main Health Services, OM 1461
Confidential, free and by drop-in or appointment.
12:30pm: Check-in and mat set up, TRU Gym
1:00pm: Yoga
2:00pm: Light snacks
Get in the spirit of Halloween with the dimming of the lights and use of glow sticks. All levels welcome. Cost and register $10 per TRU student and includes instruction, snacks and glow sticks. Register at TRU Gym before Oct. 27.
5:00pm - 7:00pm, CAC Mountain Room
Make connections with industry professionals and learn more about careers in computing science, technology, math, physics and engineering.
8:00pm - 8:00am, TRU Main Library
Join a campus community of writers and academic support services for the Long Night Against Procrastination.
10:30am - 11:00am
Take some moments to remember those who have fought for Canada and are still involved in military and peacekeeping operations.
12:00 - 12:50pm, TRUSU Blue Room
Spend two weeks in the Amazon region of Ecuador, working on a community project with a non-governmental organization.
9:00am - 2:30pm, CAC
Aboriginal high school students are getting a feel for university life through presentations, workshops, tours and other activities.
3:30pm - 4:30pm, HOL 204
Join in a group discussion on career issues related to international students.
12:40pm - 1:40pm, Old Main 2494
Suffering from writer's block? Too energetic for quiet mediation?
10:00am - 3:00pm, OL 127
A space to work on your quilting or sewing projects. Please bring your own supplies/machine.
10:00am - 2:00pm, Old Main Student Street
Stop by, say hello and take a quiet moment with a furry friend.
11:30am - 12:20pm, OM 2494
Meditation reduces stress, improves concentration, slows aging and much more.
TRU Experience
11:00am - 1:00pm, Old Main Student Street
As students, it's important to remember your health while juggling academics, work and personal commitments.
Finding a career you love can be challenging and TRU has some answers. During this information session, talk to staff, faculty and peers from Career Education and the orientation team about available opportunities in areas you enjoy. There will be free treats and a draw prize.
Volunteering and being a peer mentor are two great ways to build your skills, your resume and to help others.
Finals are just around the corner....are you prepared? Visit faculty, staff and peers from the Writing Centre, library and Supplemental Learning to learn tips and tricks to help you succeed at your finals. There will also be a prize draw and free treats.