Saaransh Bhardwaj embarked on his master's studies at TRU with an undergraduate degree in geography and a plan to pursue a career in sustainability. By working hard, taking opportunities and being open to some academic shifting, he is in a job he loves.
Bhardwaj thought the Master in Environmental Economics and Management (MEEM) program at TRU would allow him to combine his geography background with his interest in economics. He enrolled with the intention of taking advantage of any extra-curricular programs and opportunities he could to gain exposure and experience.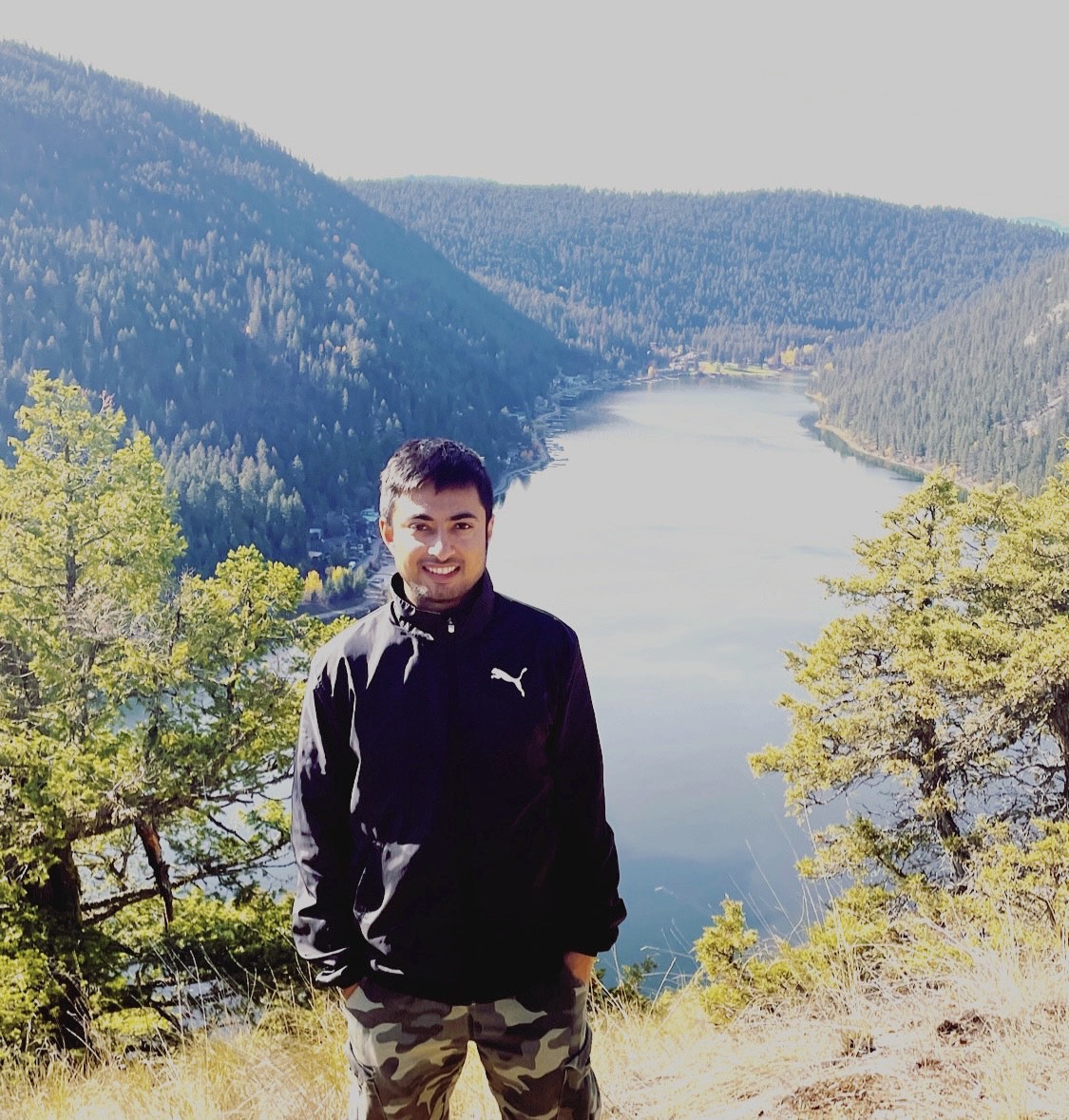 That included serving as co-president of the TRU Eco Club and working as a graduate research mentor and graduate teaching assistant. Halfway through the MEEM program, he saw a notice calling for applications for the Telus Community Carbon Accounting Program, which connects students with local businesses to catalogue an organization's carbon emissions and develop a report of recommendations to lower its carbon footprint.
"I wanted to seek out as many opportunities as I could throughout my program and saw that the carbon accounting program offers hands-on experience in very practical work," Bhardwaj says. "So I applied and became a Telus Sustainability Research Fellow. I worked with a local dry-cleaning business to create an inventory of its emissions and suggest abatement strategies to lower emissions."
He enjoyed the work so much, he delayed his graduation by a year and changed from the MEEM program, which is course-based, to the Master of Science in Environmental Economics and Management (MScEEM), which includes a research project or thesis.
Making his mark
He used that year to continue pursuing extracurricular and volunteer opportunities, and has now received multiple recognitions for his efforts: he was named one of Canada's Top 25 Environmentalists Under 25 in Canada by Starfish Canada, received the 2022-2023 TRU Environmental Sustainability Achievement Award and co-authored a book, A Study of the Value of Kamloops Parks, with his professor Dr. Peter Tsigaris and fellow classmates about the valuation of the ecosystem services provided by different parks in Kamloops.
But most importantly, his project helped him refine his vision for his career, and last summer, he received a job working in the City of Kamloops' Development, Engineering and Sustainability Department as an energy and emissions analyst.
"So what I did in my carbon accounting project on a small scale, I'm doing now for the city by strategically implementing energy conservation measures," Bhardwaj says. "I am grateful to have been provided ample opportunities by TRU that played an instrumental role in shaping my future."
Dr. Laura Lamb, who teaches economics in the MEEM and MScEEM programs, says hands-on learning such as the Telus Carbon Accounting Program gives students the chance to develop a deeper understanding of how organizations work — in a field seeing an increasing demand for experienced professionals.
"Practical experience bridges the gap between academic knowledge and practical skills," Lamb says. "The project paper in the Telus Carbon Accounting Program, for instance, is an example of a consulting report, something that some students will go on to do in their future careers."
There's a growing need for these skills, she says, pointing to federal and provincial government regulations that require high-emitting industries to report their greenhouse gas emissions; currently, the federal government requires approximately 1,700 facilities to report their greenhouse gas emissions to Environment and Climate Change Canada.
Bhardwaj, whose skills in the program translated directly to his new role with the city, has the satisfaction of finding the career direction he was looking for when he set out on his degree.
"I really get to sink my teeth into this and support the city to lower its carbon emissions and meet its greenhouse gas reduction targets," he says, "and I've found what I really love to do."