While polar bears tend to avoid humans and stick to cold climates, advocating for them has taken TRU alum Alysa McCall (BSc Hons '10) from the busy streets of New York City to the steamy tropics of Australia.
Last February, McCall travelled to New York to film a TED Talk in which she offered practical solutions for protecting polar bears and the humans they encounter.
"After working and living off and on with polar bears for over 12 years, I know coexisting with (polar bears) can be a challenge, and it will only get more challenging as climate change forces our species to increasingly overlap in the coming decades. With my organization, Polar Bears International (PBI), I'm focused on conserving wild polar bears while respecting and assisting those who share their coastlines with this carnivore," she says in her TED Talk, What to do when there's a polar bear in your backyard.
Following the TED Talk, which was facilitated through Destination Canada, McCall was invited to join a contingent of tourism specialists as a guest speaker on a trip to Australia. From a scientific perspective, she spoke about the importance of tourism in Churchill, Man., and explained how seeing polar bears in the wild may help with conservation efforts.
"Sustainable tourism is a growing theme for a lot of really good, obvious reasons, so there were quite a few discussions about how people can come see wildlife ethically," she says, adding she understands some people are reluctant to travel long distances because of the associated energy consumption. The benefits, though, make it worth the cost.
"We believe strongly that people are much more likely to act on behalf of an animal if they feel like they have a personal connection with that animal. And one of the best ways to build that is through personal experiences. So, we don't want to dissuade people from coming to see the bears, even if they have a carbon footprint attached to that."
One way McCall and her team at PBI are helping polar bears is by working with the people who live alongside these magnificent carnivores. Together with Churchill community leaders, they created a series of light-hearted and fun, but also informative, safety videos intended for tourists and locals. After all, human-polar bear interactions are not going away, but there are ways to minimize risk, including by reducing attractants such as garbage and using GPS tracking to monitor bears.
McCall has been working with PBI for nearly 14 years. She began volunteering with the non-profit while doing her Master of Science at the University of Alberta and was officially hired in 2014. She is now the director of conservation outreach and staff scientist.
"I get to straddle our educational outreach programming and do public speaking, but I also work on our science team to support research efforts around the Arctic," she says, adding she'll never forget seeing her first polar bear and loves offering that same opportunity to others.
From TRU to the tundra
McCall spends most of her days at her home base in Whitehorse, Yukon, but every fall she and other scientists meet in Churchill to observe the fall migration of the area's polar bears. She's come a long way from her childhood in Barnhartvale, a rural neighourhood of Kamloops. As a child, she still remembers learning that wildlife biologist was a real job and says it planted a seed within her. Following high school, she enrolled at TRU to pursue a Bachelor of Science, not knowing quite where it would take her. The seed, though, had been planted years before.
"I love school and I like a lot of different things, but I think in the core of my heart, what really drove me and made me happy was animals," she says, adding she is grateful to have started her post-secondary journey at TRU.
"I truly don't think I could have picked a better school for wildlife ecology. We had Tom Dickinson, Nancy Flood, Karl Larsen, Lyn Baldwin — all these incredible ecologists and the size of TRU is so perfect. You get a high-class education but it's also small enough that you can get in the field all the time. I'm grateful I stayed in Kamloops for my undergrad."
McCall also credits her involvement with TRU's co-op program with helping her make valuable connections, receive mentorship and discover her strengths. She earned several academic awards while at TRU and received the Medal in Science upon graduation.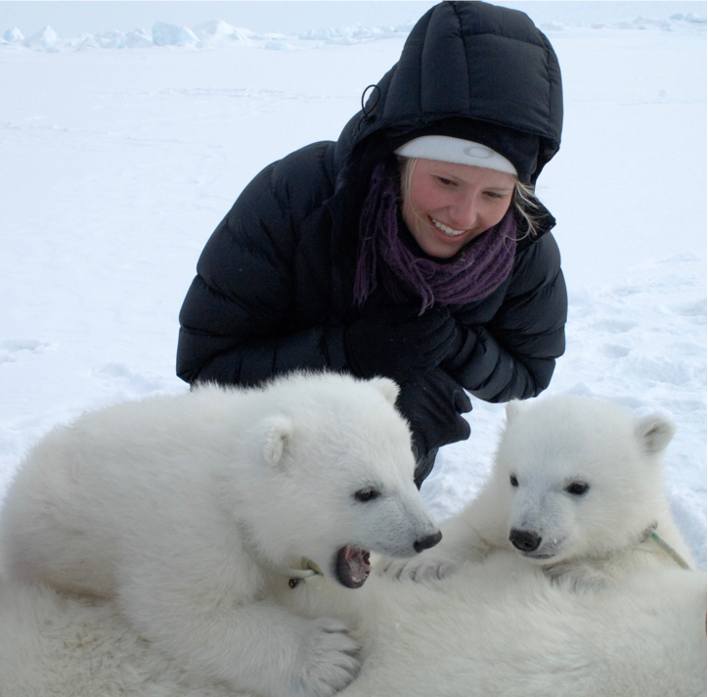 One of her mentors, Karl Larsen, introduced McCall to Dr. Andrew Derocher, one of the world's leading polar bear researchers who is based at the University of Alberta. He became her thesis supervisor and mentored McCall as her study of polar bear movement led her to various frigid locations. She received her Master of Science Ecology in 2013, and while she's lived in several places since graduating, Churchill has become like a second home.
In a few weeks, McCall will be back in Churchill alongside teammates and members of the community to watch the polar bear migration and help people from around the world appreciate and understand the bears. While it's too soon to say how well the bears have fared this summer, she admits the ice broke up earlier than usual this year, trapping the bears on land close to communities. As a result, there have already been a high number of human-bear interactions, but hopefully through education and conservation efforts, the danger to both humans and bears will be minimal.
McCall, alongside the PBI team and polar bears protectors from around the globe, will continue to work together to ensure polar bears remain a part of the Arctic for generations to come.
"There are not unlimited polar bear jobs in the world, and I feel so fortunate I've been able to stay in this field and use my strengths to support conservation," she says. "There's hard things about it, but every day I appreciate my colleagues and the work we're doing."