Research is key to determining how cannabidiol affects children with neurodiversity. What happens when stigma gets in the way? 
When a child is diagnosed with a neurodiverse brain disorder, such as autism spectrum disorder or ADHD, their treatment plan may include medication, therapy and support plans.  
What it often does not include is a discussion about cannabidiol (CBD) oil. Anecdotal findings suggest CBD oil may be an effective treatment option for children with neurodiverse disabilities. And research into how cannabis may benefit people experiencing a range of ailments, from anxiety and seizures to chronic pain is increasing. But peer-reviewed research — the type that would help policymakers write guidelines and pediatricians prescribe appropriate dosages — is not.
Guylene Shaw was interested in CBD oil for pediatric uses before she enrolled in the Master of Business Administration program at Thompson Rivers University's (TRU) Bob Gaglardi School of Business and Economics in 2020. As a parent to a neurodiverse child, she is very aware of how desperately parents want to help their children and the barriers they can face in accessing treatment.  
"Medical cannabis has been legalized since 2001, and yet access is still an issue," says Shaw. "When I spoke with parents, they described trying to talk about it with physicians who would stop them; they wouldn't even want to discuss it."  
When Shaw proposed researching cannabidiol, she was directed to Dr. Florriann Fehr in the TRU School of Nursing, who has a background in pediatric nursing and was conducting research on caregiver experiences with medical cannabis, and to Dr. Peter Tsigaris, from TRU Gaglardi, who has conducted research in policy and public health. The three brought a diverse set of aims and backgrounds to the project, with the goal of designing a research study that would be useful to other researchers, medical professionals and parents and caregivers navigating the health-care system.  
"One thing that really puzzled us was the fact that parents see the benefits, professionals see benefits, but there is no research or clinical trials to see scientifically whether this is better than pharmaceutical treatments," says Tsigaris. "We know that the families are using it, and they must have seen a positive change in the behaviour of their children; but why is there a lack of the medical field taking on more medical studies?" 
Cannabidiol is found in cannabis but is administered in drops. It doesn't contain THC, the ingredient that produces a high. Fehr attributes much of the lack of research over the past 20 years to a combination of racialized and stigmatized attitudes toward marijuana that has led researchers and medical professionals to avoid the topic.
"Add in the fact that we are talking about children and people are concerned about brain development, and that adds an extra level of complexity," says Fehr. "Now we're in a place where physicians don't have double-blind studies. Health Canada still has mixed messages and doesn't provide dosage information, and nurses are often left to help advocate for parents who are trying to figure this out on their own." 
In May 2023, the three co-authored and published the result of their collaboration: Barriers for access to cannabidiol as a treatment option for children with neurodiverse disabilities: A qualitative key informants method, in the journal of Ethics, Medicine and Public Health.  
Shaw interviewed parents, doctors, pediatricians and nurses. She found that the stigma is more than fear of embarrassment: families were concerned that asking or requesting medicinal cannabis might put them at risk of losing their children, and professionals their medical licences.  
In the conclusion of the paper, the writers acknowledge that complete studies of the effects of cannabis on children with neurological disabilities are years away. But for Shaw, who is now working in public policy with the provincial government, the ability to contribute to the discussion was an invaluable opportunity. 
"As a parent myself, I know your children are everything," Shaw says. "When something is going on with them, you will do anything to help. I hope this project will help a little bit in someone's journey as this research continues."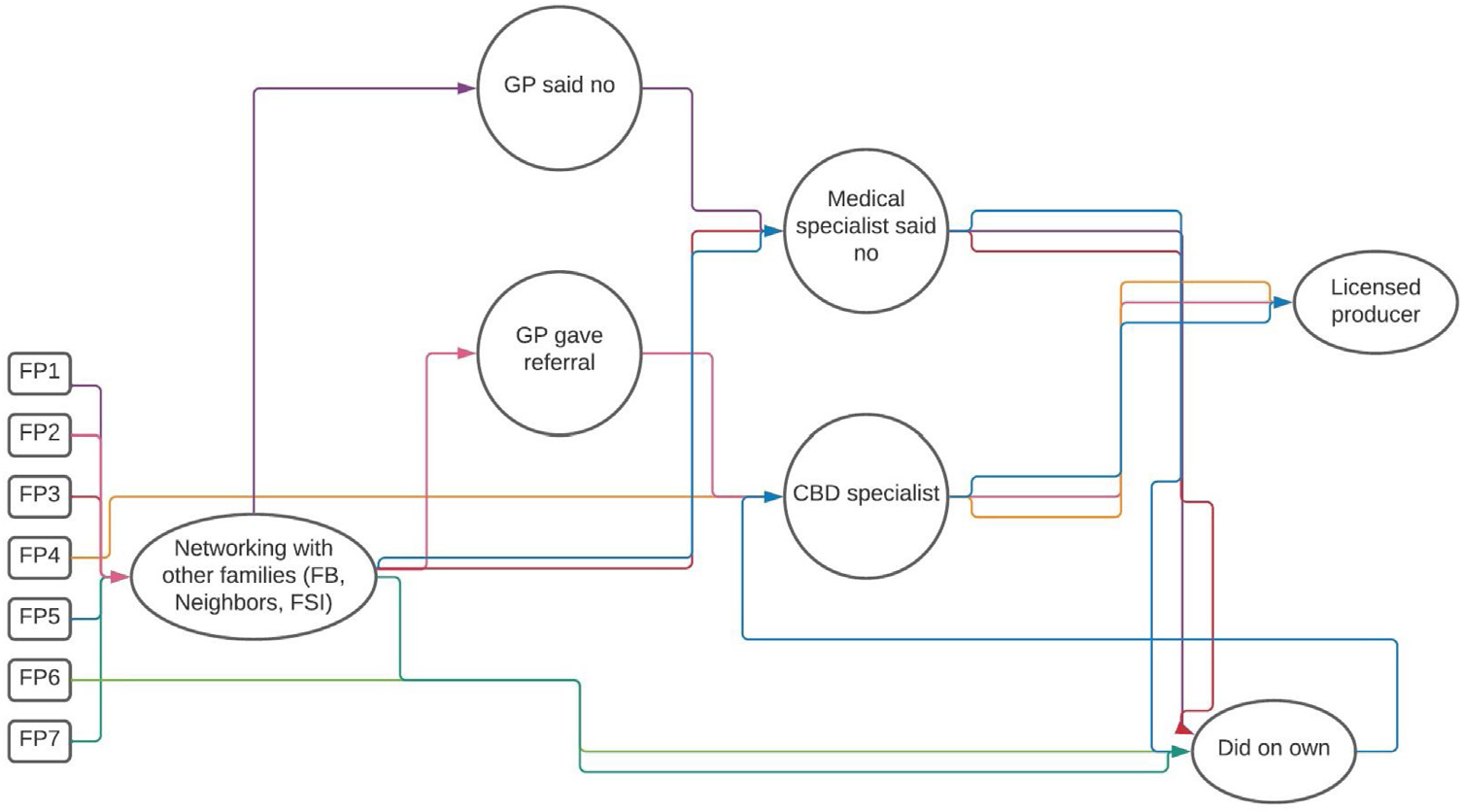 Above: Guylene Shaw, MBA alum, created a graphic to demonstrate the process caregivers navigate to access CBD treatment.