Dr. Cindy James believes in guiding, supporting and leading by example. Known for her collaborative nature, she thrives on rolling up her sleeves and working alongside her colleagues.
And for that, and much more, she's being recognized with the Thompson Rivers University (TRU) 2023 Chair Leadership Award.
Journey forward
Born and raised in Alberta, James moved to BC as a high school student and attended what was then Cariboo College. After receiving her Bachelor of Education at the University of Victoria, she travelled the country, teaching mathematics in high schools and post-secondary institutions in BC, Alberta and Ontario.
In 1996, James returned to Cariboo College, then known as University College of the Cariboo, where she taught math. She eventually accepted a position as co-ordinator of the Assessment Centre. Since then, she has assumed a variety of leadership roles in the assessment field and six years ago she assumed the department chair position in TRU's Counselling, Academic Supports and Assessment department in the Faculty of Student Development.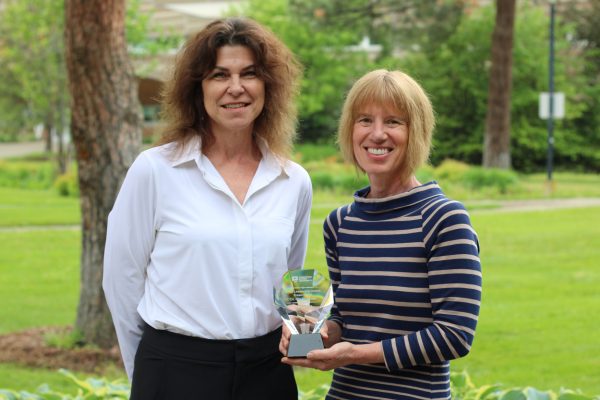 Although being chair was challenging, especially during the pandemic, James says it was worthwhile.
"The learning curve was steep, but it's been interesting to learn more about what everyone in the department does and just how well they do it," she says. "They're true professionals."
As an award recipient, James has a chance to advance her leadership skills even more with up to $2,000 provided by the provost's office to attend a workshop or conference.
Next steps
Although James looks forward to returning to her role in the Assessment Centre in June, she says the move is bittersweet.
"I'm going to miss the faculty and staff I worked with every day," she says.
"Working alongside them was by far the greatest benefit. They were so competent and that made my job a lot easier. They're amazing, and I can't believe they nominated me for this award. I can't thank them enough, for everything."
And, after six years in her role as chair, James invites others to consider doing the same.
"I would really recommend other people take on the role because it gives you an insider look and hopefully helps you learn more about the institution. You also get to know more people and understand what they do, which is really beneficial."