TRU's Update on Information Technology
ISSUE 26 February 2018
Welcome to the 26th edition of the ITS Update Newsletter. I hope you enjoy this new format.
Another busy year is ahead of us. We have developed our Strategic Plan for 2018 and continue to evolve our digital strategy to support our growing university.
With over 50 projects underway, our major focus this year is to support the TRU student experience by developing new solutions for Open Learning student registrations and providing innovative technology solutions for new TRU programs and learning spaces. We are also working to implement a solution for enhancing student engagement from prospect to alumni (CRM), new student cloud solutions (Office 365), and new functionality for the TRU Go mobile app.
To maintain a resilient infrastructure in the face of growing cyber threats, we continue to expand our information security capability. We also need to wrap up the Banner 9 migration project by upgrading to Banner 9 Finance.
I want to personally thank the team for all their work on the switch over to the new student and employee portals. This was a game-changer project that should make access to our digital services so much easier. We are also celebrating the recent completion of the Campus Wireless Upgrade project.
~ Brian
TRU's 4th Annual Privacy & Security Conference
On Wednesday, January 31st, TRU hosted over 200 attendees from a wide variety of public and private sector organizations and more than a dozen vendors at the fourth annual Privacy and Security Conference in the Grand Hall, Campus Activity Centre. The conference opened with a welcome message from Alan Shaver, TRU President and Vice-Chancellor, and included a wide range of presentations aimed at engaging the regional community in thinking about the importance of privacy and security in a digital organization.
In the opening presentation, BC's Information and Privacy Commissioner, Drew McArthur, challenged people to consider why personal information is treated with less care than money. If we experience a financial error it can generally be easily corrected, yet breaches of personal information can have repercussions that extend over years and can be incredibly costly to resolve. Ron Borsholm, cyber security expert with MNP, expanded on this idea with his afternoon presentation on "Identity Theft - Should You Worry?"
Former Kamloops kid (and more notably, founder of HYAS), Chris Davis, the BCLC Innovations and Technology Speakers Series Keynote, spoke about his involvement in some of the world's biggest cyber-crime take-downs. His presentation "Disrupting Cybercrime - Stories from the Trenches of the Cyber Security Battlefield" highlighted some of his work with the FBI as well as the development and eventual sale of several of his previous security companies.
We were proud to have three presenters from our TRU community at the conference. Dr. Musfiq Rahman from the Faculty of Science discussed mobile device vulnerabilities and mitigation strategies. Craig E. Jones, QC, from the Faculty of Law, shared some recent cases he's been involved with that are evolving our understanding of legal accountability in regards to social media. Rounding out presentations by our local experts was Privacy and Access Officer, Laurel Wale, who took us on a tour through some of 2017's most newsworthy privacy moments.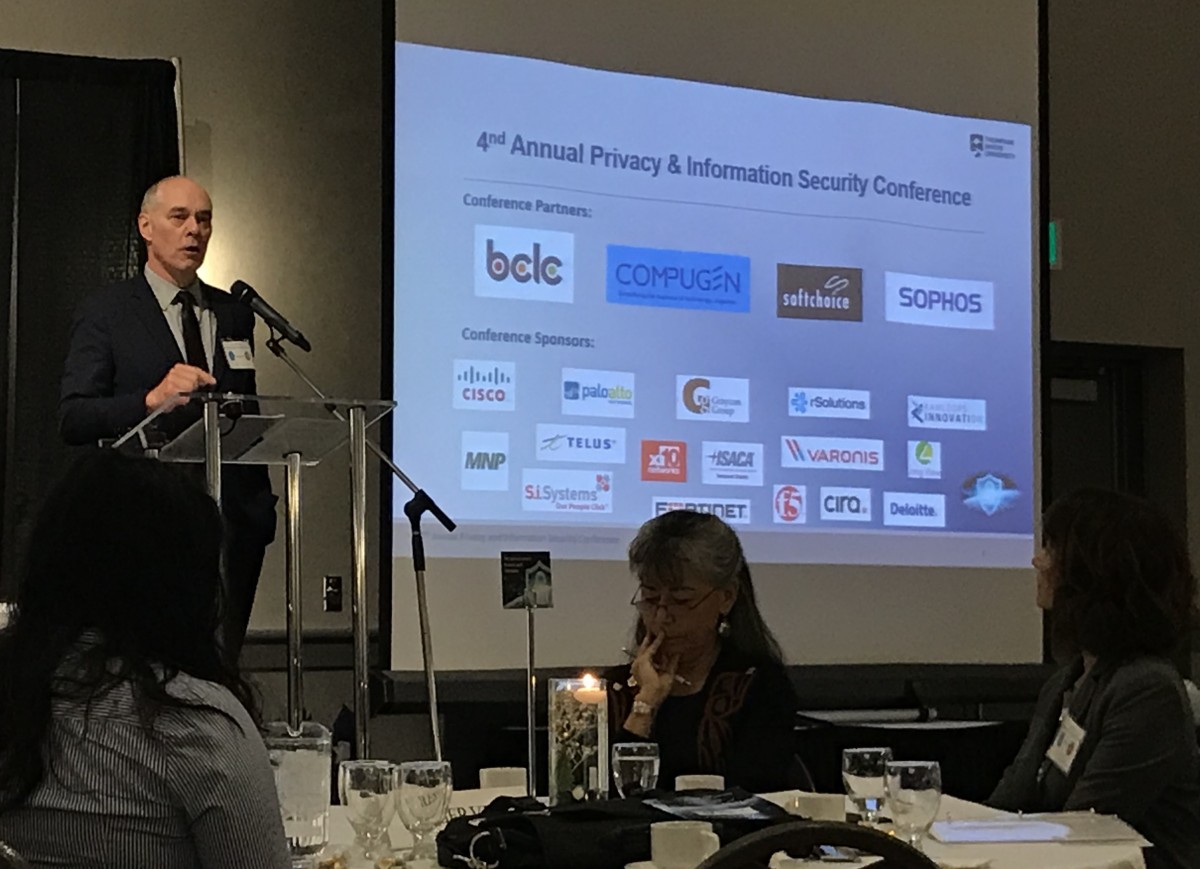 Reflections from TRU's Information Security Analyst
The past year was interesting and challenging with predictions of increased phishing and hacking activity from the "BadGuys" coming true. However, most of that malicious activity was wasted as the Information Security Awareness program has many champions among TRU users. A HUGE thank you to those who report questionable email to infosecurity@tru.ca.
In the 8,000 plus emails submitted last year we saw, reported and blocked thousands of malicious links and identified 196 new viruses. These "ZeroDay" viruses are unknown to the world until we bring them to light. After reporting these to our anti-virus vendor, they update their virus definitions within a few hours. These are then pushed to users worldwide so they are also protected.
What you report to Information Security saves others from being compromised. Among last year's big issues was ransomware: malicious code that encrypts systems and demands bitcoin payment to regain access to your information. This year, it looks like ransomware has moved to cloud email. Using social engineering, also known as phishing, malicious software is distributed that can impact many levels of your data, including in some cases backups.
So remember to look before you click and keep your passwords close to your chest. When in doubt, send the email to infosecurity@tru.ca and we will check its validity, block and report any maliciousness, and reply back to you. Please also remember that IT Services will never send you an email with a link asking you to log in.
Again this year predictions are for increased malicious activity and new threats, but with your assistance, Infosecurity is here to help.
Celebrating the Completion of the Wireless Project
Starting in April, 2016, IT Services began the process of selecting a replacement wireless system. After an extensive search process, Aruba Wireless was selected and in February, 2017, we began the installation of the back-end infrastructure. Wireless access point installation began in April of that year and we are thrilled to announce that as of December, 2017, the project is complete.
The new system improves connectivity for all on-campus wireless users. Highlights on the Kamloops campus include extended wireless coverage, which now includes the campus commons, basketball courts and bus stops.
In Kamloops:
• 375 wireless access points were replaced
• 600 additional wireless access points were installed
Beyond:
• 30 wireless access points were replaced in Williams Lake
• access extended to Lillooet
• access extended to Clearwater
New myTRU and TRUemployee Live!
Portal Migration: A Success Story
Finding ourselves in a situation of having a relatively outdated organizational portal, known as Luminis 4, we started exploring our options. Ellucian, naturally, has a new product on the market known as Ellucian Portal, which is SharePoint-based software. Looking into it a little deeper, we quickly realized that the work required to implement and sustain Ellucian Portal would be quite extensive as it involved the set up and configurations of several server instances and would require the work of at least one full-time employee to maintain on an ongoing basis. We needed to come up with an alternate solution and it occurred to us that a student and/or employee portal is really just a collection of links. There had to be a better, easier way!
Vera Merkusheva, IT Software Analyst, set her mind to finding a good way forward for TRU and started investigating all options. She realized that we already had the necessary pieces in place and that we really just needed to connect and configure them. We already had a SharePoint installation and we already had secure sign-in via our Ethos Identity single sign on (SSO) system. We just needed to make those pieces work together.
This work culminated in the creation of two new TRU portals: myTRU for students and TRUemployee for faculty and staff. These new portals are major redesigns from the old Luminis look and feel. Based on extensive stakeholder engagement and feedback, the new portals are now mobile-responsive, intuitive, and much more user-friendly. These new portals, while no longer having content channels, allowed for an increased level of control and design. Additionally, this solution resulted in significant financial savings for TRU by avoiding the licensing fees associated with an off-the-shelf product.
Knowing that it's best to ease into changes like these, and considering that something newly created generally needs some tweaking, we made a plan to have both the existing Luminis Portal, and the new student and employee portals live in tandem for a number of months, allowing people to get used to them and ensuring that we had enough time to make everyone aware of the the pending switch-over.
On January 24th, 2018, we made the final switch. Students now exclusively use myTRU.tru.ca and employees go to TRUemployee.tru.ca. These portals will now be an anchor that students, faculty and staff can rely on as we continue, and ramp up, our transition from Banner 8 to Banner 9 in the coming months.
We wish to congratulate Vera and everyone else who helped make this project a great success!
Thanks to this new portal and its utilization of SSO, fewer password resets are now required. This has contributed to an overall decline in password reset requests, from 40% of all IT Service Desk tickets down to 38%.
Over the last few years we have been working to establish a world-class Project Management Office (PMO) at TRU. As of January, 2018, our PMO staff now consists of Andrea Hall, Manager, PMO and three IT business analysts, Andrea Rhodes, Janelle Zimmer and Grigory Loginov, with a current posting for a fourth business analyst.
The PMO champions consistent project management practices and is based on recognized international project management standards, such as A Guide to the Project Management Body of Knowledge (PMBOK Guide ® - Fifth edition) from the Project Management Institutes (PMI).
PMO Objectives
• Promote the use of Project Management best practices across TRU
• Enable the growth and utilization of Project Management methodology at TRU
• Utilize customized and effective tools that encourage & enable successful project outcomes
• Provide services and support for all stages of the project life cycle
• Provide timely and transparent reporting of all ITS projects through project portfolio management
• Support value added project selection through the IT Governance process
Project Management Templates and Tools
The PMO has created project management templates and can provide access and training to the TRU Project Management Information System.
Additional Information, contact details and access are available on our PMO Intranet Site.
It is now easier than ever for TRU employees to set up wireless access for guests on campus. Simply go to wifiportal and log in with your network credentials.
By entering just a few key pieces of information on your guest, such as their name and email address, you can provide them with almost instant access to TRU's extensive wireless network. Or, if you are planning ahead, you can request access for a date in the future.
Easy peasy!
Eric Youd
IT Services is pleased to announce that Eric Youd has been seconded into the role of Interim Associate Director of Enterprise Systems effective Jan. 22. Eric brings with him eight years of experience supporting and leading many of TRU's systems and projects. These include the current Degree Works Project and Enrolment Services' work toward all program applications now going through EducationPlannerBC. Eric is also a graduate of TRU and holds a BBA, BT/ACS, and MBA all earned here at home.
We welcome Eric to the IT team and look forward to working more closely with him in this new capacity. Contact Eric at eyoud@tru.ca, at local 6435 or his cell, (250) 318-5573.
Ruth Hughes
Congratulations to Ruth Hughes on her recent retirement after 24 amazing years at TRU. Many of the web systems we take for granted today were created by Ruth.
Ruth plans to take advantage of all her extra time and travel with her daughter Emma. We will miss her quiet competence, work ethic and cheerful disposition.

We still have many positions open for faculty to represent their schools on both the Academic Computing Technology Advisory and Research Computing Technology Advisory committees.
What does this mean to you and your faculty?
• provides you with a chance to bring forward IT related projects on behalf of your faculty
• gives you an opportunities to improve IT for your schools
• ensures you have a direct channel to voice concerns or bring forward any issues or IT related improvements for your schools
• ensures that you will be kept in the loop for for new things up and coming in IT
If you are interested in learning more about IT Governance or would like to sit on one of the Technology Advisory Committees, please get in touch.
Blue Jeans Video Conferencing
The overall usage of TRU's Blue Jeans video conferencing has tripled from 2016 to 2018. The increase in use reflects a lower carbon footprint as people are opting to attend meetings virtually, cutting down the time and money spent on travel. To learn more about the service and how to set up a call, click on the Blue Jeans icon.
If you require more information, please contact Allen Boyda or Gurjit Lalli.
To set up a Blue Jeans account for your department, please email TRUBJN@tru.ca.
Please take a moment to follow us on Facebook and Twitter. We regularly have announcements about new features, improved functionality, events and outages. It is important that TRU employees and students are aware of what we've got going on and a quick "like" helps us send the message your way.
ITS Update is the quarterly newsletter of the Information Technology Services Division. We showcase our current projects and successful initiatives, learning opportunities and employee news. Catch up on past issues on our website. Questions about IT Services and the work we're doing? Contact us.