January 2018

Dear Colleagues,
I am pleased to share with you the January President's Report. I hope you enjoy these highlights of TRU community news, publications, accomplishments and upcoming campus events.
If you would like to share a publication, presentation, external award or other recognition from within the past six months, please send the details to president@tru.ca. The deadline for submissions for the February President's Report is Feb. 8. Keep the good news coming!
Sincerely,
Alan Shaver, President and Vice-Chancellor
On Dec. 15, the University of Northern BC (UNBC), the University of British Columbia Okanagan (UBCO) and TRU signed a memorandum of understanding to create a tri-university partnership. The Interior University Research Coalition (IURC) will facilitate mobility and academic opportunities for students and faculty, enhance research partnerships and enable greater overall co-ordination among the institutions.
Affectionately called the Three Amigos, pictured above (left to right) are Philip Barker, Associate Vice-President Research at UBCO; Will Garrett-Petts, Associate Vice-President of Research and Graduate Studies at TRU; and Geoff Payne, Interim Vice-President Research and Graduate Programs at UNBC. Read more
The BC Interior's first high-throughput applied genomics laboratory is now open at TRU thanks to nearly $750,000 in federal and provincial funding. Shown at right, TRUGen launched on Dec. 11 with President Alan Shaver, microbiology faculty member Jonathan Van Hamme and Minister of Jobs, Trade and Technology Bruce Ralston in attendance.
"We have a lot of really great equipment and we let our undergraduates get their hands on it, which is really unique in terms of training opportunities," said Van Hamme, who will direct the TRUGen lab. Read more
On Nov. 30,TRU signed a memorandum of understanding with Maharaja Ranjit Singh Punjab Technical University (MRSPU) in Chandigarh, India, to allow MRSPU's students to transfer into TRU's Bachelor of Computing Science or Bachelor of Technology programs after second year. Students who complete their degree in two years are eligible for a three-year Canadian work permit. Read more
"People of African descent have not had the opportunity to participate in processes of decision-making and agenda-setting related to their well-being," said sociology faculty member Alejandro Campos Garcia. He will travel to Cuba to coordinate community research training programs focused on people of African descent. Read more
In law faculty member Katie Sykes' new course Designing Legal Expert Systems, TRU Law students presented apps developed last semester that enhance access to justice in innovative ways. "The idea is to automate the application of legal knowledge," explained Sykes. Read more
Undergraduate students shared their research through presentations and posters at TRU's 11th annual student-run Philosophy, History and Politics (PHP) Conference, Jan. 18 to 20. Read more
Master of Science in Environmental Science students Jordann Foster and Jared Maida were awarded $7,500 Environmental Science and Natural Resource Science Fellowships. "...It's extremely rewarding to be able to pursue this research, and the funds will go a very long way," said Foster, who is researching the impact of invasive spotted knapweed on the grasslands. Read more
Faculty and staff joined in a live-streamed discussion of the budget on Jan. 9, facilitated by Christine Bovis-Cnossen (Provost and Vice-President Academic) and Matt Milovick (Vice-President Administration & Finance). Read more
President's Annual Holiday Reception
Over 300 faculty and staff members attended the annual holiday social on Dec. 14 in the Grand Hall in the Campus Activity Centre (CAC) to celebrate the festive season with their colleagues.
Lunch with the President
A full table of faculty and staff from across campus engaged in conversation and networking at a Lunch with the President for Faculty and Staff on Dec. 6.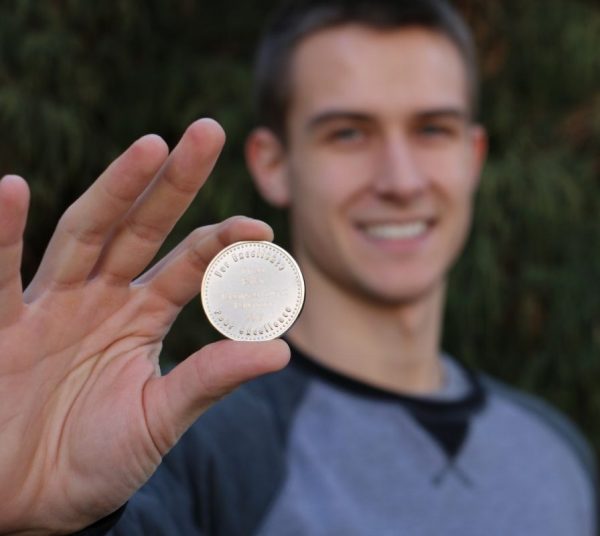 Tyson Bodor (shown at right) and Mathias Imeson received the 2017 Canadian Society for Chemistry Silver Medals for chemistry and environmental chemistry, respectively, as TRU's top two students entering their final year of chemistry or related programs. Read more
George Johnson, English and Modern Languages, was a finalist for the John W. Bilsland Literary Award in Edmonton for his creative non-fiction work Dick Sheppard: Conscience of His Age. His short play Rest Assured is one of four finalists that will compete at New Vintage Theatre's annual Black Cat Cabaret & Ten Minute Play Festival Feb. 10 to 11 in Kelowna, with the audience voting on the winner.
Stacey Jyrkkänen, Safety and Emergency Management, received the SwimBC Volunteer of the Year Award for 2017 for her leadership, mentoring and officiating at local and provincial levels over the past 11 years.
Bradford Morse, Law, was elected to the Board of Directors of the Canadian Institute for the Administration of Justice for a two-year term. He was also elected to the Board of Directors of the Centre for Seniors Information in Kamloops.
Anita Sharma, Research and Graduate Studies, has successfully completed a two-year Certificate in Research Management through the Canadian Association of Research Administrators (CARA) in collaboration with the UK's Association of Research Managers and Administrators (ARMA). The certificate is a professional qualification designed to provide strategic and operational management knowledge, skills and experience.
Thompson Rivers University received Certificates of Appreciation from the the Bonaparte Indian Band and the Thompson-Nicola Regional District (TNRD) for TRU's support during the 2017 wildfires. The accompanying letter from TNRD Board Chair John Ranta states that TRU's assistance was "an example of compassion, community support and cooperation in times of need." BC Minister of Advanced Education, Skills and Training Melanie Mark sent a letter recognizing TRU's contributions, concluding, "please accept my thanks for all the efforts at TRU during this summer's time of need, and kindly extend my gratitude to all those involved."
Note: These citations follow MLA Handbook (8th edition) format. We respectfully ask that you please format citations for your work in MLA prior to submitting them for inclusion in the President's Report. Thank you!
PRESENTATIONS
Avninder Gill, Management, Information & Supply Chain
Gill, Avninder. "Project Costing and Budgeting: Fuzzy Expert Approach to Project Accounting." 8th Global Business and Finance Research Conference, World Business Institute (Australia), 26-29 Oct. 2017, Taipei, Taiwan. Best Paper Award, Accounting Division.
Bradford Morse, Law
Morse, Bradford W. "How Settler Constitutions Can Seek to Affect/Regulate Indigenous Identity: Canada after 150 and Australia after 116 Years." Association for Canadian Studies in Australia and New Zealand (ACSANZ) Conference, University of Wollongong, 13-14 July 2017, Wollogong, Australia.
CHAPTERS
Bradford Morse, Law
Morse, Bradford W. "Aboriginal Rights Today: Have Recent Efforts to Enliven Aboriginal and Treaty Rights Given a Reason to Celebrate?" Canada's Constitutional Democracy: The 150th Anniversary Celebration, edited by Errol Mendes, LexisNexis Canada, 2017, pp. 167-191.
Morse, Bradford W. "The Rule of Law and Canada's 150th Birthday: A Cause for Celebration for Many Canadians but a Reminder of Terrible Wrongs for Indigenous Peoples." Canada and the Rule of Law: 150 Years After Confederation, edited by Janine Lespérance et. al., International Commission of Jurists, 2017, pp. 27-33.
Jan. 25
Dan Slavic, socio-economic advisor at Alberta Energy Regulator (AER), presents Arctic Conservation in the 21st Century: Perspectives from the Tundra. Read more
Jan. 25
English faculty member George Johnson presents Peace Pledge: The Challenges of Scripting History for the Big Screen. Read more
Jan. 26
Matt Rader, creative writing faculty member at the University of British Columbia Okanagan (UBCO), presents What We Talk About When We Talk About Equity: Art, Access and Visual Inspection. Read more
Jan. 31
Designed for people who are working or interested in the fields of information security, privacy, risk and audit, this regional conference runs in association with the 2018 BC Aware Campaign. Read more
Feb. 1
Dr. Jennifer Foote of Algoma University presents In the Still of the Night: Nocturnal Singing by Two Diurnal Passerines. Read more
Feb. 1
This comedy-documentary follows a group of Muslim-American comedians on tour through big cities and small towns as they use comedy to explore the issue of Islamophobia. Read more
Feb. 7
This year's lecturer is Terry O'Reilly, host of the popular CBC Radio series Under the Influence and The Age of Persuasion. Seating is limited, so get your free ticket in advance. Presented by TRUSU. Read more
Feb. 8
Christian Stenner, the Alberta provincial coordinator for Alberta/BC Cave Rescue Service (ABCCRS), presents Discoveries Under the Mountains: Exploration of Remote Caves and Avenues for Research. Read more
Feb. 8
Visual arts faculty member Don Lawrence presents on a topic to be announced. Read more
Feb. 12
Most of campus will be closed to observe Family Day, an official BC holiday. Read more
Feb. 15
Jessica Currie of World Wildlife Fund Canada presents Living Planet Report Canada, research using the Living Planet Index (LPI) methodology that shows wildlife populations in Canada are in serious decline. Read more
Feb. 15
Learn more about opportunities in trades and technology, and get answers directly from people in the know at this monthly event. Bring your friends and questions to the Trades and Technology building lobby at 7 p.m. Read more
Feb. 19–21
This symposium brings together leading researchers in the field of undergraduate research with the aim of creating inclusive access. Read more
Mar. 1
Sociology faculty member Alejandro Campos-Garcia presents a topic to be announced. Read more
Mar. 1
Hear four-minute presentations about the research that TRU Master of Science in Environmental Science students are conducting. Read more
Mar. 1–3, 8–10
The year is 2018—stranded on a mystical island, a young woman protects herself by dressing as a man. Immerse yourself in great wit, bawdy humour and some of the best of Shakespeare's language. Directed by theatre faculty member Heidi Verwey. Read more
Mar. 2
This fair is an opportunity for current TRU Law students to network and learn more about a variety of law firms and the legal profession. Read more
Mar. 5–8
First-year TRU Law students in LAWF 3060 Fundamental Legal Skills present their moot courts. Read more
Mar. 6–9
IDays 2018 will use food to explore culture, sustainability and how the local connects to the global, highlighting four of the UN's Sustainable Development Goals: zero hunger, responsible consumption and production, sustainable cities and communities, and health and well-being. Read more
Mar. 8
Students meet organization representatives and learn about opportunities in health, information technology, finance and banking, accounting, tourism, trades and more. Read more
Mar. 8
Alumnus Eric Bottos presents Resolving Ecological Controls on Permafrost Microbial Communities and Responses to Thaw. Read more
Mar. 8
Valens Agritech Ltd. president and director Rob O'Brien presents The Role of Analytical Chemistry in the Cannabis Industry. Read more