Focus on Teaching - December 2020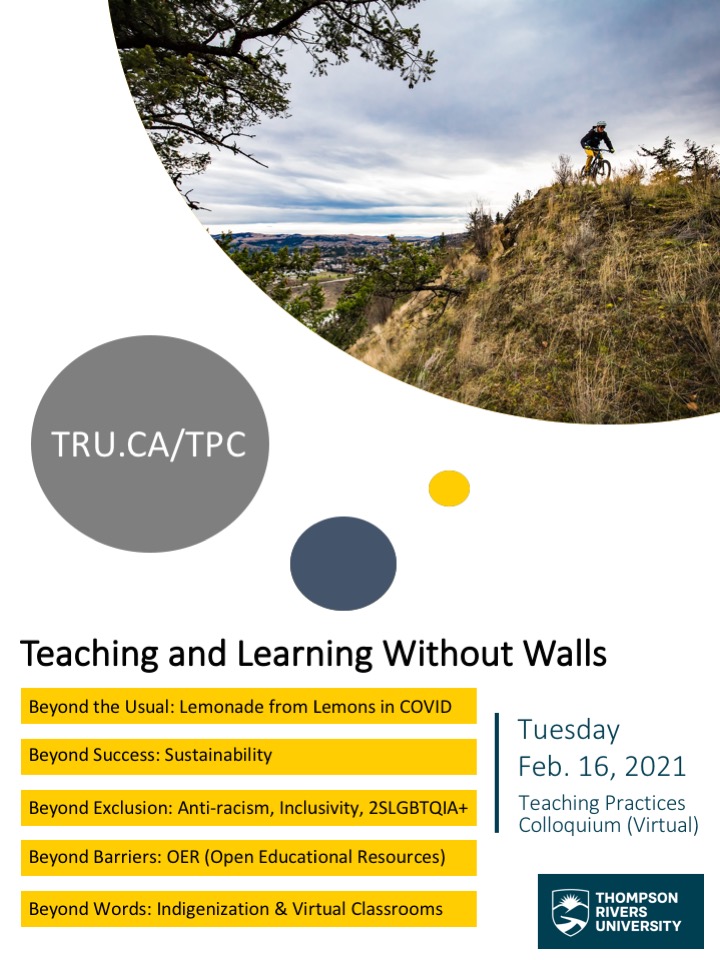 Dear Faculty,
We are thrilled to share that the 17th Annual Teaching Practices Colloquium will be held on February 16, 2021 in a virtual format. This year's theme, Teaching and Learning Without Walls, explores five distinct themes that encourage us to go beyond. Visit the webpage to learn more, and remember that early-bird proposal deadline is December 18th.
As we near the end of term and the beginning of winter semester, do know that we welcome opportunities to discuss student engagement, curriculum, course design among other topics. Feel free to send us an email, or schedule a 1-1 consultation using the booking form on our website. We always enjoy working with you!
The stress and pressure at this time of year can be overwhelming. Human resources has put together a collection of wellness supports and recently shared this self-compassion resource for educators with us. We hope you find them useful.
Lastly, are you pondering a grand challenge facing teaching and learning? These researchers would like to know what it is!
Did you know that CELT has a blog?
It's called In Progress, and it features a new post co-authored by Carolyn Ives and Catharine Dishke reflecting on how Less is More.

Do you have a tip or strategy to share with colleagues? An idea for an article? Would you like to be a featured author on our blog? Contact Carolyn Ives at cives@tru.ca with your idea!
Photo by Florian Klauer on Unsplash
Introduction to Curriculum Mapping
Wednesday, December 9, Noon - 1 p.m., via MS Teams
Curriculum maps are tools you can use to determine whether your courses fit together to ensure students have the opportunity to achieve your program's learning outcomes. They can also be used to see how courses fit together, whether your program aligns with institutional learning outcomes, and to answer other curriculum-related questions. In this session, you'll learn about options for creating curriculum maps, and we'll explore the various things you can learn about your program through the process. Come out and see how you can offer students the best possible learning experience through your program! Register here.
Foundations of Data Equity Workshop hosted by NWCCU
December 7 & 11 Noon-4. p.m.
If you make decisions based on data, work with stakeholders who make decisions
based on data, build models with data, craft policies with data, or work with data
informed initiatives, this workshop will help you to examine inequity in data and learn about the Seven-Step Data Equity Framework. Register here.
Strategic Assessment of Institutional Learning (SAIL) Pilot Program
Information Session
December 9, 1-1:30 p.m., via MS Teams
The Teaching and Learning Committee of Senate is supporting a pilot project to assess student achievement of program and institutional learning outcomes, and is seeking participation from faculty members.
Starting January 2021, Alana Hoare and Dr. Carolyn Hoessler will work with faculty colleagues teaching institutional learning outcome (ILO) designated courses and capstones to co-create rubrics, select assignments, and assess student learning related to one or more ILOs. The pilots will inform ongoing assessment as part of the Strategic Assessment of Institutional Learning (SAIL) initiative. Register here.
New Faculty Community of Practice
December 10, 1-2 p.m., via MS Teams
If you're new (or newish) to TRU and would like to connect with others to hear about topics pertinent to you, please join us for this New Faculty Community of Practice. The topic for December is Peer Review of Teaching. We are also open to hosting sessions on topics of interest to you, so if there's something you'd like to know about, let us know! Register here.
Facilitating Learning Online (FLO) Bootcamp
Presented by BCcampus December 14-18, $25
Due to popular demand, FLO Bootcamp is back! Are you a B.C. post-secondary educator teaching a course online this fall? Did you have a rough "pivot" to online and want to fix up only the most important stuff before it runs online again? Or maybe you missed the pivot (lucky!), but still, have a course you want to optimize for online delivery? Join us for a four-day crash course on only the MOST important stuff: scanning and planning, lecture alternatives, assessment, and student and community engagement! Register here.

Assessment and Evaluation of Learning
January 5 - February 28, 2021, via Moodle/Big Blue Button
Through a combination of synchronous and asynchronous activities, we will examine the ethical, practical, and research foundations for the assessment and evaluation of student learning in your courses. The purpose of assessment and evaluation in the learning process will be explored along with the ethics of how and when to evaluate learning. The course will enable participants to create assessment tools and evaluation systems that are aligned with instruction and learning outcomes to reflect and communicate student learning. Participants must participate fully in order to receive a certificate of completion. If you are enrolled in the Provincial Instructor Diploma Program, upon completion of this course, you may apply for exemption on PIDP 3230: Evaluation of Learning. Register here.
Please note: This course requires a minimum of 45 hours of work between January 5 and February 28, 2021.
Learning Technology & Innovation

Learning Technology Podcast

You Got This is produced by the Learning Technology and Innovation team at Thompson Rivers University to provide just-in-time teaching and learning encouragement and support to our campus community during Fall 2020. It's designed to support you when you need it with weekly episodes offering tips, advice, insights, and conversations with folks from across our campus community.
Your Host: Brenna Clarke Gray, Coordinator, Learning Technology, Learning Technology & Innovation @ TRU
Getting Started with Open Education Resources
Creative Commons Licences
Thursday, December 3, 11 a.m.-Noon and Monday, December 7, 3:30-4:30 p.m.
Creative Commons (CC) licences are used to impart how an author would like their work to be shared, used, and reused by others. Knowing more about CC licences will help you to legally use the works (texts, images, music, videos, etc.) of others and to select a licence for your own creations. Join Open Education Librarian, Brenda Smith for a session that will cover the basics of Creative Commons licences:
• What are Creative Commons (CC) licences
• How to interpret CC licences
• What to consider when choosing a CC licence
• What to consider when combining CC licenced works
• How to license one's own work
• How to attribute a CC licenced work
• Tips on finding CC licenced works
To register and receive login information, email the OER Grant Facilitator, Christine Miller at cmiller@tru.ca
Introduction to Pressbooks
Wednesday, December 9, 1:30-3 p.m., via MS Teams
Are you new to Pressbooks? Are you looking to explore Pressbooks as a tool for developing content? Join OER Grant Facilitator Christine Miller and author of Human Biology as she walks you through the essential steps of the design and development process. To register and receive the login information, email cmiller@tru.ca.
Teaching Practices Colloquium: Teaching and Learning Without Walls
Tuesday, February 16, 2021
The TRU Teaching Practices Colloquium Committee invites your proposals for presentations at the 17th Annual Teaching Practices Colloquium to be held virtually on Tuesday, February 16, 2021. The colloquium provides a forum for faculty to share scholarly teaching practices and approaches that foster effective learning in the post-secondary setting.
To reflect our teaching reality this last year, we welcome submissions of various formats. While synchronous presentations are still welcome, please also consider submitting asynchronous material such as a recorded video or other teaching material.
Visit the Call for Proposals page for more details.
First proposal due date (for early birds!): Friday, December 18, 2020
Final proposal due date: Friday, January 8, 2021
Cascade Journal of Knowledge
The Cascade Journal of Knowledge disseminates knowledge (open-access) from scholars and enhances the scholarship of teaching and learning. The journal achieves this through a unique and innovative journal format: scholars submit a screen-cast/video/podcast (3-8 minutes) of an academic topic that is double-blind peer-reviewed. This year you may be interested in creating a screen-cast, podcast, or video assignment with your students!
Visit the website to learn more or contact Russell Currie in SoBE.
Focus on Teaching is the monthly newsletter of the Centre for Excellence in Learning and Teaching (CELT). We showcase instructional development opportunities and resources for TRU faculty and staff, and up-to-date information on current projects, initiatives and professional development opportunities. To read past issues of Focus on Teaching or to subscribe to our mailing list, visit our Newsletters page.
We respectfully acknowledge that TRU is located ne Secwepemcúl'ecw, in unceded Secwepemc territory.
To contact CELT, email celt@tru.ca and we will do our best to respond within 24 hours. Please note that our team is working remotely for the time being.