March 2019

Dear Colleagues,
It's always a pleasure to bring this report to you as it highlights the remarkable people, programs, and events that make TRU such a wonderful university. This month in particular marked an important milestone, for me personally and the university community as a whole, as we have officially embarked on a journey together towards building a new vision for TRU. If you haven't already familiarized yourself with Envision TRU, I encourage you to visit the website and participate today, and in the coming weeks and months. Building a university vision doesn't happen overnight, or in isolation, so please share your thoughts and ideas, and often. I'm listening!
I'm pleased to update you on Envision TRU and other news in this month's report, along with the TRU community's publications and accomplishments, and a reminder of upcoming events. If you would like to share a publication, presentation, external award or other recognition from within the past six months, please send the details to president@tru.ca. This report covers up to Mar. 13; the deadline for submissions to the next report is Apr. 4.
Sincerely,
Brett Fairbairn
President and Vice-Chancellor
On Mar. 4, President Fairbairn officially started the process of establishing a new vision and new strategic priorities for TRU. Envision TRU will be a year-long process and involve many ways for the internal community and broader public to share their thoughts on what the future of TRU could look like. Read more
Nursing faculty member Bonnie Fournier has been working with children living with HIV in northern Uganda for more than a decade. Now she will return to Uganda with a $600,000 Canadian Institutes of Health Research (CIHR) Project Grant to work alongside a community-based organization to incorporate local cultural knowledge into the classroom, to lessen the stigma of living with HIV. Read more
TRU Law students Vincent Li and Betti White are the first team to represent TRU at the prestigious national Sopinka Cup moot competition in Ottawa Mar. 15 to 16, thanks to a second-place finish in the regional MacIntyre Cup Moot Trial Advocacy Competition, hosted by TRU in February. Read more
Celebrating culture, diversity and innovation
Students, faculty, staff and the Kamloops community explored cultures, international experiences, research and collaborations through speakers, workshops, displays, performances and more at TRU's 25th annual IDays celebration Mar. 11 to 15. The week launched with a sold-out keynote address by journalist Amanda Lindhout.
When we collaborate and learn from each other, we can go far and do great things. That message threaded throughout TRU's annual Indigenous Awareness Week, Feb. 25 to Mar. 1. More than a dozen events wove in themes of unity and the power of working together. Read more
The Sustainability Office hosted a screening of Beyond Climate, a film about the effects of climate change on British Columbia, featuring a Q & A with narrator David Suzuki and director Ian Mauro on Mar. 8. Read more
TRU's Society of Law Students hosted students, lawyers and the community at large to explore the future of legal practice in Canada. Read more
Lunch with the President
On Mar. 6, President Fairbairn hosted a well-attended Lunch with the President for Students, an opportunity for him to connect with students in an informal setting.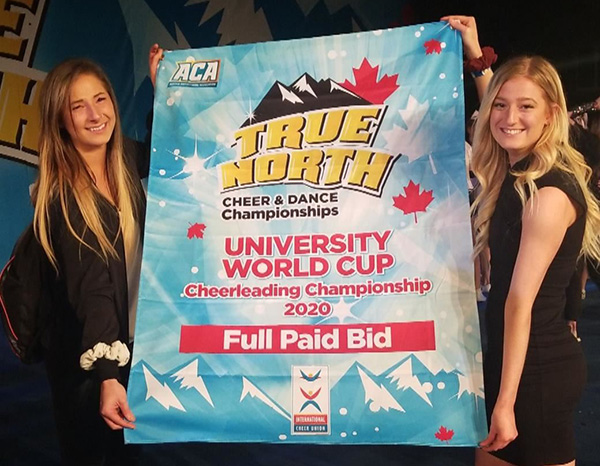 Both TRU Cheerleading teams won first place at the True North Cheer and Dance Championships in Edmonton in March, competing in the highest division in university cheer. Team Black was awarded a coveted Full Paid Bid, and Team Orange was awarded an At Large Bid to attend the ICU University World Cheerleading Championships in January 2020, the most elite competition for cheerleading in the world. (Shown, head coaches Mikayla Levy and Meaghan Blakely.) Read more
Arts faculty member Robert Hanlon's 2016 book, Freedom from Fear, Freedom from Want: An Introduction to Human Security, earned a spot on the United Nations Trust Fund for Human Security's esteemed list of human security publications in February. Making the UNTFHS list is evidence that the book succeeded in covering key issues in human security—including climate change, crimes against humanity, humanitarian intervention, international law and more. Read more
Ryley McRae, WolfPack men's swim team, took home five medals at the Swim BC 2019 winter provincial championships Mar. 9 to 10 in Kamloops. He won gold medals in the 200 fly, 800 free and 200 freestyle, and bronze medals in the 100 free and the 200 IM. His final swim was a fourth place finish in the 400 butterfly. The WolfPack finished 18th overall.
CREDENTIALS EARNED
Congratulations to faculty and staff who received their master's or doctoral degrees in the past six months. If you know someone who has achieved theirs, please email the name of the recipient, title of degree and institution to president@tru.ca.
Sarah Ladd, Career & Experiential Learning: Master of Education, Thompson Rivers University
Blair Major, Faculty of Law: Doctor of Civil Law, McGill University
Note: These citations follow MLA Handbook (8th edition) format. We respectfully ask that you please format citations for your work in MLA prior to submitting them for inclusion in the President's Report. Thank you!
JOURNALS
Eric Bottos, Biological Sciences
Caruso, Tancredi, et al. "Nematodes in a Polar Desert Reveal the Relative Role of Biotic Interactions in the Coexistence of Soil Animals." Communications Biology, vol. 2, article 63, 2019.
Lee, Charles K., et al. "Biotic Interactions Are an Unexpected Yet Critical Control on the Complexity of an Abiotically Driven Polar Ecosystem." Communications Biology, vol. 2, article 62, 2019.
Sharon Brewer and Kingsley Donkor, Chemistry
Hurtado, Lourdes, et al. "Paracetamol Mineralization by Photo Fenton Process Catalyzed by a Cu/Fe-PILC under Circumneutral pH Conditions." Journal of Photochemistry and Photobiology A: Chemistry, Volume 373, 2019, pp 162-170.
Breanne McAmmond, BSc student, and Jonathan Van Hamme, Biological Sciences
Massot, Francisco, et al. "First High-Quality Draft Genome of Ochrobactrum haematophilum P6BS-III, a Highly Glyphosate-Tolerant Strain Isolated from Agricultural Soil in Argentina." 3 Biotech, vol. 9, no. 74, 2019, pp. 1-8.
Carol Rees, Education
Rees, Carol A. B., and Wolff-Michael Roth. Discourse Forms in a Classroom Transitioning to Student-Centred Scientific Inquiry through Co-Teaching. International Journal of Science Education, 14 Feb. 2019, pp. 586-606.
Peter Tsigaris, Economics
Tsigaris, Peter. "Letter to the Editors." Journal of Scholarly Publishing, vol. 50, no. 2, 2019, pp. 139-142.
Mar. 26
Cheer on TRU graduate students in this fast-paced and fun research communications competition, and vote for People's Choice! The winner receives a cash prize and advances to the Western Canadian 3MT final.
Watch the action as TRU faculty take on the same challenge as the 3MT: deliver a compelling research presentation to a non-specialist audience in 180 seconds or less.
Mar. 26
Once again, undergraduate students go head-to-head in this research communication competition. Come show your support!
Mar. 28
Will the strides we make in space lead to a medical revolution? Astrobiologist and TRU alum Dr. Bruce Damer thinks so. Explore his science and engineering on the origin of life and our future in space. Part of the Science Seminar Series.
Mar. 28
Dr. Rochelle Stevenson, Sociology, discusses how companion animals create an added vulnerability for women leaving violent relationships. Part of the Arts Colloquium Series.
Mar. 28
Jordan Koch from the Department of Kinesiology and Physical Education at McGill University presents "Street Hockey? Dispatches from the Frontlines of Canada's New Urban Sporting Environment" as part of the Environmental Sciences Seminar Series.
Mar. 29 – 30
TRU's 14th annual conference showcasing undergraduate research is an opportunity to hear students from a wide range of programs present their work, either as a poster or as a 15-minute lecture.
Mar. 29
How can we address the root causes of hunger in our community? A day of speakers, networking, small groups and bold ideas on household food insecurity in Kamloops.
Mar. 29
Celebrate some of TRU's most-accomplished alumni, partners and student leaders and the impact they have made in their communities and careers. The 2019 recipients are Dr. Bruce Damer, Adil Hosenbocus, Kaitlin Lomas, and Payton Comazzetto.

April 4
The Live at TRU! series presents O-Celli, eight cellists in action, playing everything from Tchaikovsky to Mancini.
April 10
Celebrate a range of Mind the Gap project collaborations between educators at TRU and School District 73 through performances, short presentations and posters.
Merit and Long-Term Service Awards
April 17
Faculty and staff celebrate the recipients of the 2019 Merit Awards, recognizing teaching, scholarship and service, and colleagues receiving Long-Term Service pins.
April 17
Alumni are invited to Dish Up Downtown, a progressive dining experience that stops at four restaurants in downtown Kamloops while raising funds for student awards.