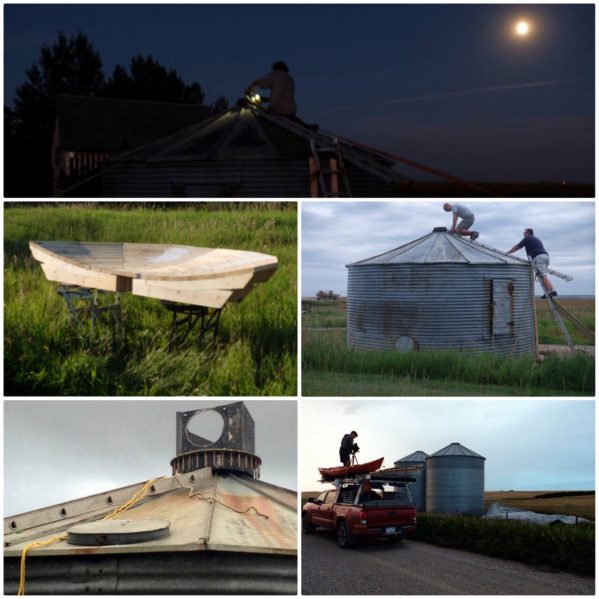 It was a monumental weekend for Visual Arts Professor Donald Lawrence's camera obscura research project.
On Sunday, a new permanent public artwork was unveiled and a national touring exhibition announced during The Prairie Sun Project, hosted by the University of Lethbridge at its Coutts Centre for Western Canadian Heritage in Nanton, AB.
Lawrence's latest creation — an 80-year-old grain bin-turned camera obscura — was the centre of attention.
"With the dedicated assistance of (TRU student) Levi Glass, we got the Nanton Camera Obscura operational in the early morning hours before the event, and were fortunate to have a sunny day for its 360-degree panoramic view of the prairie landscape," said Lawrence.
Glass also worked to transform a small historic barn into a temporary exhibition space for the artworks created by TRU and University of Lethbridge students, and ensured all the artworks were installed to their best advantage.
"The festival's audience — which ranged from artists from Calgary and Lethbridge, to farmers and a founding member of the University of Lethbridge — were intrigued by the D.I.Y. optical projectors created by Levi and the other students," he said.
The Prairie Sun Project featured many of the artists who were involved in Lawrence's Social Sciences and Humanities Research Council-funded Midnight Sun Camera Obscura Festival, which took place over the 2015 summer solstice in Dawson City, Yukon. Artists included TRU students, Dion Fortie, Garnet Dirksen, Anyssa Gill and Levi Glass, along with alumnus Bo Yeung.
The Coutts Centre sits on a working farm that was donated to the University of Lethbridge by Jim Coutts, a former advisor to Pierre Elliott Trudeau. Coutts, who died in 2013, was an avid art collector and philanthropist, and a major donor to the U of L.
The property, now both research centre and cultural centre, came equipped with the antique grain bin. One look and Lawrence said he knew it would a perfect home for his artwork.
"The size and shape is something that would have existed as a public camera obscura in Victorian times," he said, adding that he's spent the past several months transforming it into walk-in pavilion, having created on campus a full-sized, pie-shaped cross section of the structure to design and test optical and mechanical components. The design required assistance from engineers — who ensured the space would be safe to enter — and while reinforcements were added to the interior, the exterior remains untouched.
The camera obscura, 'dark room' in Latin, works by having light enter through a pinhole into a dark space and projecting an image onto the table below. When people enter the pavilion, they'll see projected images of the farm, the property and the prairie landscape projected onto the 2.5 metre-diameter table. The mirror, or camera, is able to rotate thanks to a gear mechanism, the development of which required the expertise of TRU welding instructor James McCarthy.
Sunday's event was a kickoff to The Midnight Sun Camera Obscura Project, curated by University of Lethbridge Art Gallery Director Josephine Mills, on exhibit at the University's Main Gallery from Aug. 29 to Oct. 20, 2016. The exhibition will feature works by Lawrence, as well as TRU Visual Arts faculty Lea Bucknell and Ernie Kroeger. A national tour will follow, as will a book, which will be co-produced with Mills, who has long wanted to work with Lawrence, and is excited to finally have her chance.
"I went to Dawson City last year and was just blown away by the festival," said Mills.
"Part of what I like about Donald's work is how art and science can work together, which goes back to the Renaissance idea where artists and scientists are really the same people. The other part is that it is really fun. This artwork is about play and about experimentation."
Artwork — like that on display during the Prairie Sun event — invites people in to actively experience it.
Said Mills: "That's the most effective artwork. You want to leave people with a sense of wonder and joy."
More information
Donald Lawrence
dlawrence@tru.ca