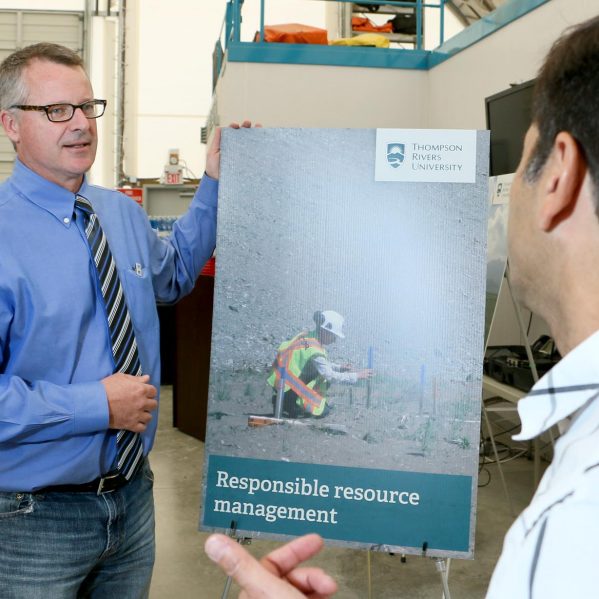 On Aug. 1, we celebrate BC's birthday and here at TRU there is a lot to celebrate—including all of the ground-breaking research being done by faculty and students right here in our own living laboratory.
The research taking place in BC could have great implications beyond our provincial borders, both nationally and internationally.
In honour of BC's birthday, here is a quick snapshot of just some of the exciting faculty research taking place within our region this summer:
Susan Forseille, Career Education 
This summer, Susan Forseille will ask TRU alumni from across BC to illustrate their career transition stories using a "draw-talk" protocol. The innovative new research technique will be used to examine how students transition to the labour market and how best to put this understanding into practice and improve graduates' transition to meaningful careers.
Dr. Joyce O'Mahony, School of Nursing
Postpartum depression (PPD) is an issue affecting up to 25 percent of new mothers globally. This summer, School of Nursing faculty member Dr. Joyce O'Mahony and her team of academic researchers, Interior Health collaborators and an undergraduate nursing student, are conducting an environmental scan of reproductive and mental health care services in the Interior Health demographic area.
Margaret Hall, Faculty of Law
Margaret Hall wants to see a revised legal framework in place to respond to the needs of individuals living with dementia, especially those suffering alone. This summer, Hall is conducting research to explore the possibilities of a unique Canadian Guardianship Tribunal Model, noting that since dementia-related needs are primarily around care-giving versus medicine, it is a social issue that can be addressed through law reform.
Dr. Courtney Mason, Canada Research Chair, Faculty of Adventure, Culinary Arts and Tourism
Recreationalists have enjoyed Canada's many, renowned parks and protected areas for decades, but many of these parks are filled with sacred sites and make up the traditional territories of Indigenous communities. Parks became one of the ways government officials justified the removal of Indigenous communities from various locations in the West. What are communities and parks doing today to rectify this history and encourage a new relationship?
Dr. Louis Gosselin, Faculty of Science
The BC Coast supports one of the most plentiful and diverse habitats in the world, but air and seawater temperatures are warming up due to climate change. Dr. Louis Gosselin hopes to discover whether the animal species living on our coast will survive these changes and his team of graduate students will spend the summer at the Bamfield Marine Sciences Centre on Vancouver Island, studying shoreline animals that are still plentiful on the BC Coast, including mussels, snails and barnacles.
Dr. Wendy Hulko, School of Education and Social Work
Researchers at TRU are embarking on a collaborative project with Interior Health (IH) to explore older adults' views on the repositioning IH is currently undertaking to support well-being and independent living for those living with chronic health conditions. This research will provide a perspective that could guide future decisions on the restructuring of health resources, with the goal of managing chronic conditions in the community to avoid putting additional pressure on emergency rooms. More information on Hulko's research will be released next week.
Dr. Karl Larsen, Natural Resource Science
Work in Dr. Karl Larsen's lab has long provided vital information about where rattlesnakes spend the winter, but only recently are scientists beginning to understand how complex their summer movements may be. This summer, in the south Okanagan, Larsen and a team of graduate student researchers are looking at how rattlesnakes are impacted when they use habitat also used by humans.
Dr. Lauch Fraser, Natural Reource Science, NSERC Industrial Chair candidate
Humans depend upon high levels of ecosystem biodiversity, but due to climate change and changes in land use, biodiversity loss is greater now than at any time in human history. Now, thanks to the findings published in Science, the world's leading journal for cutting-edge research, Dr. Lauchlan Fraser and his co-authors show a link between plant biomass and species richness in grassland ecosystems—the highest diversity is found at intermediate levels of plant biomass.
Dr. Michelle Seibel and Dr. Florriann Fehr, School of Nursing
The field of nursing exemplifies compassion and empathy, but workplace bullying is a serious issue affecting the profession. School of Nursing faculty Drs. Michelle Seibel and Florriann Fehr are using innovative techniques to prevent bullying at its roots.
Dr. John Church, Faculty of Science 
Dr. John Church's research program began with an investigation into the use of drones to track cattle over rangeland, but the scope has since expanded. Now, drones can be equipped with infrared cameras to detect sick or diseased animals, and he has begun investigating the value of using the technology to manage pastures, giving ranchers a better idea about the health of their range.