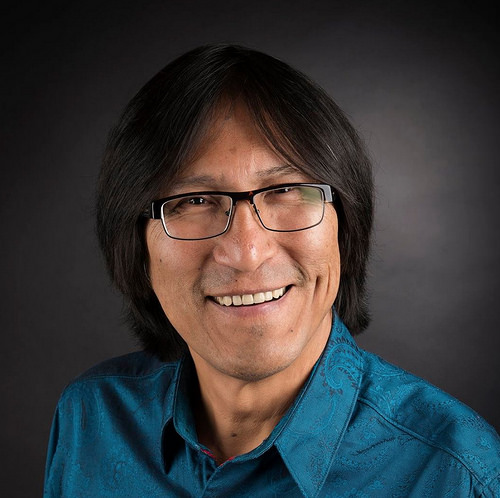 Richard Wagamese — prominent local and national writer, author, story teller, performance story teller, and more — will educate, entertain, and inspire during the sixth annual Story Tellers Gala on Feb. 25.
There is no admission cost, the event starts at 7 p.m. in room IB 1020 of the International Building, and is open to everyone. Story Tellers Gala is organized and hosted by TRU Students' Union Equity Committee.
---
Social media
Facebook | Twitter @richardwagamese | YouTube channel
---
Wagamese is an Ojibway from the Wabasseemoong First Nation in northwestern Ontario, and has been a lecturer in creative writing with the University of Regina's Saskatchewan Indian Federated College, a writer for the Royal Commission on Aboriginal Peoples, a faculty advisor on journalism for Grant MacEwen Community College and the Southern Alberta Institute of Technology (SAIT), and a scriptwriter for the CBC-Alliance production North of 60.
Wagamese has also worked extensively in radio, television, news, and documentary.
---
Honoured by TRU in 2010
In 2010, TRU recognized Wagamese and his body and involvements with an Honorary Degree (Doctor of Letters). Following is the citation that accompanied the presenting of TRU's highest distinction.
Honorary Degree citation for Wagamese
Richard Wagamese is receiving an Honorary Doctor of Letters degree to recognize his distinguished, award-winning career as an author. Without the benefit of a formal education beyond Grade 9, he is the only Aboriginal Canadian to be honoured with the National Newspaper Award for Column Writing.
He has published five novels and two memoirs. His work contributes to non-native people's understanding of the experiences of native people from both an historical and contemporary standpoint.
Mr. Wagamese has contributed to the re-establishment of native teachings by using traditional storytelling methods in all aspects of his career that has included radio, television and newspapers, ensuring oral literature is alive and vibrant.
He is a mentor and role model for both Aboriginal and non-native people alike and has volunteered at friendship centres, high schools and numerous universities, including TRU, promoting culture,