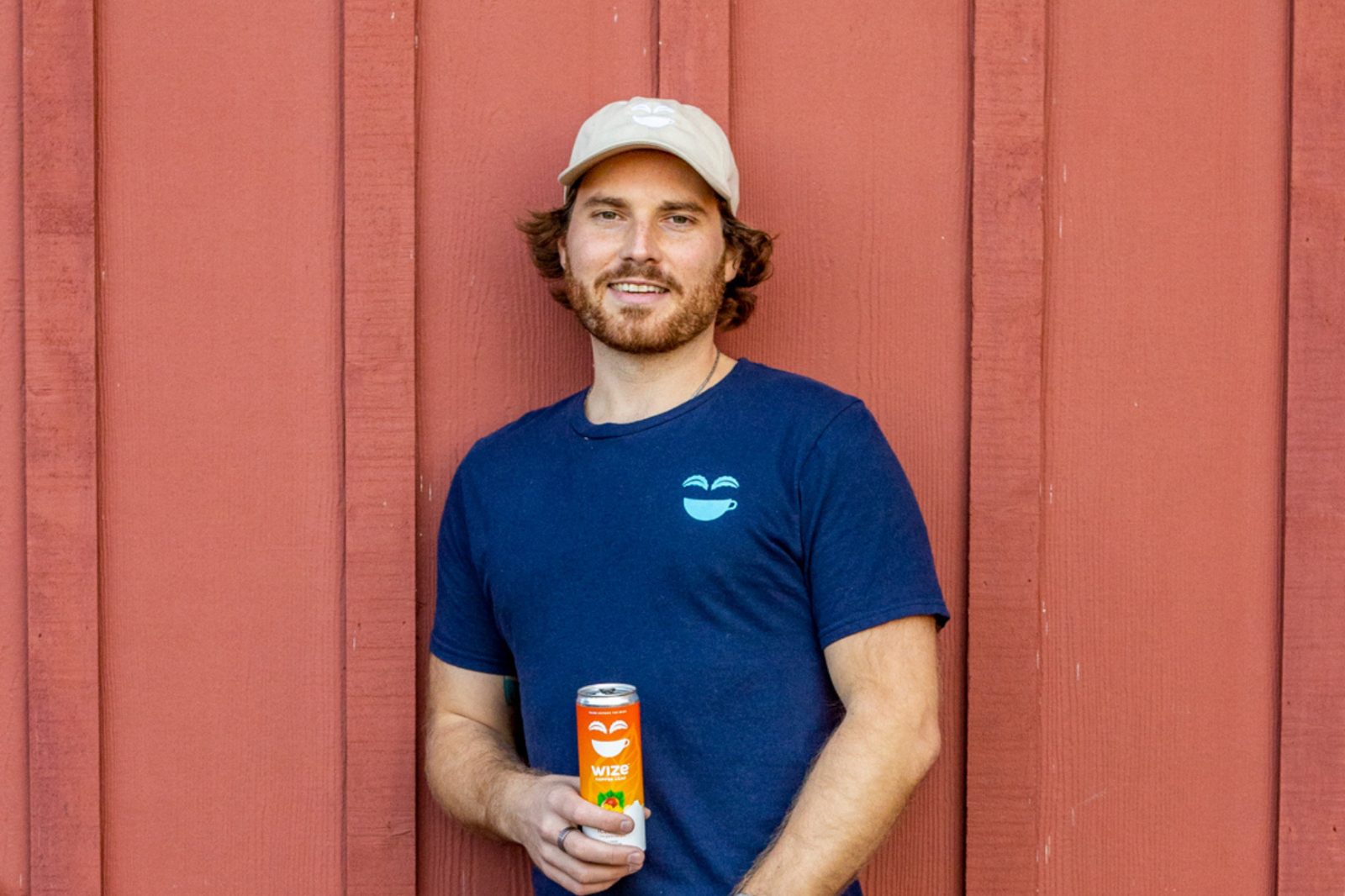 By Brynn Roach
When asking a founder, CEO or investor what the most important lesson in entrepreneurship is, you'll likely hear the phrase: "Don't start a business, solve a problem."
TRU alum Max Rivest (BTM '10) did just that, taking a gap in the beverage market and filling it with Wize—a low-sugar, antioxidant-rich tea made from coffee leaves. His inspiration for the product that hit shelves in 2020 came from personal experience.
As a young student, Rivest drained iced teas to keep him energized and refreshed. The more Rivest drank, the more he noticed the shocking amounts of sugar found in popular brands.
After an unsuccessful search for a low-carb alternative, he settled for black coffee, knowing the bitter taste wouldn't satiate his palate.
Unfortunately, coffee was not the solution. Rivest suffered a caffeine overdose while studying abroad for his master's, relying on the beverage to balance his busy schedule. This experience would become one of the many rationales for Wize's business case and heightened Rivest's drive to fill the glaring gap in the beverage market.
"Black coffee has more caffeine than most people think they need," says Rivest. "I needed a clean, refreshing pick-me-up that wasn't bitter like unsweetened tea, or wasn't super caffeinated and intense on the body, like black coffee."
The solution? Coffee leaves—the undervalued leaves from the popular plant that provide health benefits and a lower dose of caffeine.
After stumbling upon the ingredient in an article, Rivest immediately recognized its potential and began developing Wize with co-founder Arnaud Petitvallet.
The company experienced exponential growth after launching teabags in Whole Foods in 2016.
"In two years, we went from six stores in Vancouver to over 1,200 in North America, but we were still a team of two people and no marketing budget—this was not sustainable," says Rivest.
The co-founders agreed to scale back and focus on the original quest for a refreshing, healthy and lightly caffeinated canned beverage.
Wize iced teas launched in the summer of 2020 and are now sold in over 300 stores across BC and Alberta.
Planet, people and profit
Wize wasn't only founded on the principle of health, it was also guided by sustainability and continues to deliver environmental and social benefits today.
"Only 10 percent of coffee farmers are employed for pruning in the nine-month long off-season," says Rivest.
Harvesting coffee leaves allows Wize to add jobs to the local economy in their supply country (Nicaragua) and create a stable income source for coffee workers who would otherwise be out of work. Since day one, Wize has generated over 100,000 work hours when farmers need it most.
Rivest's supplier is also the company's third co-founder, making Wize the only tea or coffee business in the world that's vertically integrated right down to the farm with a single origin.
While the social impact is significant, Wize's environmental performance isn't any less impressive.
By adding a market value to the under-used leaves, Wize adds efficiencies to coffee's global supply chain. They're also adding new upcycled ingredients to create world-class tea blends. Their best-selling loose leaf tea, Chocolate Dream, uses upcycled cocoa bean shells to achieve its signature milk chocolate flavour—a by-product of the cocoa plant that would otherwise go to waste.
Find Wize iced teas at Save-On-Foods Sahali and Valleyview in Kamloops, or find a store near you: drinkwize.com.
We want to hear your story. Get in touch at alumni@tru.ca.