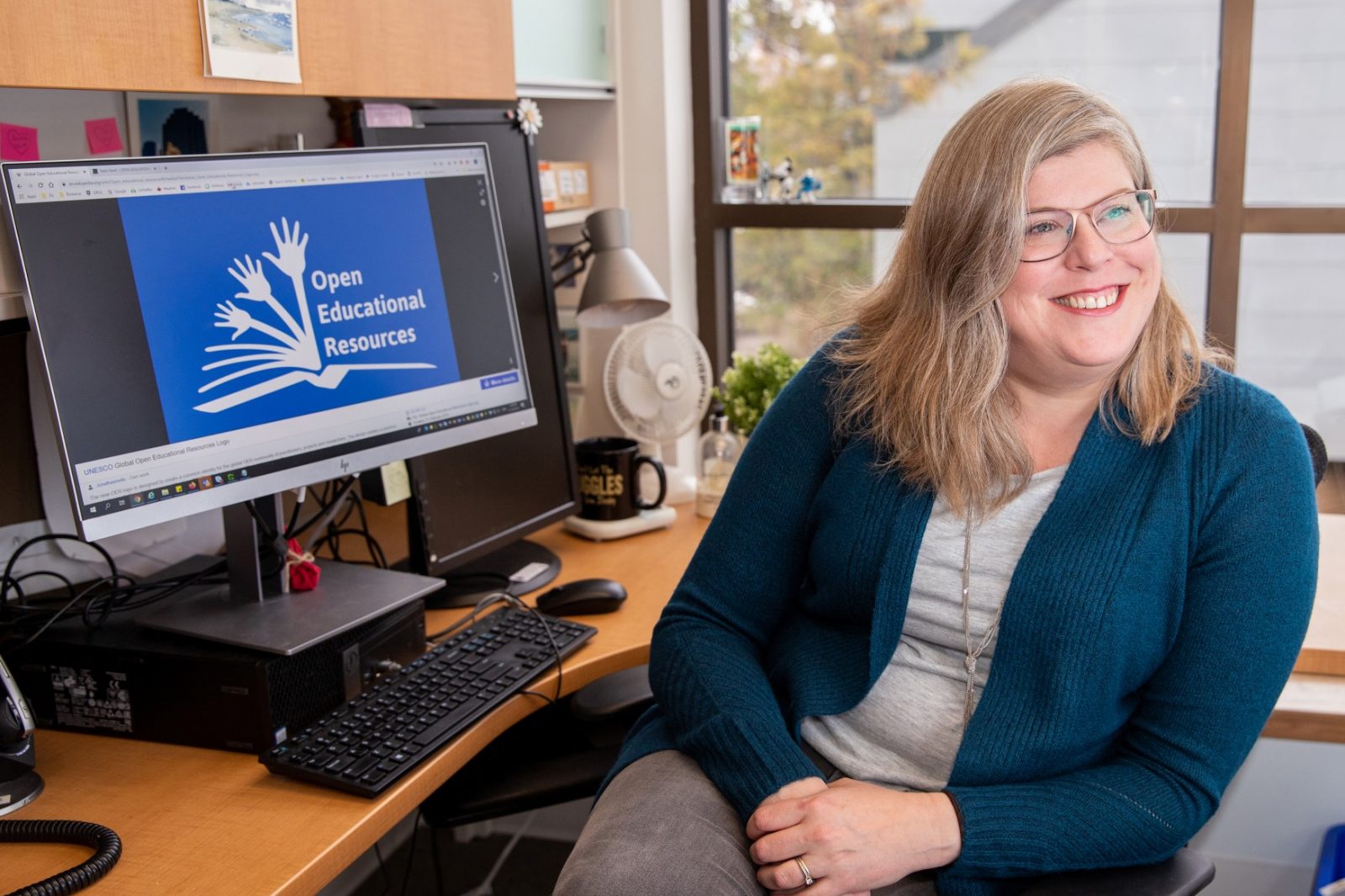 TRU Librarian Brenda Smith was recently recognized for her support and advocacy of open education. In January 2020, Smith became the 19th recipient of the BCcampus Award for Excellence in Open Education.
Open education aims to make high-quality educational experiences and resources available to everyone by eliminating barriers that may block them such as cost, learning challenges and physical access. The BCcampus award acknowledges "outstanding contributions to the open education movement in British Columbia." BCcampus defines these contributions as "significant leadership, OER development, research, or advocacy by faculty, students, support staff or administrators at post-secondary institutions in BC or others that support the post-secondary system."
Smith ticks off more than one of these boxes.
 "Brenda tirelessly advocates for open educational practices at TRU and beyond," Michelle Harrison, one of Smith's nominators*, said.
"She has been instrumental in efforts to build a sustained open education community at the university by helping to establish faculty OER grants and supporting faculty, students and staff in a variety of OER development and operational projects," Harrison, who is also a senior instructional designer and co-chair of Learning, Design and Innovations with Open Learning at TRU, said. "TRU is lucky to have such a strong voice supporting our open initiatives."
TRU's dedicated Open Education Librarian, Smith has also served as the chair of BC Open Education Librarians. She is currently chair of the TRU Open Education Working Group, which aims to foster and support open education initiatives at the university and is accessible to anyone passionate about open education – staff, faculty and student alike.
Smith boasts an impressive list of achievements, including the development of multiple OER library resources and participating in the creation of the Open Education Resource Development Grant program (OERDG), which is accepting Faculty applications until March 9 at 5 p.m.
Smith defines the OERDG as one of her proudest accomplishments at TRU because of its ability to support and bolster faculty and student work and success alike.
"For students, (OERs are) about access and social justice in that there are not as many barriers like textbook costs," Smith said. "Also, a good OER is accessible to people that might have various disabilities."
"For faculty, in addition to the benefits to students, OER gives them the opportunity to really customize and engage in their course content in a way that they want to and grow their sphere of influence as other educators will be utilizing the OER they are developing. It also provides an opportunity for indigenizing content or interculturalizing it."
If you are interested in learning more about open education and open educational resources, contact TRUSU to find out more about on-campus events for Open Education Week, which runs March 2-6. Planned events include keynote speaker Michael Geist and several workshops and presentations.
*Brenda Smith was also nominated for the Award for Excellence in Open Education by BCcampus Project Managers Melanie Meyers and Krista Lambert.