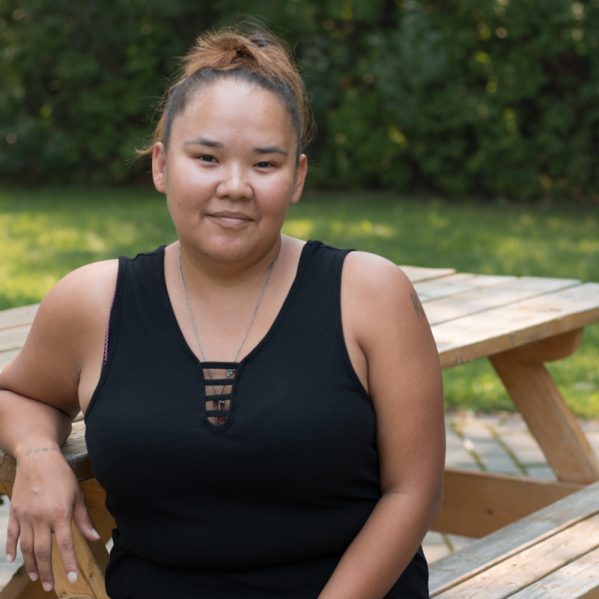 Like thousands of British Columbians, Kristen Johnny's life was put on hold last summer when a state of emergency was declared due to wildfires burning throughout the province.
She had started pre-requisite courses for the new Master of Environmental Economics and Management (MEEM) program when she withdrew from classes to spend the summer volunteering as an emergency response logistics co-ordinator for the Tl'etinqox Government Emergency Operations Centre in her home west of Williams Lake.
"It was an amazing experience to see my community come together and to be a part of it," she said. "The impact of the fires struck a chord with a lot of people."
A love of economic development and a desire to bring her skills and education back to her community drew Johnny back to TRU and to the MEEM program. As one of two Indigenous students in the program, and as the only First Nations woman, Johnny plans to build on her extensive experience and education in business and economic development.
Johnny is a TRU alumna who graduated with her Bachelor of Business Administration degree in 2012. Since then, she has amassed numerous credentials, including a Professional Aboriginal Economic Developer certificate, Level 1 Band Social Development Worker Certification from Indigenous and Northern Affairs Canada. She has also been heavily involved in the TRU community where she has volunteered her time at Cplul'kw'ten as an Indigenous Mentor, where she tutored students in statistics which helped her gain confidence in the subject herself. One of her biggest volunteer achievements was organizing the inaugural Traditional Fashion Show at TRU in February. It was a fanastic opportunity for her personal growth and it got a great response.
Along with acting as a logistics officer last summer, Johnny came into her studies with diverse experiences. She worked for the First Nations government in her community as an economic development and education manager. She not only contributed to economic development projects in the community but also mentored many Indigenous students.
"I wanted to be the support I wish I had," she said.
A mother of four, Johnny's goal and passion are to help her community and to be a role model for her children using her education to build a better future for them and others.
"My children are my muses when it comes to looking at my future as a First Nations woman, especially my two daughters. I want them to know that they can do anything they set their minds to and that the sky's the limit."
Johnny gave an example of the Williams Lake and Kamloops Indian bands gas bar and golf course as examples of First Nations moving forward in economic development.
"I want to help not only my nation but all First Nations people to become self-sufficient through economic development," said Johnny. "I love making something out of nothing."
She chose the MEEM program because it expands on what she learned in her undergraduate studies and, she admitted that she thrives on learning and knowing more. Similar to a traditional Bachelor of Business Administration degree, MEEM is built to broaden students' knowledge of business and economics while also teaching them how to promote economic development in an environmentally sustainable way. Johnny has already completed one semester in MEEM and is excited to begin her final year this fall.
"Doing those courses told me that I was in the right program."
Visit the program website to learn more about the Master in Environmental Economics and Management program