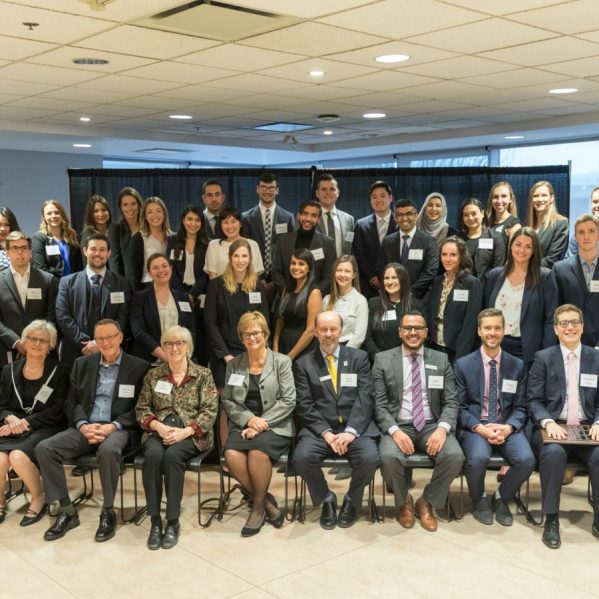 A sense of pride and accomplishment was in the air at the TRU Law spring awards ceremony, held on March 27. 
And for one student, the ceremony also brought with it memories of a special, bittersweet moment.
"When I first got the letter telling me I would be a recipient of this prestigious award in early November, I immediately called my (now) late mother to share the good news," said Alejandra Henao, who is one of four recipients of the Law Foundation Public Interest Award and its coveted $5,000 financial prize.
"My mother told me how proud she was of the work I had done as a poverty law advocate, as I got to assist people with poverty and family law matters, and how I would continue this line of work as a Pro Bono Students Canada Program Coordinator in the year to come. Although my mother is not here with me, I think we share this award because it is a testament to the values she instilled in me," Henao said.
At the spring awards, 18 students received a total of $36,800 while 29 students also took home Dean's Course Prizes.
Dean Brad Morse said the financial awards available continues to grow as more and more generous donors come on board.
"TRU Law students benefit a great deal. Our generous donors currently allow us to award $160, 075 annually. Our goal over the next five years is to build our annual award disbursement to $500,000."
Students and distinguished guests, including Justice Len Marchand and retired Justices of the Supreme Court of BC Hon. Hope Hyslop, Hon. Robert Hunter and Hon. Richard Blair, were treated to a performance by the Lawcapellants (acapella singing group) and mingled the evening away.
2018 TRU Law spring award recipients:
Fraser Valley Bar Association Prize: Deryck Harry
Provincial Court Judge's Association of BC Bursary: Zain Ali
Superior Court Judiciary Bursary: Nicole DeBartolo
Harris & Company LLP Course Prize in Labour Law: Kristin Smith
Law Dean's Discretionary Award: Ali Al-Samak, Alejandra Henao, Marina Landry, Alan Cheol Hong, Monica Rudd, Deryck Piers Harry
Law Foundation Public Interest Award: Alejandra Henao, Grace McDonell, Kristjan Thorsteinson, Lauren Coles
ScotiaBank Course Prize – Business Association: Alan Cheol Hong
Sunmark Developments Ltd. Award: Komal Nandha
The Advocate Legal Writing Prize: Matthew Campbell, Karen Perry