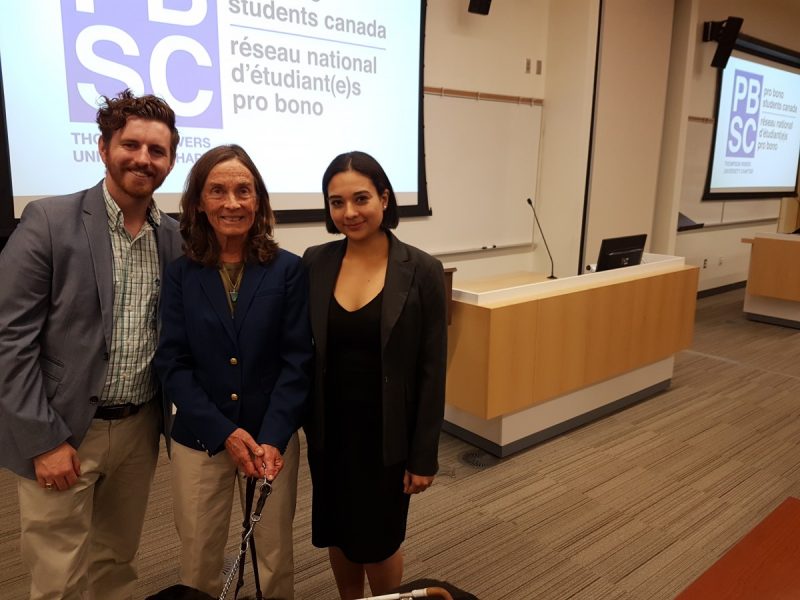 A new TRU Law student club will provide free legal services to local organizations.
The TRU chapter of Pro Bono Students Canada (PBSC)—a national organization with chapters at law schools across the country—was officially launched last week. The club will recruit volunteers to provide free legal research and information to community organizations in need.
"Pro Bono Students Canada clubs are crucial to be able to help respond to some of the realities of the world today," said TRU Law Dean Brad Morse.
TRU-PBSC program co-coordinator and third-year student Shane Hickey says students benefit by gaining practice applying their legal knowledge and skills. He says they can expect to put in between three to five hours per week, depending on the project.
"We're looking for students who are keen on public-interest work and who have a commitment to increasing access to justice," he explained.
In preparation for the September launch, Hickey spent the summer in a position funded by PBSC, to research and reach out to local organizations to identify their pro bono needs. He designed various projects with ten partners.
Hickey is joined this fall by a second student program coordinator, Alejandra Henao. The pair will work part-time to recruit and assign students to projects and ensure PBSC guidelines and reporting requirements are met. Student volunteers meanwhile will dive right into their work with their partner organizations.
At the Sept 7 launch, about 40 students gathered to learn more about these organizations and the opportunity to get involved.
Pro bono advocate and Grand Forks lawyer Karin Bagn was a guest speaker, delivering a touching lecture on the importance of pro bono work.
"The things that happen to our children, women and Aboriginal people shouldn't happen. We have the ability to be a voice," she said.
Robyn Gifford of McCarthy Tetrault, a sponsor of TRU-PBSC, echoed those sentiments.
"As lawyers we have the chance to make a difference in someone's life. This is an excellent way to apply what you're learning in law school," said Gifford, who also happens to be a recent graduate (2016) of TRU Law.
Below is a summary of the TRU-PBSC partner organizations and projects for the upcoming year:

Canadian Civil Liberties Association (CCLA), Project: Blogging, legal research and media monitoring

CFBX "The X" Radio Station, Project: Public legal education broadcast

Kamloops & District Elizabeth Fry Society, Project: Tenancy Rights Pamphlet and Welfare Pamphlet

Legal Services Society (LSS), Project: Client assistance and legal information

Multiple Sclerosis Society of Canada (BC &  Yukon Division), Project: Client intake and interviews

New Life Community, Project: Legal research and memo drafting

Pro Bono Students Canada TRU, Project: Legal research (ID Clinic Research Position)

Shuswap Nation Tribal Council, Projects (3): Treaty Negotiation Process Memo; International Treaty Negotiation Process Memo; Stsmemelt Family Jurisdiction Memo

United Way Thompson Nicola Cariboo, Project: Society versus Charity Pamphlet

White Buffalo Aboriginal and Metis Health Society, Project: Information Package
For more details and to apply: 2017-2018 PBSC TRU – Placements and Application Form
The deadline to apply is Friday, Sept. 15.