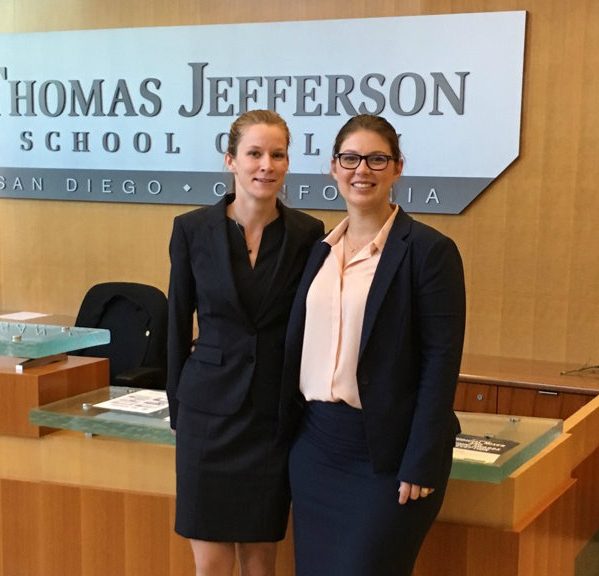 A pair of TRU Law students competed recently at the National Sports Law Negotiation Competition (NSLNC) in San Diego.
Last week, students Jesse Olynyk and Karen Perry, along with Associate Professor Jon Heshka participated in the event, which is an oral negotiation competition in a sports context, hosted by the Center for Sports Law and Policy at the Thomas Jefferson School of Law.
TRU Law was the only Canadian law school at the competition.
Both women come from competitive sports backgrounds, so they decided it would be interesting to explore sports law through this opportunity.
"We learned a lot from the competition, specifically how to best present your position in a negotiation," explained Olynyk.
"Unlike presenting an oral argument, a negotiation is fluid and can change direction on a dime. Coming up with a strategy is just one step in a negotiation, once you get into it you have to be prepared to deal with anything and everything. You have to be flexible and able to come up with creative solutions."
Olynyk and Perry were part of a slate of 40 teams from 24 different law schools competing head-to-head in front of a panel of judges.
The competition sees teams each given two fact patterns for which they have to prepare to negotiate as the legal representatives of their respective clients.
"This year the fact patterns dealt with getting legislation passed for the legalization of daily fantasy sports in Florida and working conditions and benefits for minor league baseball players," said Heshka.
Teams are randomly matched and have 45 minutes to attempt to reach an agreement on behalf of their clients.
"We went in with a plan but we had to be flexible. There is a difference between US and Canadian negotiation styles. US negotiators take more control, and we learned to adapt to this," said Olynyk.
"As an added bonus, after the second round, one of the judges approached us and told us that we were the best team he had seen all day," said Olynyk, noting another personal bonus was visiting San Diego for the first time.
"I am extremely proud of them," said Heshka.
"They lost a split decision against Pepperdine, but they scored a knockout victory over UC Berkeley," he added, noting that while the pair performed well, they did not make it to the final four.
It's the second year in a row that Heshka, who teaches sports law at TRU, has accompanied a team to the NSLNC, and he has previously acted as a judge at the competition.