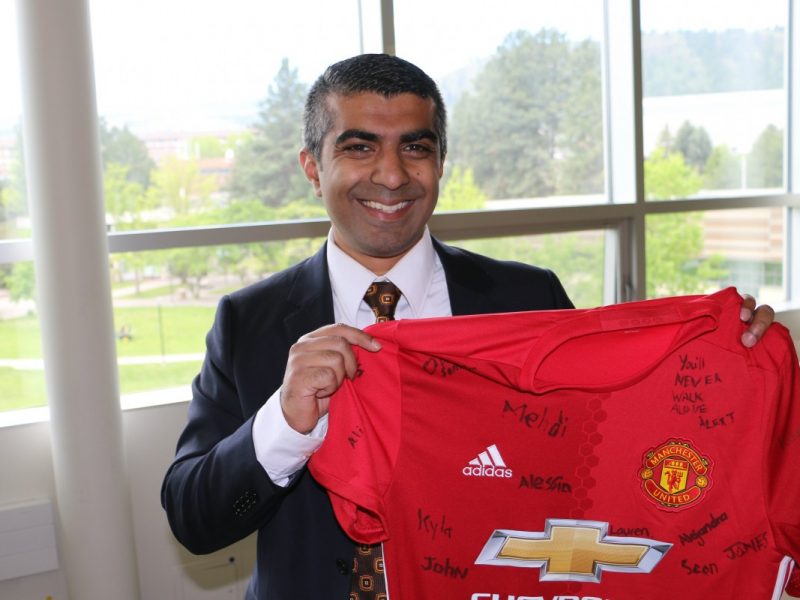 It was like a scene out of the movies. In October 2016, second-year TRU Law student Zain Ali awoke in a hospital bed with wires connected to him, machines beeping, doctors rushing around and his distraught wife at his side.
"One of my first thoughts was 'Jeez, I'm not going to be able to make it to class tomorrow,'" he explained, able to joke now about the shock he was in.
The 37-year-old had suffered a massive heart attack resulting in cardiac arrest.
He literally dropped dead in the hallway of Royal Inland Hospital in front of his wife and two young daughters shortly after they checked him in at the ER. He had been feeling off for days.
"I was playing indoor soccer and couldn't catch my breath. I got sick. At home I took a shower and began to feel numb. I remember thinking, if my wife is home, I'll get her to drive me to the ER, if she isn't, I'll take a nap," he recalled.
"I thought I had a bad chest cold. It didn't cross my mind that I could be having a heart attack. I'm healthy and active" he said, noting he later learned that hereditary factors led to the incident.
While his wife's presence at home that afternoon most likely saved his life, he says it's his other family—his classmates—that helped him recover from the seemingly impossible—almost an entire month away from law school.
Ali is referring to the unique family aspect of the TRU Law student body.
"It starts right at orientation—upper years reach out and offer support. It really instills the family approach. TRU Law students really value this mentorship, and the value of passing it on. Right from that first week, the sense of togetherness quickly became apparent."
Ali spent a few weeks in the hospital followed by a few weeks recovering at home.
"It was overwhelming, but not surprising," he says of the outpouring of support from classmates. "Because that's who we are."
"They brought food and gifts, gift cards, get well cards, toys for my kids. They know my favorite soccer team is Manchester United, so they got a Man U jersey and each signed their names on it. I wore that jersey out of the hospital—it was fuel for my recovery," he said.
After one week at home, he cracked the books. By then he'd missed three weeks.
"I was getting tons of messages from everyone asking 'What do you need?' I am so thankful."
He attributes the support in part to a genuine sense of healthy competition.
"We compete with each other, but we don't do it at the expense of others."
TRU Society of Law Students President Ike Birk says Ali and his story embodies the "Heart and Soul" of the law school.
"Our class came together and provided him with many supports while he recovered. He returned to his studies, making a complete recovery, and wrote exams with the rest of us," said Birk. "He calls us his second family."
And considering his unconventional path to law school, Ali's journey is all the more meaningful.
He first got his inspiration to become a lawyer during his time as a court clerk in Surrey, BC, in his twenties.
Not having had much formal post-secondary education, he inquired around about the law school application process and began working towards what he needed, enrolling in part-time study while continuing to work full-time and raise his family.
Six years later, he was ready to apply. By then, TRU Law had been established. "I had heard a lot of great things about Kamloops. People around me in the legal profession were saying it was a great place to live, and to raise a family."
Ali moved his family to the BC Interior city sight unseen following his acceptance to TRU Law in 2015.
As for his health, he is currently in physical rehabilitation once a week and has just wrapped up his second year. "It's like I didn't miss a beat," he laughed.
He is looking forward to helping out as an usher at the spring convocation ceremony on June 9.
"I want to give back to the upper years," he smiled.