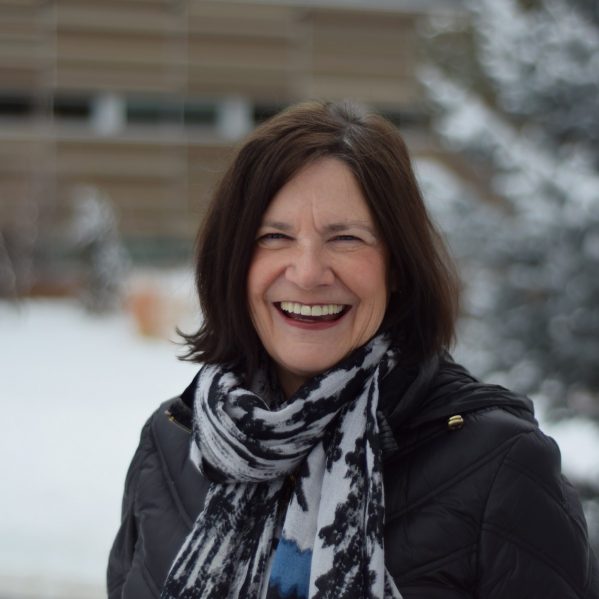 It has been over two years since the first wave of Syrian immigrant families began settling in Canada, and Dr. Joyce O'Mahony wants to better understand how the mothers in these communities access and interact with healthcare.
The goal of the research program — recently boosted by a Michael Smith Foundation for Health Research Convening and Collaborating Grant — is to build partnerships and create opportunities for collaboration between researchers, healthcare professionals, immigrant support agencies, and policy makers in order to enhance health care services for Syrian women. O'Mahony, in the Faculty of Nursing, is joined on the project by Dr. Nancy Clark and PhD student Shahin Kassam from the University of Victoria, Khim Tan of Options Community Services, and TRU Master of Nursing student Jessie Bauer.
Throughout O'Mahony's nursing career, her experience include a variety of settings in northern nursing, acute care and community health nursing. Prior to her arrival at TRU, she worked as a public health nurse, visiting new immigrant mothers and their families postpartum, and it was this experience that would shape her future research. Her research program focuses on immigrant women's postpartum depression experiences, access to mental health care services, and intervention strategies for postpartum care. Her research has been motivated by the need to further the understanding about immigrant and refugee women's mental health, their social support needs, and their treatment preferences in order to provide culturally sensitive and equitable health care services.
"I was shocked and surprised by the complex situations that refugee and immigrant women found themselves in. It was witnessing their isolation and their general lack of support that really motivated me to do more research that would help them seek that support, and have a better life," O'Mahony said.
This latest research project marks the beginning of what she hopes will be a multi-year project, and involves bringing stakeholders together — healthcare researchers, professionals, and members of the Syrian community — to promote dialogue, plan the course of research, and increase understanding about what is happening, on the ground, within these communities.
"We know that over 40,000 Syrian families have migrated to Canada, and a large population has settled in the Lower Mainland, in areas like Surrey.
"We know that refugees with young families have added stressors, and women experience this particularly through the gendered responsibilities of childcare, and their inability to access healthcare," O'Mahony explained.
The first step is gaining an in-depth understanding about what health care professionals, settlement workers, non-government organizations, as well as immigration service service centers already working with Syrian mothers are encountering, and about the specific difficulties these refugee women are facing in accessing mental health care due to cultural differences, social stigma, language barriers, unfamiliarity or awareness of services, and low socioeconomic status.
A symposium, scheduled to take place in May in the Lower Mainland, will create a forum for this exchange of knowledge. Activities will focus on community engagement, and include developing an advisory board consisting of key stakeholders and gatekeepers of the Syrian community. Advisory board members will include Syrian mothers and members of the Syrian community, settlement workers, health care professionals, non-government organizations as well as immigrant service representatives.
More information
Dr. Joyce O'Mahony, Assistant Professor
School of Nursing
jomahony@tru.ca
250-377-6138