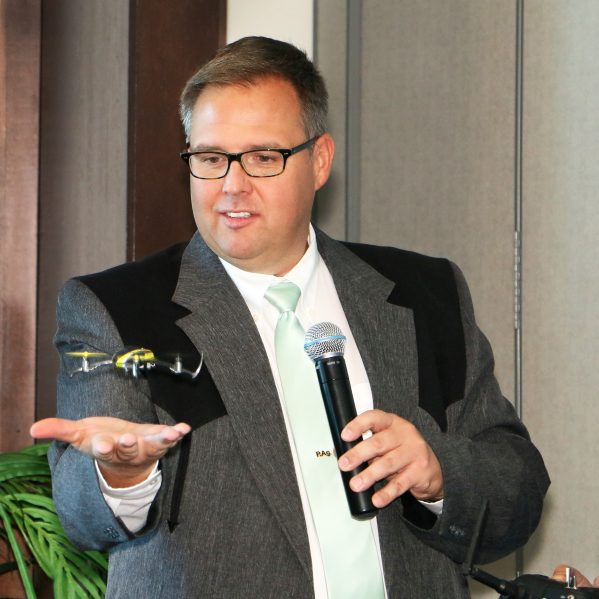 We've got smart phones, smart TVs and smart apparel, now TRU's Dr. John Church plans to unveil smart cows during the sold out #BCTECH Summit March 14-15 at the Vancouver Convention Centre.
"We're moving cows into the Internet of Things," said Church, who was invited to participate in the Game of Drones panel session during the conference, and will have his research on display in the Future of Food exhibit.
> Read: Smart cows: The future of ranching? CBC News British Columbia, March 15, 2017
This is Church's second opportunity to showcase his research at #BCTECH, where he'll be joined by TRU researchers Drs. Musfiq Rahman, David Hill, and Faheem Ahmed. Church's precision ranching research has evolved almost as quickly as the technology itself.
"We can find cattle on the range through the use of the drone and the RFID (Radio Frequency Identification) tag, but what we can't do is get that data to stream online in real time. Now, our new drone has a SIM card built in, so we have the potential to track cattle in real time using a cell network and a GPS enabled RFID tag," explained the Regional Chair in Cattle Industry Sustainability.
Read: Grant accelerates precision ranching research, InsideTRU, September 2016
"We've got solar-powered RFID tags, but if we can get the GPS coordinate along with the individual animal ID from the RFID data stream, we would know where our cattle are at all times," he said. Another possibility is to add an accelerometer to the tag, which would measure movement, allowing ranchers to perceive threats — including the presence of predators — on the range.
"We're discovering new uses for combining these technologies all the time."
TRU alumni Robert Atwood, CEO of Hummingbird Drones, will join Church on the Game of Drones panel to discuss the use of unmanned aerial devices in wildfire detection, as well his company's fire line hotspot mapping technology. Hummingbird Drones was developed while Atwood was working toward his Natural Resource Science degree at TRU, and the company was supported in its initial stages by the TRU Generator, an on-campus entrepreneurial hub providing mentorship, education, venture creation and seed funding support for alumni, students, faculty and staff.
Read: Generating entrepreneurial success, InsideTRU, October 2015
In 2015, Atwood was awarded the Startup Canada Young Entrepreneur Award for BC and the North.
More information
Dr. John Church
jchurch@tru.ca
250-828-5150