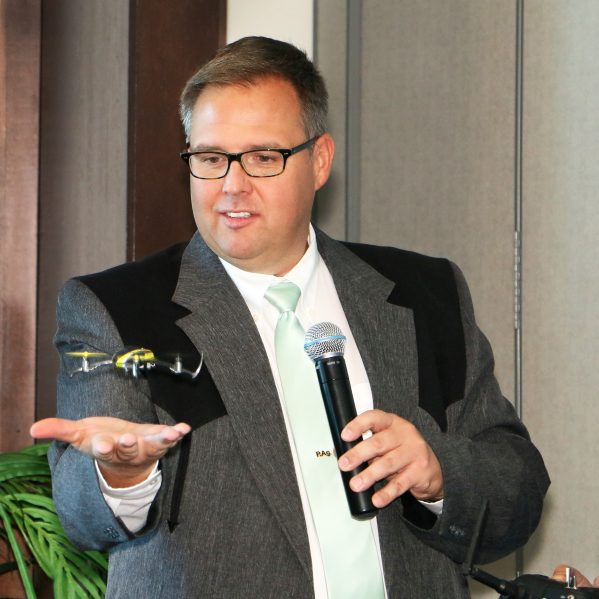 It's a collaboration that could revolutionize the ranching industry.
Dr. John Church, BC Regional Innovation Chair in Cattle Industry Sustainability, has partnered with Southern Alberta Institute of Technology (SAIT) and Golden BC's Kingsclere Ranch on a Natural Sciences and Engineering Research Council (NSERC) College-University Idea to Innovation grant.
The three-year grant of $663,940, combined with cash and in-kind contributions from partners, values the research project at nearly $1.1 million.
This collaboration expands Church's growing body of research in precision ranching to explore new methods for successful detection of cattle on the range. The project will provide ranchers with new ways of managing their assets, which include both cattle and rangeland.
Read: Canada funding 'revolutionary' development of drones to turn cattle ranching from art to science, National Post, Sept. 9, 2016
"This project is unique in that it allows for better management of all ranch assets. Past management techniques have been more of an art rather than a science, and we hope to change that," said Church.
Dr. David Hill, TRU Associate Professor of Geography, is collaborating on the grant, using the drone to create large aerial photo maps that producers can use to make land management decisions.
"The drones give ranchers the ability to extend their vision, and the Radio Frequency Identification (RFID) technology will give them the ability to see exactly which cattle they're looking at," said Church.
Church began collaborating with Glen Kathler, Applied Research Chair at the RFID Research Lab at SAIT, two years ago. Kathler has a rich history of working with the ranching community in Alberta, and SAIT is a world leader in technology and electronics associated with the improved RFID ear tags that have been required since the mad cow scare in 2003.
All cattle are tagged—a cost ranchers must bear—but the technology hasn't provided much practical benefit until now.
"With the drones, together with the RFID tags, we can develop a tool for producers that allows us to take the initial investment in technology and find a good use for it. Much of the herd is homogeneous—they're all black cows—but with this tool, each animal becomes truly unique."
Quotes:
"Our researchers are engaged with local communities, giving industry, business and non-profit partners full access to sophisticated research capabilities at TRU. Collaborations like this give our researchers the capacity to solve problems that provide immediate benefit to people."
– Alan Shaver, President and Vice-Chancellor, TRU
"BC Innovation Council is proud of the work realized through the management of the Leading Edge Endowment Fund (LEEF). LEEF aimed to establish B.C. as a leader in industry-driven research as well as promote economic growth. We're proud of this collaboration between industry, government and academia that not only commercializes innovation, but fulfills a key pillar of the #BCTECH Strategy by providing capital to support cutting-edge research in B.C."
– Shirley Vickers, President & CEO, BC Innovation Council
"Dr. Church and TRU are uniquely positioned to contribute on such a ground-breaking research program. We're delighted to see continued confidence in his research, and excited to participate in such innovative collaborations that are achieving national recognition."
– Will Garrett-Petts, Associate Vice President, Research and Graduate Studies, TRU
"SAIT is pleased to bring our expertise and leadership in applied research to this initiative. Our collaboration with TRU combines two sophisticated skill sets in agricultural research. TRU's thermal-imaging expertise, combined with SAIT's successful RFID animal-tracking research and prototyping helps to further enhance the high standards of the livestock industry in maintaining food chain safety."
– Glen Kathler, Applied Research Chair at the RFID research lab, SAIT
"BC ranchers collectively manage vast tracts of both private and public land, so having access to tools that enhance our ability to manage this land is what really attracted me to the project. It is very exciting to work with the competent team of researchers at TRU and SAIT."
-Jeff Braisher, Kingsclere Ranch Ltd.
More information
Dr. John Church, BC Regional Innovation Chair in Cattle Industry Sustainability
jchurch@tru.ca
250-828-5150
Dr. Will Garrett-Petts, Associate Vice-President, Research and Graduate Studies
petts@tru.ca
250-828-5410