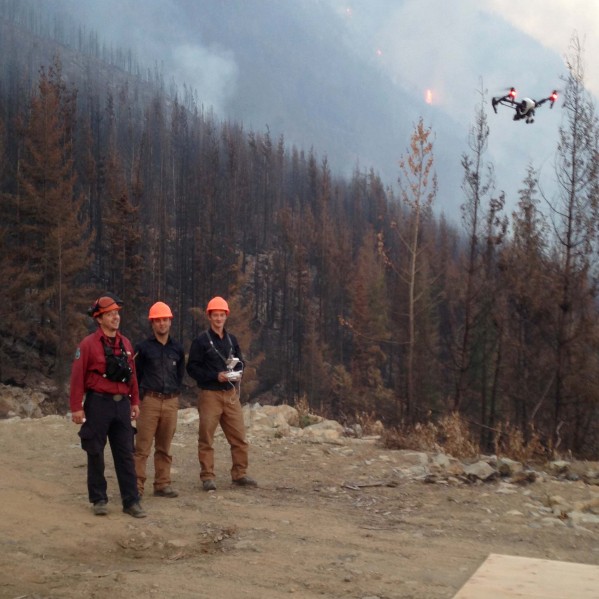 The past year has flown by for the founders of Hummingbird Drones, and the company's founders are overwhelmed by their success.
Chief Executive Officer Robert Atwood received word last week that he had been awarded the Startup Canada Young Entrepreneur Award for BC and the North. The award will be presented at the Startup Canada Awards in Vancouver on Nov. 4.
Atwood, a 2015 TRU Natural Resource Science graduate, founded the business alongside Richard Sullivan, a bachelor of business administration student. They first got the idea for their company while working as firefighters for the BC Wildfire Service during the 2014 season.
"(Sullivan) was my crew leader, and we were part of the initial attack team. We could see then how many opportunities and applications there would be for UAVs (Unmanned Aerial Devices) during wildfires," said Atwood. The company officially incorporated in March 2015, making it the first UAV service provider in North America to become involved in wildfire suppression activity. Hummingbird Drones offers low-level infrared scanning and mapping for wildfire agencies, emergency responders and environmental industries, and is now participating in the BC Innovation Council Venture Acceleration Program at Kamloops Innovation.
To get off the ground required the help of the TRU Generator, an on-campus entrepreneurial hub that provides mentorship, education, venture creation and seed funding support for alumni, students, faculty and staff.
The support of The Generator, and the continued support of Kamloops Innovation, has been key to the company's success, said Atwood.
"It was absolutely critical in our development — we certainly wouldn't be here without The Generator, I can't emphasize this enough."
Today, Hummingbird Drones boasts eight employees, many of them fellow TRU alumni, and this recognition from Startup Canada has prompted Atwood and Sullivan to reflect on the accomplishments of the past year.
"I never would have dreamt that we would have eight employees before the end of our first fiscal year. It takes a moment to digest all the things we've accomplished — it has far and away exceeded my expectations," said Atwood.
More information
Lincoln Smith, Director, Research Partnerships and Enterprise Creation
Research and Graduate Studies
250-434-0200
lsmith@tru.ca
---
The Office of Research Partnerships and Enterprise Creation is supported by the Research Support Fund. The Fund assists Canadian post-seocndary institutions to maintain a world-class research environment.