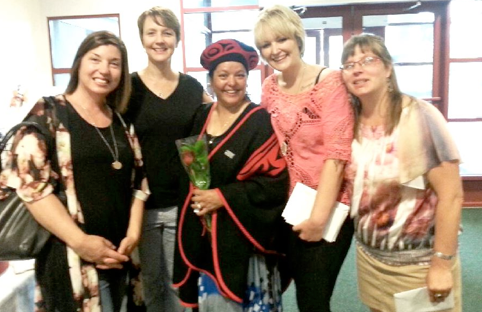 At age 41, Anne Marie Leonard obtained her high school diploma and learned to speak Secwepemctsín, a journey that set her on a path to a career where she could make a meaningful impact in the lives of others.
The Tk'emlúps te Secwepemc Band member entered the Human Service Diploma program with plans to ladder into the Bachelor of Social Work but quickly realized that wasn't her journey. After getting her feet wet within the industry on a medical support level, she discovered a love for medicine and person centred care.
Upon more research, Leonard discovered the Health Care Assistant (HCA) program and it was everything she had been looking for.
"As I work within this industry, I have found my niche. I am now doing something that I truly love. So much so, that when I get out of bed, I leap out of bed and can't wait to get to work in the morning," said Leonard.
"I have had the privilege of working with the Elders in many communities and cherished every waking moment of that. Their teachings, listening to their stories—I get daily lessons from what they have to share with me."
The HCA curriculum is organized around the concepts of caring, safety, critical thinking and a professional approach to practice. The courses build from the individual's self-reflection on interpersonal communication skills and lifestyle influences on health and wellness.
"It was a pleasure to meet and get to know Annie during her time in the Health Care Assistant program," said faculty member, Kim Morris. "She has a huge heart and is passionate about providing person centered care to people.  She takes her role very seriously and I know she will provide compassionate and thoughtful care to the people in her community."
Leonard says that for her, its not about the prestige of the certificate, the rate of pay or the job title. Person centred care is the key to making a great Health Care Assistant, learning about people and caring for them as if they are your own family.