June 21 is National Aboriginal Day and this year marks the 20th anniversary. During that time, TRU has taken numerous steps towards indigenizing campus with many of them having taken place in the past 15 years.
Some initiatives are obvious like the stop signs and their Secwepemc message of Estil while others are more subtle like weaving Aboriginal culture and history into coursework, hiring Aboriginal faculty and staff and encouraging students to research and submit papers on tough Aboriginal topics like systemic racism, poverty and other social and economics issues.
TRU's efforts haven't been lost on first-year student Wyonna Cahoose, who says the indigenization of campus is both "welcoming" and demonstrates that "step-by-step we as a people are thriving and it's leading to more (Aboriginal) students here and students graduating."
Cahoose is working towards admission into the nursing program and in the meantime, she's been working on prerequisites and electives, one of which was an anthropology course and with it came the opportunity to write a paper exploring the link between Aboriginal alcoholism and past injustices like residential schools and segregation to reserves.
Including personal accounts, she found it empowering to write about an important topic while receiving the blessing of her teacher and her university.
Another support for her is TRU's Aboriginal cultural centre, known as the Gathering Place or Cplul'kw'ten, it's her home-away-from-home and where she can relax and be comfortable amongst people of similar heritage and backgrounds. Knowing she is welcome there can lead to hours in the computer lab working on a project or stopping by to chat in the kitchen with other students, a resource worker or an Elder. She's even dropped by to use a stapler.
"Cplul'kw'ten makes TRU more welcoming and it's good that TRU is incorporating our culture into campus," Cahoose said.
An Aboriginal Day event was not held on campus this year so as not to draw attention away from the two major events in town at McDonald Park in North Kamloops and at Tk'emlups te Secwepemc powwow arbour, said Paul Michel, TRU's executive director of Aboriginal Education.
"We work in partnership with our First Nations and Metis organizations and we did not want to conflict with these wonderful events planned in the Kamloops community," said Michel.
---
In recognition of Aboriginal Day, what follows is a small sample of the steps TRU has taken to indigenize campus the past few years.
This partnership with School District 73 allows high school students the opportunity to earn university credits while still in high school.
With TRU Start students can:
Start their university journey early
Take one or two university courses or a one-year university certificate program tuition-free
Experience university life while in secondary school for TRU on-campus courses
Experience post-secondary distance delivery courses and working with an online tutor for TRU Open Learning courses.
---
Transitions to Post Secondary day
Another partnership with School District 73, high school students are on campus for a day of familiarizing themselves with what TRU has to offer through workshops, activities, tours and interactions with faculty and staff.
Even though it's held in November, the popular event attracts between 100 and 150 students.
---
Secwepemc flag
The flag representing the Secwepemc bands flies at the east entrance of campus. In this photo, former T'kumlups Indian Band Shane Gottfriedson stands near the flag on the day it was unveiled on Dec. 23, 2013.
---
Drummers at Convocation
All Convocation ceremony wrap with two or three singers and drummers leading the dignitaries and graduates away from the Convocation stage and seating area. The drummers also sing an honour song, which is a blessing, congratulations and best wishes for what lies ahead.
---
Gathering Place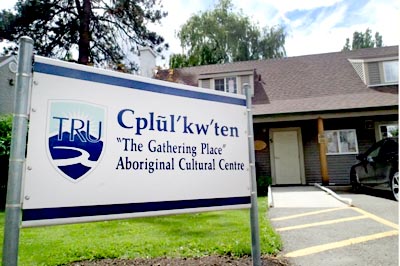 As mentioned above, this multi-use building is a home-away-from-home and is especially so for those not from Kamloops or from remote or small communities.
Many long-lasting friendships start out here and everyone is welcome. Most days there is free coffee and tea and most Wednesdays free soup is available.
Cplul'kw'ten is also home to most of the support services team and is where an elder can be found most weekdays.
---
Barber Centre and artwork in the House of Learning
The Barber Centre is a 360-degree auditorium modelled after an Interior Salish pit house. The inside has reclaimed pine beetle beams for a ceiling and the outside roof has various native grasses serving as a cover. The Barber Centre is attached to the House of Learning.
Artwork abounds in the House of Learning with some of the highlights being the fish shapes etched into the ground floor near the staircase, stone carvings and pine needle baskets (like the one pictured here) in glass display cases in the mini gallery, the four-storey fabric banner and the giant wall-mounted hand drum.
---
As mentioned before, you're likely to find an Elder at Cplul'kw'ten most weekdays. They are there to listen, comfort and offer up their years of wisdom whether through reflecting on their lives or through traditional stories.
Their traditional role was as teachers, caregivers, advisors and role models and continues to be so today.
In honouring their wisdom, Elders are asked to give a blessing at numerous TRU events throughout the year as Estella Patrick-Moller does during one of this year's spring Convocation ceremonies.
---
TRU Powwow
Typically held over a weekend in February or March, the event attracts people from near and far and of all ages for competitive and recreational performances. It's a time for renewing friendships, making new ones, catching up and celebrating culture and each other through fun and fellowship.
---
Campus stop signs
What might seem like a simple gesture is actually a strong message of welcome and acknowledgement of sharing the land with the area's first people.
---
Language courses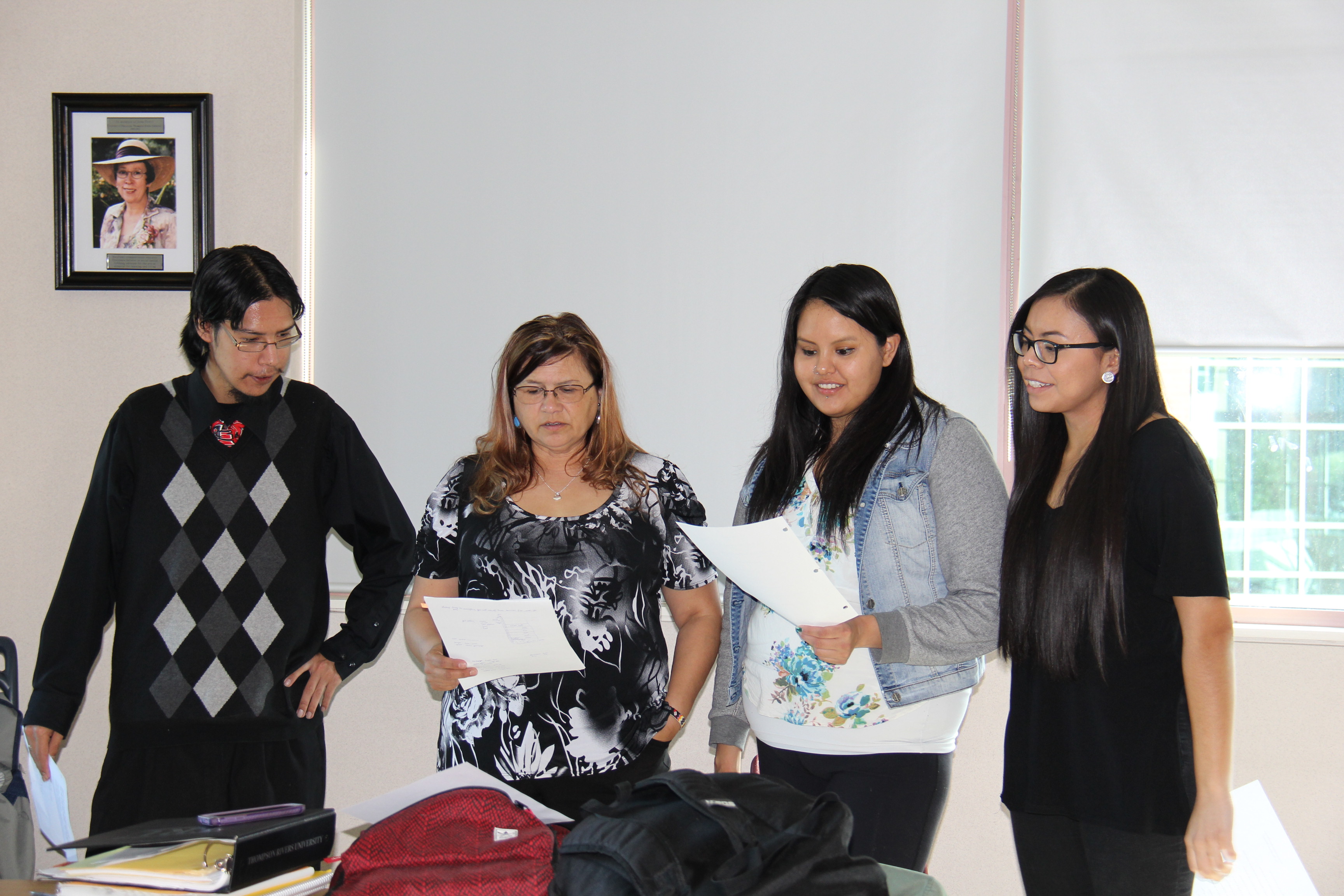 To complement Aboriginal specific courses like First Nations Studies and anthropology courses, TRU offers First Nations language courses (FNLG).
Choose from an introduction, or something to flesh out the electives or enrol in the Developmental Standard Term Certificate for First Nations language teachers.
---
High school science and health sciences camp
This summer camp for students entering grades 8-10 has them overnighting at the TRU Residence and Conference Centre and while on campus, doing hands-on experiments, learning about traditional practices, going on field trips and meeting current faculty and students.
---
Rod McCormick was appointed in summer 2013 with funding from the province of BC. His research will help bring innovative, high-quality and culturally relevant services designed to give Aboriginal children the best start in life.
In this photo, McCormick (left) sits with faculty member Patrick Walton, whose study a few years ago led to the creation of the Aboriginal Mentor Program.
---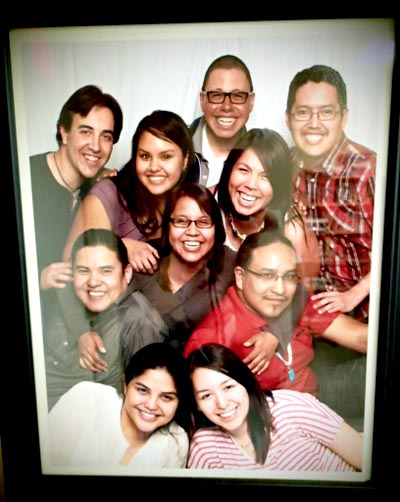 Mentors assist first- and second-year students transitioning into TRU whether it's from high school, another college or university or having been away from school for some time.
Based on the needs of those being mentored, mentoring happens one-to-one, in groups, at events or during workshops.
Based out of Cplul'kw'ten, mentors learn valuable skills that can be transferred to many walks of life. They also receive a certificate and can apply to have the experience count towards a Global Competency credential.
---
Recognition of territory and traditional lands
At official gatherings and other important events, TRU President and Vice-Chancellor Alan Shaver routinely recognizes that TRU is in traditional territory and on native land.
---
Team members are a wealth of knowledge and information and care about well-being as much as they do academic success.
Book an appointment with the appropriate team member to learn more about funding, scholarships, bursaries and awards, community organizations, counselling, the Peer Mentor Program, social activities, health and wellness, workshops, how to get involved outside the classroom, study skills and some tips towards student success.
---