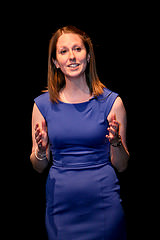 It was stiff competition, but Elizabeth Watt from the University of Calgary took top spot at the Western Canadian Three Minute Thesis (3MT) for her presentation, "Permanent Breast Seed Implant: Improving Patient Experience in Early-Stage Breast Cancer".
For her efforts, Elizabeth wins a $1,000 prize, and will represent the region at the National 3MT competition organized by the Canadian Association of Graduate Studies (CAGS) in May.
In second place was Erika Bachmann from the University of Saskatchewan for her presentation, "Making a little go a long way: Fertilizer microdosing for improved agricultural production in Northwest Benin".
Cameron Bye from University of Lethbridge took third place for, "What role do NMDA receptors have in learning and memory?".
More than 100 people attended the competition, which was held in TRU's Black Box Theatre on April 30. The event was also live-streamed, and allowed opportunity for more than 3,000 people to vote online for their favourite presenter. When the votes were tallied, Rebecca (Delong) Dielschneider from the University of Manitoba came away as People's Choice for her presentation, "Lysosomes as targets in leukemia".
In total, 14 graduate students presented their research before a panel of three judges, including TRU Chancellor and former B.C. Attorney General Wally Oppal, broadcaster and host of CFJC-TV Midday Susan Edgell, and motivational speaker and lawyer Lesra Martin.
The national 3MT, will be hosted virtually, and judges will review video presentations of the finalists from the regional competitions to choose a  winner. The videos will be posted on the CAGS website on May 15. The judges will choose a first and second place winner based on clarity, presentation and audience engagement. The public is encouraged to visit the website and vote for the People's Choice winner from May 15 to May 28. The national 3MT judges include:
Chad Gaffield: University of Ottawa Research Chair in Digital Scholarship, and Royal Society of Canada fellow
Sophie Nadeau: Former journalist and television producer, who currently runs her own communications consulting firm
Alejandro Adem: CEO of Mitacs and professor of Mathematics at the University of British Columbia, where he holds a Canada Research Chair in Algebraic topology
Winners will be announced the first week of June at the Canadian Association for Graduate Studies Congress. The first place winner receives $1,500 and an all-expenses paid trip to the CAGS annual conference in Calgary. Second place winner receives $1,000, and the People's Choice winner receives $500.
This is TRU's second time participating in the research communication competition. Last year, TRU Master of Environmental Science student Erika Dufort took top spot at the 2014 regional competition, and went on to represent Western Canada at the nationals. This year also marks 10 years of graduate programming at TRU, which presented a perfect opportunity to showcase the rich and engaging research programs that have been developed.
What is 3MT?
The first 3MT was held at the University of Queensland, Australia, in 2008 with 160 students competing. Since 2011 the popularity of the competition has increased and 3MT competitions are now held in at least 170 universities across more than 18 countries worldwide. There are 32 universities in Canada competing in the event.
Presenters and the titles of their talks
Jeremy Chiu, Applied Mathematics, Simon Fraser University
"Thermogregulation of a Honeybee Swarm"
Zoe Wai-Man Lam, Linguistics, University of British Columbia
Perception of Lexical Tones by Heritage Speakers of Cantonese"
Joshua Lee, Medical Genetics, University of Alberta
"Treating Genetic Disease with DNA Band-Aids"
Kayla Balderson, Wildlife Ecology, University of Regina
"Greater Sage-Grouse Recovery Efforts in Southeast Alberta"
Carey Simpson, Health and Exercise Science, UBC-Okanagan
"Stretching the Limits of Muscle Growth: A New Route to Hypertrophy."
Stephanie Bonvicini, Chemistry, University of Victoria
"Liquid Lasers: Can they solve the pesky laser malfunctions that evil villains (and scientists!) face?"
Elizabeth Watt, Physics & Astronomy, University of Calgary
"Permanent Breast Seed Implant: Improving Patient Experience in Early-Stage Breast Cancer"
Sheena Manghera, BioScience, Technology & Public Policy, University of Winnipeg
"Silent No More: Re-activation of Endogenous Retroviruses in ALS"
Sara Pyke, Nursing, University of Northern British Columbia
"How do public health nurses experience interprofessional collaboration with primary care providers in Northern British Columbia?"
Cameron Bye, Neuroscience, University of Lethbridge
"What role do NMDA receptors have in learning and memory?"
Erika Bachmann, Agricultural Economics, University of Saskatchewan
"Making a little go a long way: Fertilizer microdosing for improved agricultural production in Northwest Benin."
Kathleen Kelava, Applied Psychology, Athabasca University
"The shades of ubiquitous suffering: Dichotomy in theory and in states/diagnosis."
Kristen Marini, Biological Sciences, Thompson Rivers University
"Living in the Ghetto: Effects of city life on chickadees."
Rebecca (Delong) Dielschneider, Immunology, University of Manitoba
"Lysosomes as targets in leukemia."
For more information:
Troy Fuller
Interm Director, Graduate Studies
250-371-5569