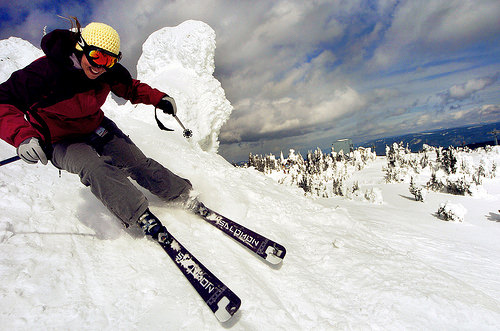 Faculty members in TRU's Tourism Management Department are collaborating with Norwegian researchers to enhance long-term sustainability of mountain resort communities.
On Jan. 19, Dr. John Hull and senior lecturer Anne Terwiel travel to Norway along with Tourism Sun Peaks President Christopher Nicolson and Peak Planning Associates CEO Sydney Johnson, where they will lead workshops in promoting service excellence at ski resorts.
The workshops are funded by Buskerud and Vestfold University College's Centre for Tourism Management and Buskerud Kommune.
This is just one more example of the research collaborations linking Thompson Rivers University and Sun Peaks to Norwegian researchers. TRU and Buskerud and Vestfold University College are partners on the research project: Enhancing Community Sustainability Through Service Quality Excellence: A Comparative Study of Sun Peaks, Canada and Hemsedal, Norway.
Major funding for the Hemsedal study has been secured through the Norwegian government and also involves researchers at the University of Sheffield (England). Hull has recently applied for matching funds from the Social Sciences and Humanities Research Council to adapt the Norwegian survey to Canada and to apply auto-ethnographic methods to collect more detailed qualitative data.
One of the project's goals is to develop tools and technologies that allow ski resorts to survey visitors, with the aim of monitoring a ski resort's progress and performance and thereby increasing customer satisfaction and enhancing long-term sustainability of mountain resort communities.
"We have a lot of ski resorts just waiting to see how our pilot project at Sun Peaks turns out," says Hull, who adds the long-term implications of the study will bring significant benefit to mountain resort communities, which are major contributors to regional and rural economies. Changing demographics, variable economic trends and the long-term impacts of climate change are of concern to mountain resort communities, so tools that can develop efficiencies and benefit customer experiences are highly prized.
Surveys have been conducted in Norway for three years and the results are encouraging.
"It all goes back to training the employees so they're able to deliver good service. Our program is linked to service training for the employee and our surveys target the customer. We're seeing that it is linking to more revenues and more economic impact with satisfied customers and returning customers."
In April 2012, TRU, Sun Peaks Resort Corporation, Tourism Sun Peaks and Sun Peaks Mountain Resort Municipality signed a memorandum of understanding creating the Alliance for Mountain Environments (AME). The AME is committed to working toward mutually supportive projects in the studies of ecosystems, culture, leisure and tourism associated with mountain environments.
More information
John Hull
jhull@tru.ca
Tel: 250-852-7638
Anne Terwiel
Email: aterwiel@tru.ca
Tel: 250-371-5761