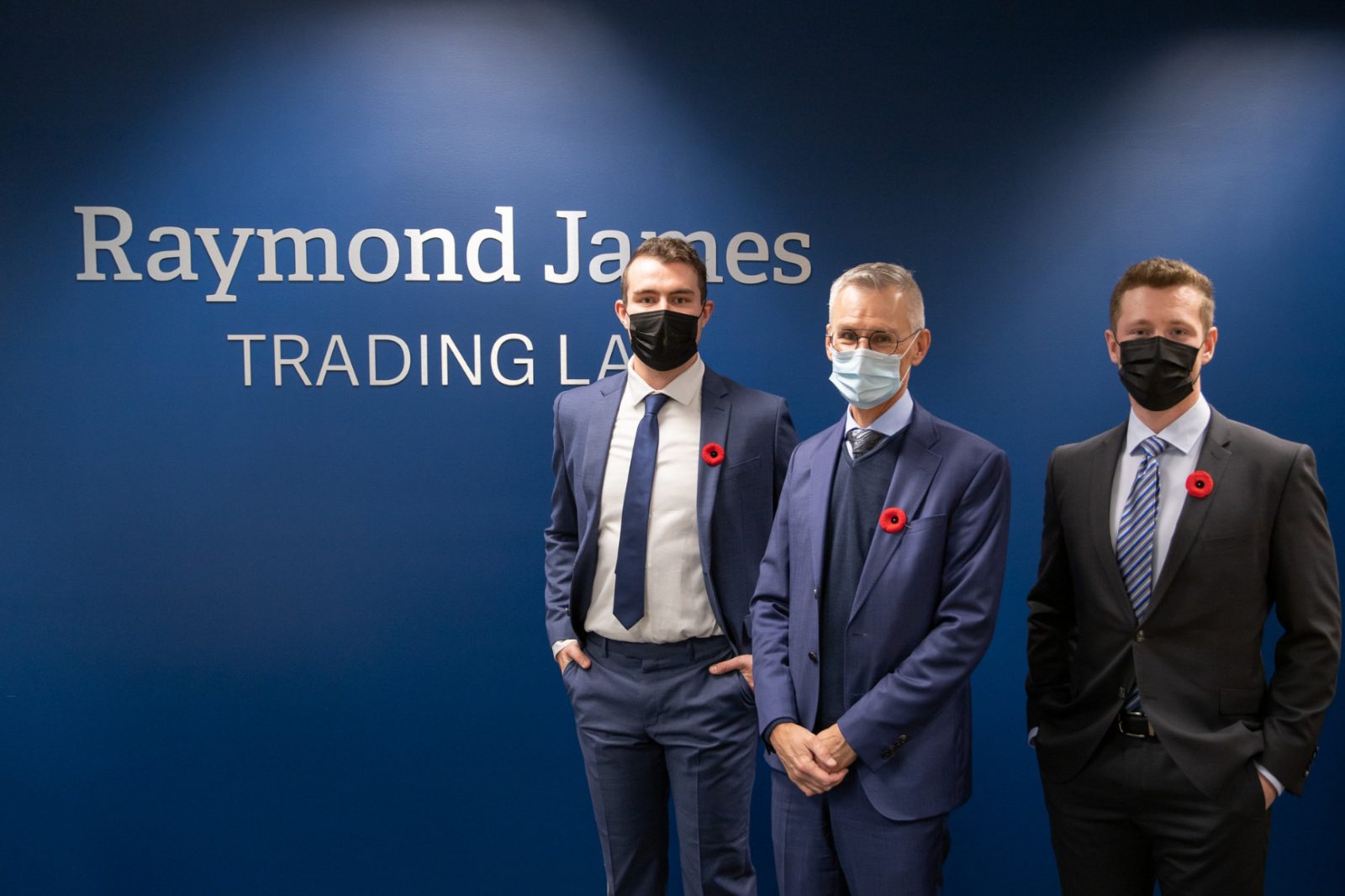 Students Adam Burke and Jacob Lawrence have worked toward this day since they pitched the idea of a student investment fund three years ago. On Thursday, Nov. 4, Thompson Rivers University (TRU) officially opened the Raymond James Trading Lab, a purpose-built lab outfitted with sophisticated research and analysis software used for managing investments.
Raymond James (Canada) Ltd. in partnership with FactSet—a financial data and software company—equipped the lab with a total contribution valued at more than $550,000. The gift provided five state-of-the-art, dual-screen trading stations, a five-year commitment to equip the stations with industry software and training for students.
"We're here because of the generosity and vision of Raymond James," said School of Business and Economics Dean Mike Henry. "We're also here because we have some rock star students who had a vision."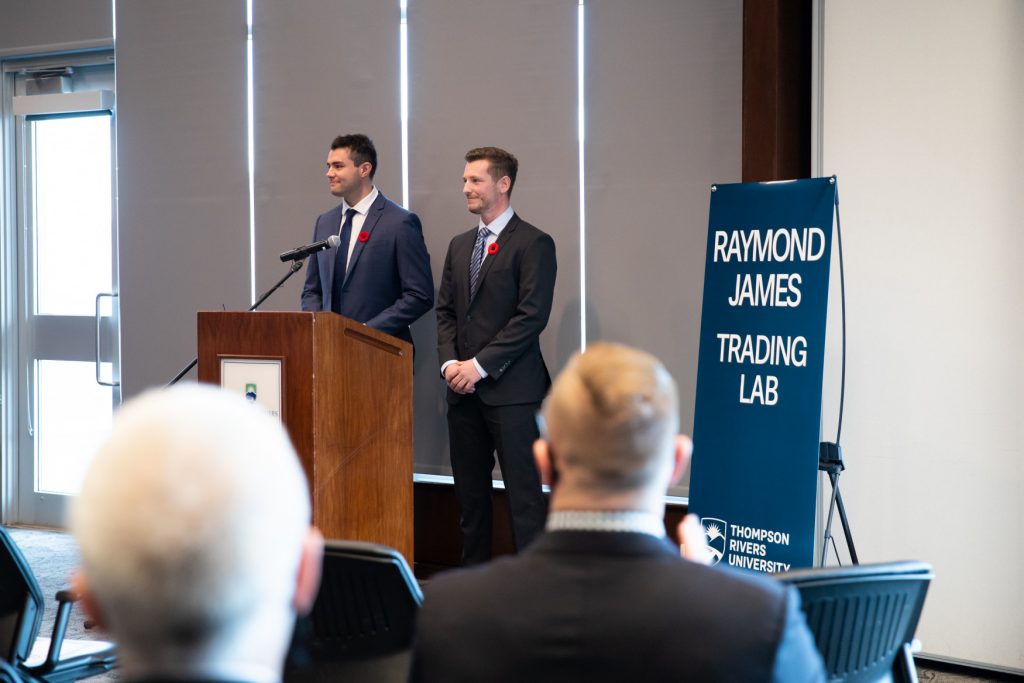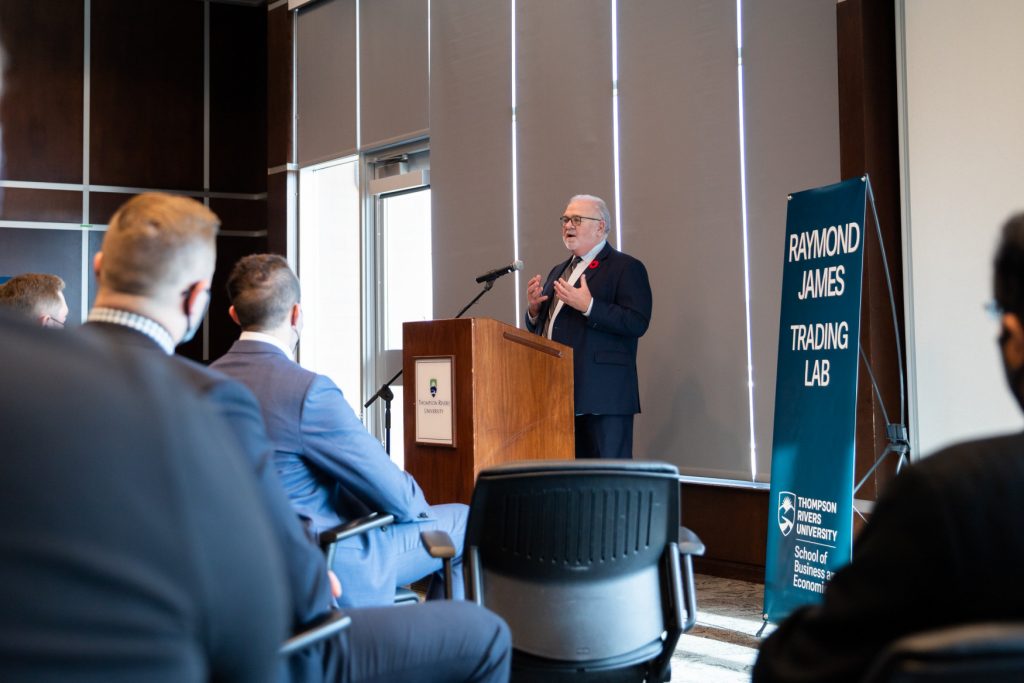 The idea for the trading lab started with finance students Burke and Lawrence, who created the TRU Student Investment Fund (TRUSIF) in 2019 with support from Raymond James, TRU and the Chartered Financial Analyst Society. Through TRUSIF, students manage a portfolio of Canadian and U.S. equities, gaining valuable knowledge and skills in equity research, financial modeling, portfolio tracking, teamwork and public relations.
"We're really excited to have concrete support from an industry player," Burke said. "The new trading floor will provide TRU students the advantageous opportunity to practice with professional resources."
Paul Siluch of Raymond James (Canada) Ltd. has worked as a portfolio manager with TRU since 1993, when the institution was still Cariboo College. He has witnessed the enthusiasm expressed by students assigned the task of investing a small part of the university's investment portfolio.
"When these remarkable students came to us and said we have this idea for a portfolio management course, we thought, what a great way for all of us to win," Siluch said.
"Our industry, finance, is evolving at lightspeed. Whether it's algorithmic trading or cryptocurrencies, you need the most modern tools to get the most modern jobs. This is FactSet institutional software run by tens of thousands of companies around the world. It's state of the art."
Raymond James is providing software training and mentorship to TRUSIF as the cohort of 11 students continues managing their fund. Since the creation of TRUSIF, some original members have already moved on to careers in the industry.
"It's worth noting that one of our main goals in creating this fund was to create something that would operate in perpetuity. We want future students to benefit from the network and resources that we've built," Lawrence said.
"We'd really like to thank the Raymond James team for giving us the tools that you need to compete against other student investment funds."