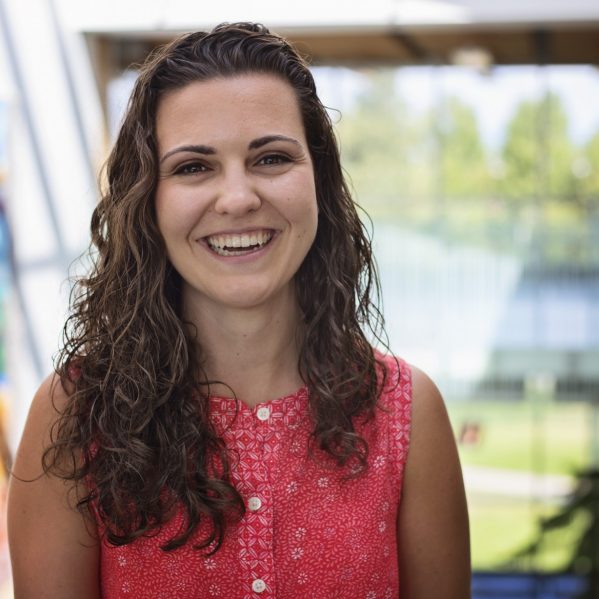 As she approaches completion of her Interdisciplinary Studies degree, Payton Comazzetto has a collection of academic experiences that are so rich and diverse that future employers will have to open her resume like an ancient and lengthy scroll. Comazzetto is a volunteer, work study student, research assistant, undergraduate research ambassador, service learning student, vice-president and Wilderness Wellness Weekday co-ordinator for the Adventure U Club and a directed studies student working with the office of Research and Graduate Studies. 
Now, Comazzetto can add another accolade to the list: winner of the Neil Russell Student Leadership Award.
Discover. Connect. Engage. Become.
Nominated by Sukh Heer Matonovich and Will Garrett-Petts from Research and Graduate Studies, both beamed with enthusiasm while discussing Comazzetto's efforts and contributions.
"Payton is someone to celebrate. We need to applaud these students–it's not just about engaging, it's about truly becoming," Garrett-Petts said.
Garrett-Petts's comment reflects the pathway narrative of the student experience, which is a journey that includes four key elements: discover, connect, engage and become.
"Universities need to be places of transformation. It's a discovery of passions, values and resources and connecting all the pieces. It's about joining, and eventually adding to the conversation," Garrett-Petts continued.
Comazzetto's personal, social and academic perspectives and experiences are woven into her campus and community-based endeavors. The intersections of her commitments highlight the enriching potential of meaningful work that runs alongside the classroom experience.
"We tend to compartmentalize co-curricular and extracurricular education, when it should be baked right into the student experience," Garrett-Petts said with a chuckle.
"Payton is a role model and the mentor that students look to for inspiration. She helps others identify their passions," Matonovich said.
Creating meaning from loss
When listing Comazzetto's contributions, one must pay homage to the charity run she created in memory of her older brother Brennan, who was killed by a drunk driver when Payton was six years old.
After two successful years, Brennan's Ugly Sweater Run is now a part of the Kamloops Run Series yearly lineup. Comazzetto looks forward to the ongoing growth of this annual event.
"My brother had a way of including everyone. I'll always remember that about him. That's something I wanted to do in my own life. It's my way of connecting with him every year," said Comazzetto.
A self-described couch potato until her early 20s, Comazzetto woke up one morning with a sudden urge to run a marathon. That fascination in movement has since materialized into her research. In a directed studies cultural mapping research project with Garrett-Petts, she's examining the impact of natural surroundings on the psychological and emotional well-being of recreational and competitive runners.
"Exercise can be transformative and clarifying. It can offer a meditative experience in which you feel discomfort and push through the challenge. After a run, I feel like a completely different person," she said.
The motion of running seems emblematic of Comazzetto's unceasing drive.
"Sure, my schedule can be a lot to manage, but I'm passionate about education, research and volunteerism. When you love something, it makes the work easier. It's not just another task that I have to do—I do it because I enjoy it."
Comazzetto noted that community connections help her remain socially active.
"Volunteering is a great way to get out in the city; it gives you a reason, a purpose," she said. "The most significant highlight is seeing the results, and how the work positively impacts people. It is deeply fulfilling."
As for research, Comazzetto said with a laugh, "This kind of work makes you feel like Sherlock Holmes. The outcome is never what you think it's going to be. The learning intersections have made school so much easier; it opened up my line of thinking."
Moving forward
Showing no signs of slowing down, Comazzetto is a volunteer organizer and presenter at the TRU Undergraduate Research and Innovation Conference. She's also working on an opioid mapping project through the City of Kamloops' Community Action Team. She plans to work on her thesis over the summer. As always, Comazzetto is on the lookout for her next volunteer opportunity.
Mindful of her legacy, she reflected, "If I were to die tomorrow, I want to be remembered for my achievements. I wanted to make a positive impact, and I don't stop at 'good enough.' I wouldn't want anyone to dwell on loss either; I would want people to live on and move forward."