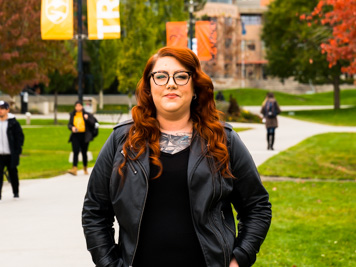 As a Communications and Marketing WorkStudy student for the Faculty of Student Development, Nicole Stanchfield is seeing student life in a whole new light. Currently completing her double major in psychology and sociology and is enrolling in the social work program in 2019, Nicole is documenting her mature student experience. She also wants to make time to explore university offerings to further expand her social, academic and personal horizons.
As fall semester wraps up, I find myself in a state of deep reflection. These past few months have been quite difficult. I often pushed my limits to maximum capacity. I was overwhelmed more times than I care to admit. I was regularly running on autopilot, moving from point A to point B in an exhausted stupor. Striking a balance is hard when you live your life four months at a time. Consumed by assignments, exams, projects, and presentations, and stressing over incoming grades is an endless, exhausting battle. I had a big ah-ha moment surrounding the passing of a family member and realized that I had been focusing on the uncontrollable aspects of my life far too much.
Not only is it okay to press pause on your hectic life – it is essential. Move away from the computer, put down that phone and take in the world around you. Go for a walk, connect with a friend, plan a paint-night or head out to a show.
I set an intention to say yes more this semester. I agreed to every opportunity that came my way, even if it scared me (let's be honest, it often did). A mentor once that told me, "Doing something that scares you daily, means that you have truly lived."
I followed this advice and participated in ways that I would typically avoid. My position as a WorkStudy student has offered some eye-opening experiences and opportunities. Now I'm living my best life in with Communications Coordinator James Matthews and Writer & Storyteller Alicia Ashcroft. I am becoming a better writer and receiving a behind-the-scenes perspective on how the university operates. The collective drive to see students succeed is exciting to witness.
As a mature student in my fourth year, I rarely took in any on-campus activities, events or services. I would attend class and then head home. I'd ignore all the posters and other communications. I'd sneak past Student Street info sessions with my head down. I didn't take advantage of any academic supports. I visited the Writing Centre for the first time just a few weeks ago. Where has THIS service been my whole life? I learned more from Student tutor Mike Tulak in a fifteen-minute drop-in appointment than I have in an entire English class. I made a mental note to spread the word, as I can't imagine that I'm the only one who isn't great at asking for help.
I attended the TRU Actors Workshop Theatre production "She Kills Monsters," and volunteered at the TRU LEADership Conference.  I also participated in two Wellness Centre events: Movies for Mental Health and the Consent Tea. While both were emotionally challenging, Chelsea Corsi, Wellness Centre Coordinator, fostered my well-being. The student panel discussion that concluded the event was moving and inspiring, yet triggering and I had not prepared myself to come up against my own trauma that evening. I debriefed my experience with Chelsea and shared some ideas on how to set up the next event with some different content warning statements. She acknowledged my feelings and was open to receiving my feedback.
I survived the Long Night Against Procrastination, which was my first time attending. I had an amazing interaction with Jenna Goddard, Writing Centre Coordinator, and learned that reading my papers aloud will help me with essay structure and grammar.  I experienced two workshops presented through the Centre for Excellence in Learning and Teaching about Intercultural myth-busting and how to combat racism in the classroom, featuring Intercultural Coordinator's Kyra Garson and Amie McLean and Sociology Professor Alejandro Campos-Garcia. I learned that as TRU grows more culturally diverse the staff, faculty, and professors are continuously identifying the needs of students and working towards creating an inclusive space for everyone.
Saying yes to the student experience has forced me to step outside my comfort zone, which I needed. It exposed me to many opportunities that I wouldn't necessarily have had. I became a better student by accessing the services that TRU offers, and surprise, surprise, I had fun! School can be very stressful, so I need to remember to be more mindful.
As the holiday break draws near, I have challenged myself to say yes to rest, relaxation and recovery. I want to pause and unplug.  Following my advice will help achieve mental and emotional balance in the New Year.