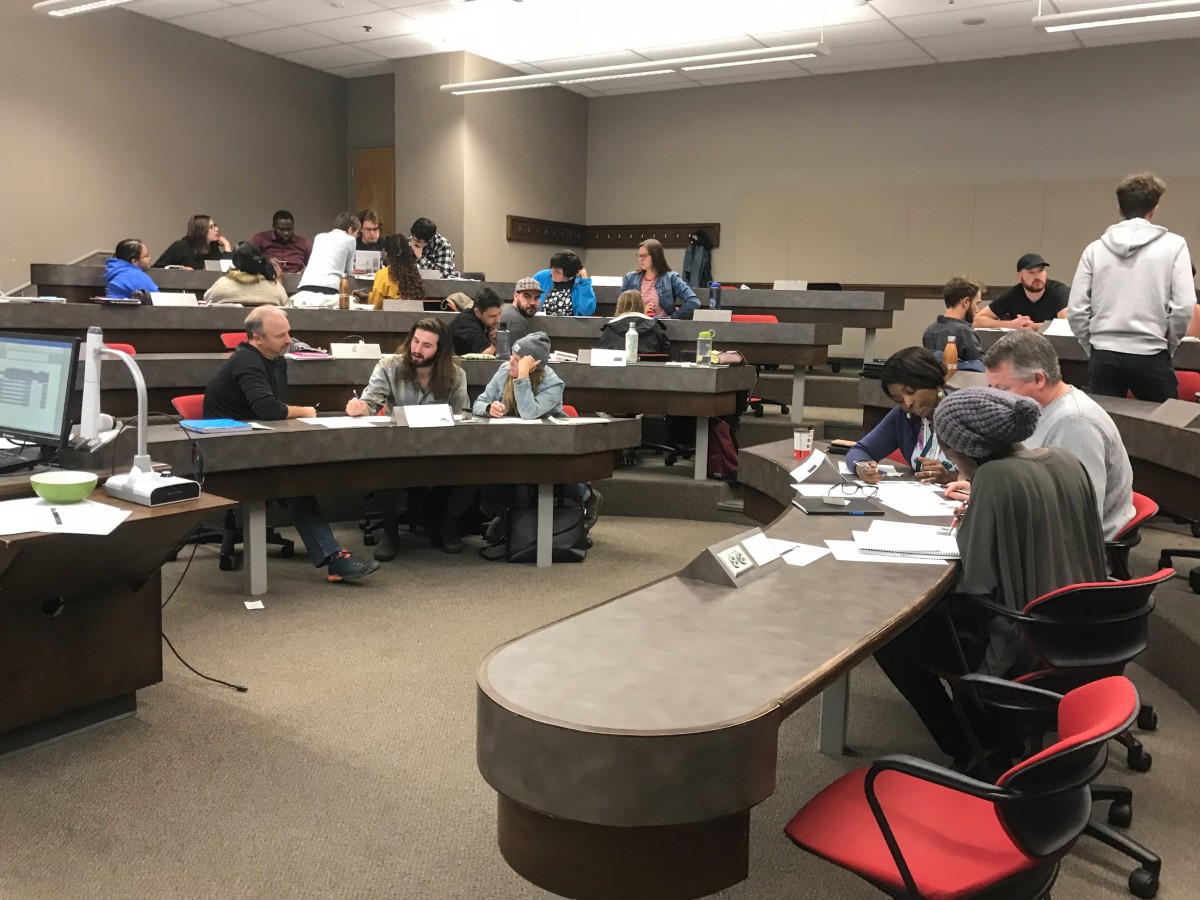 After two hours, a mix of 30 Thompson Rivers University students in masters level science and economics courses came up with better solutions to reduce greenhouse gas emissions (GHG) than leaders who attend United Nation (UN) conferences.
Peter Tsigaris, a faculty member with the School of Business and Economics caught wind one day of a climate change game that MIT's Management Sloan School developed.
"The purpose of the game is to explore the difficulties associated with reaching an international agreement to reduce GHG emissions and stabilize temperature increase below 2 C relative to pre-industrial levels in order to avoid dangerous climate change impacts by 2100," Tsigaris wrote in his paper about the game.
Loving the idea, Tsigaris augmented the game with economics and worked it into his Principles in Environmental and Natural Resources Economics class. On Oct. 16 in the International Building, he invited Dr. Lauchlan Fraser's Masters of Science in Environmental Science class to join.
There, the faculty members mixed the science and economics students, randomly sorting them into different regions from around the world.
The population density of each country and region determined how many students would represent them in the mock-UN climate negotiation simulation. United States, the European Union and other developed were represented by three students each. China and India had five students each, and a group of developing countries in South East Asia, South America and Africa had eleven students.
"It was a very interesting way to see how different types of decisions from different nations can influence the temperature of the earth," said Iga Smulska, a second-year master's student from Poland.
From there, each region explained their pledge: how aggressively they would try to reduce their emissions, along with preventing deforestation and how much they will contribute to a green fund to help the mitigation efforts of the poor nations. The target for the green fund was $100 billion per year.
Representatives were given a report showing economic performance, emissions, cost of mitigation and potential impacts the regions would face over the coming years.
"We wanted to see how the students would come up with pledges from different regions to help keep global temperatures increases to levels that are not dangerous," said Tsigaris. For more information about how each group presented their pledges, please continue to the bottom of the page.
After hearing each pledge, Tsigaris took the information and put it into the C-Roads computer software to project the global surface temperature change in 2100.
In their first crack at the game, the acting delegates kept the global temperature to a 2.5 C  increase by 2100, which came one degree lower than the warming predicted from the latest Paris Agreement of 3.5 °C increase and much lower than the rate were currently on, which would result in over 4.0 °C increase by 2100.
"The students did better than the people in the real negotiations," Tsigaris said with a chuckle. "It was great to have a mix of science and economic students there, so both sides of the issues could be dealt with."
"I was shocked with how seriously the other students took the game and I was shocked to see how well we did at lowering the estimated temperature of the Earth," said Smulska.
The game was a hit and Tsigaris plans to tinker it over the coming semesters, as he will bring it back with a different classes over the years, making adjustments along the way.
"To bring these students into an active learning state of mind by being participants trying to solve one of our biggest environmental issues facing us these days was a big challenge, but the students were engaged and I received great feedback," said Tsigaris.
Mock-UN climate negotiation results:
"We had some regions like the European Union spending money aggressively to cut emissions, the United States and other developed would cut at moderate rates and after 2030, while other areas like China and India had more immediate issues that needed to be addressed but would cut later after 2040."
 As for the green fund, the regions together pledged only $25 billion per year to help poor nations with the most funds coming from the European Union.