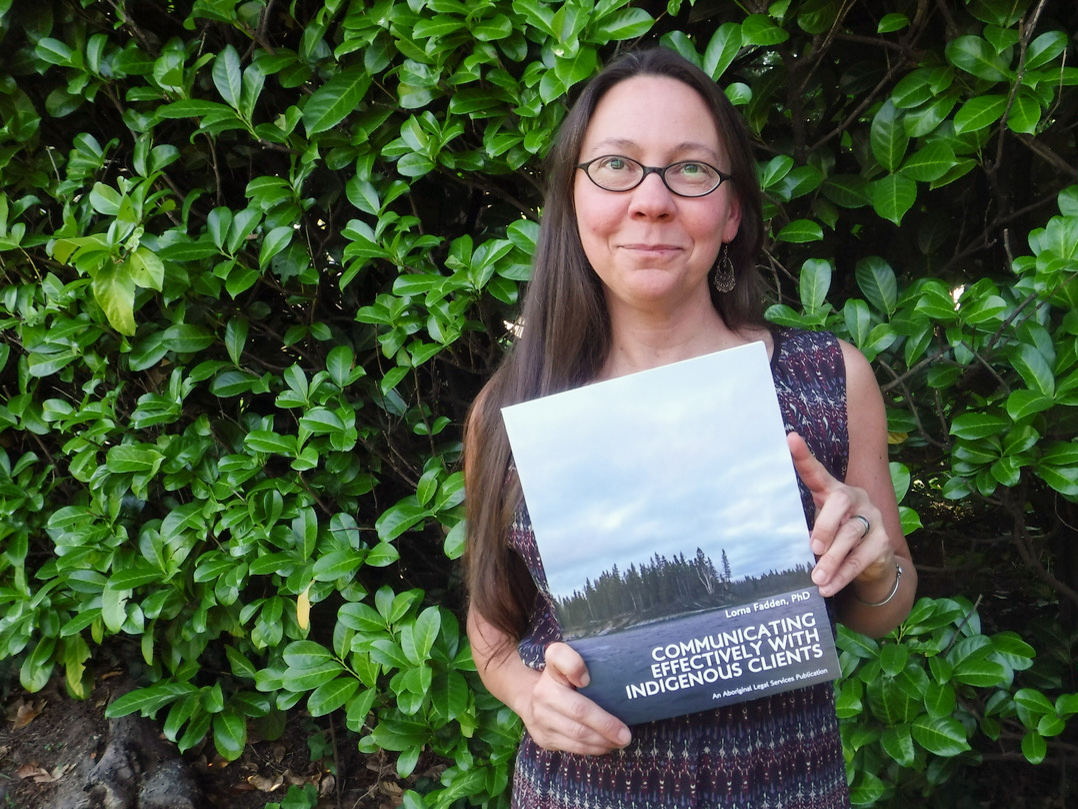 For Indigenous people involved in criminal law cases, subtle differences in courtroom communication like an accent, amount of eye contact or tone could mean the difference between a guilty and not guilty verdict.
Eliminating the overrepresentation of Indigenous people in the justice and correctional systems is part of the Truth and Reconciliation Commission's call to actions. TRU Law student Lorna Fadden relied on her academic background in forensic linguistics, experience as an Indigenous language instructor and past legal work in wrongful conviction to write an instructional guide for lawyers to better serve Indigenous clients, particularly those facing criminal charges.
Focusing on language and communication in the courtroom was a natural progression since Fadden holds bachelor, master and doctorate degrees – all in linguistics. She's set to graduate in 2019 with a Juris Doctor degree.
She started writing the guide in the summer of 2016 and after rounds of editing, it was released last spring. Communicating Effectively with Indigenous Clients is a relatable and easily digestible instructional guide for lawyers to work better with and for their Indigenous clients. It touches on why some Indigenous clients don't trust the justice system and how health concerns can affect cases. It also explains the importance of translating the language of the court and how to prepare clients for trial, along with other topics.
TRU Law faculty member Janna Promislow has distributed the guide to her class and commended Fadden on creating an approachable resource.
"Lorna's guide is a very helpful response to the overrepresentation of Indigenous people in the criminal justice system. Over time, there has been quite a bit of attention in scholarship and government reports to over-policing, under-policing, cultural differences, colonial history and the systemic racism that underlies this problem. Lorna's guide is helpful because it provides tangible suggestions for what lawyers can do to better represent their Indigenous clients and also pays more attention to linguistic differences than most other publications," Promislow said.
Full version of Communicating Effectively with Indigenous Clients.
Through educational trips to the former Kamloops Indian Residential School and other initiatives with Secwepemc partners, TRU Law is working to create awareness of colonial legacies and cross-cultural competence for the next generation of law professionals, she added.
"It hasn't stopped being timely. The issue of overrepresentation of Indigenous people in the criminal justice system has not abated. The problem persists, so that means there's a need to get more lawyers understanding the issues and the perspectives of Indigenous clients."
Fadden included voices of Indigenous people who have experience with criminal justice system in the guide. She found Indigenous interviewees by advertising at friendship and court centres and by speaking with Indigenous liaison workers and lawyers. She met with people who were incarcerated, heading into the system, out on bail and on parole.
Meeting people so entrenched in the justice system left an impression on Fadden, who hopes to practice criminal defence and work on wrongful conviction cases after graduation.
"The process of interviewing consultants who volunteered their time to speak with me was quite emotional. Some of the people I interviewed are doing really long sentences, some committed serious crimes and some just plead guilty because it would get them a lighter sentence," she said.
Fadden dedicated a large part of the guide to outlining the distinctions between what linguists define as Standard English and Aboriginal English.
"Standard English (SE) is typical of a formally educated person born and raised in Canada and likely not a member of a minority community. Speakers of Standard English are often described as having no accent at all. There are regional variations, and ordinarily you can tell the difference between someone from British Columbia and someone from Ontario and someone from Nova Scotia. But SE generally garners no attention when it is heard, because it is tacitly regarded as the default."
"Aboriginal English (AE) is not a single variety of English. Rather, it's a catch-all phrase for a range of dialects spoken by many in Indigenous communities, rural and urban alike. Across First Nations in Canada and across North America, many Indigenous peoples use similar varieties of English to construct an Indigenous identity."
She explained how an accent can spark prejudice and mistrust in listeners that could have serious repercussions for Indigenous clients. The guide offers practical strategies to help legal professionals address those issues. In many cases, it comes down to spending more time with a client.
"Most importantly, the guide explains that with a client who distrusts the system, the only way to gain trust is to build a relationship, which takes time," Promislow said.
Fadden is now sharing and distributing the free legal guide and speaking at events and conferences.
"It's interesting how one project can turn into another and turn into another," Fadden said. "I could expand the guide one day and write something longer and more in-depth. I will continue to research in this area and continue writing for an academic audience. I also want to take what linguists have long known and bring it to a legal audience, so they can take advantage of what we know about language and apply it to law."