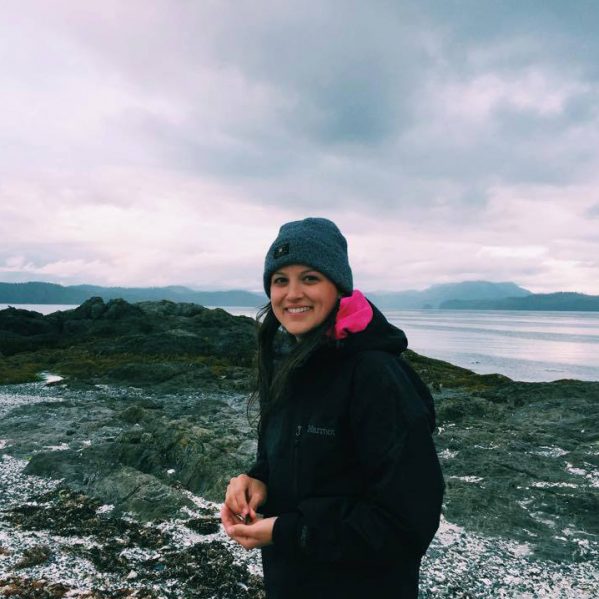 Hilary Hamilton grew up in the Maritimes, so it's no surprise that she developed a passion for marine ecology.
But it might be surprising that upon completing her undergraduate degree at New Brunswick's Mount Allison University, she would find her way to Thompson Rivers University — miles away from the ocean — where she continued to study marine invertebrates including barnacles, crabs and snails.
While completing her Master of Science in Environmental Science, Hamilton sought to discover why natural mortality in marine invertebrates is so much higher during the juvenile stage than in the adult stage. The recipient of the 2018 Governor General's Academic Gold Medal discovered that juveniles are much more vulnerable to climate-related stressors, including heat, and evaporation at low tide, and are much more likely to die from that stress than adults.
"Her findings have revealed a major mechanism controlling survivorship, and thus population abundance, of marine invertebrates; her findings also suggest how populations of coastal marine invertebrates could be impacted by climate change," said Dr. Louis Gosselin, Professor and graduate supervisor.
For more than 140 years, Governor General's Academic Medals have recognized the outstanding scholastic achievements of Canadian students. This is the fourth time the medal has been awarded at TRU.
"Hilary's thesis work constitutes original, cutting-edge research, and a substantial contribution to her field," Gosselin said, explaining that this, along with her community outreach and near-perfect 4.24 GPA, made her an obvious choice to receive the award.
Hamilton began her MSc in June 2015 at a field station in Bamfield, BC, and didn't arrive in Kamloops until months later.
"I was really excited about the work my supervisor was doing, and I knew I wanted to study shoreline life," she said, referring Dr. Gosselin's research program.
"It was an incredible experience studying and learning (in Bamfield). I liked how different the work was, and how it kept things so interesting," she said. When she arrived in Kamloops to begin her coursework and compile her results, she felt at home.
"I really enjoyed the classmates that I had in the environmental science department. Even though we were all doing very different things, we were able to bounce ideas off one another. It was a great environment to work in," she said.
Upon defending her thesis in September, Hamilton returned to the Maritimes, where she now works as a science educator at the Discovery Centre in Halifax.