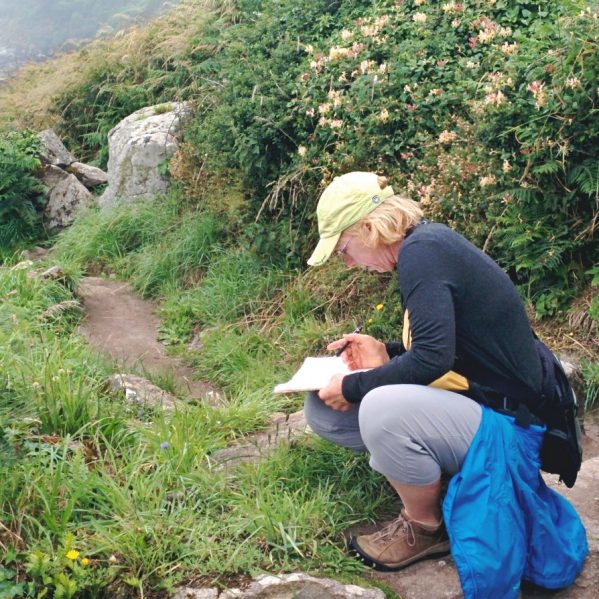 Lyn Baldwin has made an art of teaching botany and natural history. Or rather, she has put art into teaching science.
Her innovative approach is why she was chosen as one of five winners of this year's D2L (Desire2Learn) Innovation Award in Teaching and Learning. The annual award recognizes educators who are leading innovation at their institutions and beyond. Hers is the first win for TRU.
Baldwin, who has a PhD in botany, realized her students were having difficulty observing and noting the fine details of the plants they were studying. Her students were looking at slices of plant cells, but they were not examining them closely enough to detect patterns.
She thought about how artists have to study their subjects closely and pay attention to the minute details. So she insisted that her students draw images of the plants they were studying and, when some protested that they weren't good at art, she invited a visual arts senior lecturer in to give them a few lessons.
Drawing helped her students see patterns and variations. She didn't mark them based on their artistic talents, but on the quality of their observations.
That was one part of her creative approach to teaching.
Being at TRU, Baldwin had the freedom to explore this interdisciplinary approach that won her the D2L award.
"TRU has given me as a faculty member the liberty (to innovate) and it has embraced my challenging those disciplinary boundaries. That is truly extraordinary," she said. "TRU has embraced teaching that pushes the boundaries in order to embrace meaningful student learning."
Her teaching innovations boil down to four key points:
1 Art and science: drawing and botany
2 Place-based education in a post-secondary context
3 The story's the thing: learning biology with creative writing
4 Field journals as a path to care
The trained plant ecologist believes experience with the natural world is a big part of learning, so her students spend a lot of time out in the field. She has also incorporated creative writing into her courses so students learn how to describe and contextualize their learning for themselves and their communities.
Students end up creating illustrated field journals that critically examine the relationship humans have with the natural world.
After years of integrating creative non-fiction into biology courses, Baldwin is convinced it has value. Many of her students have read the creative non-fiction essays they wrote in her courses at local and international conferences. Some have completed directed studies using their writing skills to explain the science behind complicated subjects.
And perhaps the greatest validation, said Baldwin, was her department's decision to adopt creative non-fiction as a model for a new writing-intensive course.
The D2L award is well-deserved recognition, but her first reward is seeing students gain a deep understanding of their subject matter and the field journals they produce as a result.
The award presenters describe the five winners as being at the forefront of innovation within their academic institutions and in higher education.
"Each year we have an amazing group of individuals who are nominated for the D2L Innovation Award in Teaching and Learning and our adjudication committee is tasked with the difficult decision of determining the recipients. This year was no different, and we have five talented individuals who provide a glimpse into their classrooms, showcasing their innovative practices, and giving all of us something to aspire to in our own teaching," said Society for Teaching and Learning in Higher Education president Denise Stockley.
"The world is changing at a breakneck speed – and we are thrilled to honour five leading educators that are demonstrating significant innovation and inspiring the future of learning," said John Baker, president and CEO of D2L.
Letters of support in Baldwin's award nomination package attest to her ability to open eyes, inform minds and create perspective and understanding of the natural world.
Her colleagues used phrases like "stellar innovations in student-centered teaching and learning," "influence on my own teaching practice," "teaches from a place of compassion" and "my life would not be the same without her."
Her students, current and past, referred to her being "crazy with passion and enthusiasm for all things biology" and said she genuinely cared for each one of them while taking a vested interest in their education. Her teaching methods were effective and meaningful, their testimonials noted, while one student in particular credited Baldwin for changing her perspective: "I learned . . . how to see through a new lens the world around us."
Baldwin receives her award at the Society of Teaching and Learning annual conference in Sherbrooke, Que., June 19 to 22.