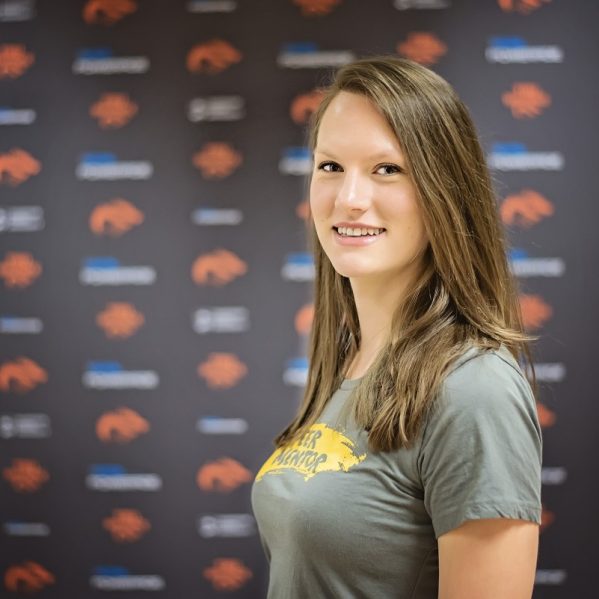 On the heels of winning the 2018 Neil Russell Student Leadership Award, Kaitlin Lomas is not only approaching her undergraduate finish line, she's also catching her breath after a school year jam packed with complications and challenges.
After suffering a concussion in October 2017, Kaitlin's academic and athletic timeline was completely upended. "This was my last year to play for TRU. By being benched for half of the semester, I missed so many final moments—like my last home opener game. I came to realize how much my identity was rooted in being an athlete."
Athletic culture is ingrained in Kaitlin's DNA, and she credits her teammates and coaches for support, encouragement:  "The team was behind me the whole way."
Kaitlin reflected on the shift in perception that took place while watching the action from the sidelines game after game. "I had assumed that I would always be able to play. I know now that those kinds of privileges aren't guaranteed."
The week following her injury, she, along with Rachel Windhorst, were voted team captains by the other players for the 2017-2018 season.
As a result of her injures, the newly appointed Team Captain dropped two classes. She focused on one class, continued with her honors project, and managed to move forward as a Student Leader with the Pack ACademic Edge (PACE) and the Student Wellness Ambassador Team (SWAT).
The chain of difficulties continued for Kaitlin. On her first post-concussion practice back after the concussion, she, along with other athletes, had her backpack stolen from the locker-room of the TCC in November 2017. Losing her notes and her laptop was devastating. In addition, an illness escalated, leading to hospitalization for an infection. "I was very overwhelmed by this series of unfortunate happenings. I had a plan, and then that plan changed. What you think is important suddenly isn't. I stopped, took a step back and assessed what was most important to me."
Kaitlin's priorities were further clarified during this time of ongoing crisis and adjustment. "To me, it is about contributing to my team, campus and community. Creating an impact. Sharing my experiences. Lending my support. That's what matters most to me, now more than ever."
Wellness Coordinator Chelsea Corsi said, "Kaitlin has a quiet confidence that is captivating. While she is relaxed and easygoing, she is very determined and committed to her various roles as an honour student, an athlete, peer mentor and student leader."
Recently, through a collaboration with the Kamloops Sexual Assault Counseling Centre and TRU's Sexual Violence Response and Prevention Manager, Kaitlin, along with Kendra Finch spearheaded a student-driven #IBelieveYou – Supporting Survivors of Sexualized Violence" campaign.
Campus and community alike have embraced the process and the outcome of this project. "I can't speak to that experience alone, and it was essential that the message was inclusive and diverse," Kaitlin remarked.
Kaitlin's leadership style is very "behind the scenes." She strives to inspire, motivate, encourage and promote. She also believes that it's about seeking out individuals and placing them in environment where they can succeed. "Although, a lot of learning takes place when we step out of our comfort zone," Kaitlin smiled.
Robbyn Bennett, Interim Director, Student Affairs & Accessibility Services, and Assistant Coach, remarked, "As a student-athlete, Kaitlin exemplifies resilience, dedication and commitment to her studies, the TRU community, and to the WolfPack. From Bell Let's Talk Day, TRUly United, Toys for Tots to Paws for a Cause, she is constantly engaged in different initiatives that make our campus a better, more inclusive place for others."
As a leader, Kaitlin believes that leading by example is key. "My own work needs to be done well before I can even begin to critique others."
Click the link for more information on Student Leadership programs.