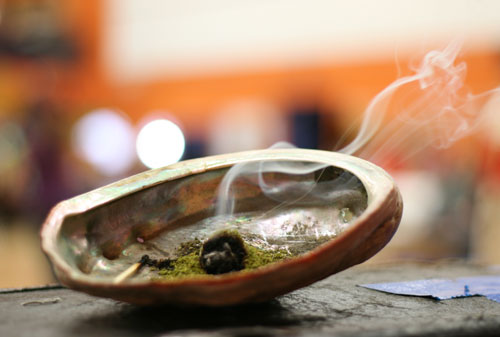 Weyt-k, le7 re7 stskits'c. That's Secwépemctsin for "Hello, it is good you came."
Situated on Secwépemc'ulucw, the traditional lands of the Indigenous Secwépemc people, TRU honours this fact every day. One of the biggest ways we do that is with our annual Aboriginal Awareness Week.
Scheduled for Feb. 25 to March 2 and open to everyone, this year's theme is Reconciliation through Art.
See below for the schedule and unless noted, events are free. Stop in for as little or as long as you like, meet new people, catch up familiar faces, immerse yourself in campus life.
Me7 wíktsen e tskitsc-ucw. See you when you get here.
More Secwepemc greetings and phrases
---
Sunday, Feb. 25
7:30 p.m.—Theatre for Living's performance of šxʷ?aḿәt (Home)
Grand Hall, Campus Activity Centre
Buy tickets online
---
Monday, Feb. 26
8 a.m.—Morning smudge
behind Cplul'kw'ten, House 5
8:30 a.m.—Tipi village set up
outside Campus Activity Centre
9:30 a.m.—Opening ceremonies
Grand Hall
10 a.m.—Tipi teachings with Randy BigSorrelHorse
Grand Hall
11 a.m.—Drum ceremony with Ed Jensen
Grand Hall
4 p.m.—Tipi village take down
outside Campus Activity Centre
5:30 p.m.—Social Work SOCW 4300 open class
with Dayna Danger
Arts and Education building, room AE 266
time to be announced—Ribbon Shirt Making
contact kristen-johnny@mytru.ca
---
Tuesday, Feb. 27
8 a.m.—Morning smudge
behind Cplul'kw'ten
8:30 a.m.—Tipi village set up
outside Campus Activity Centre
11 a.m.–2 p.m.—Elders Luncheon
Grand Hall
1–5 p.m.—Artisans market
Campus Activity Centre rotunda
4 p.m.—Tipi village take down
outside Campus Activity Centre
5-6:30 p.m.—Bannock Bake-Off
Grand Hall
6–9 p.m.—Faculty of Law panel discussion: Colten Boushie trial
House of Learning, BC Centre
---
Wednesday, Feb. 28
8 a.m.—Morning smudge
behind Cplul'kw'ten
8 a.m.—Art installation: Confluence of Simpcwetkwe and Tkemlupsetkwe
The confluence of the North and South Thompson rivers, as accessed from the TIB subdivision
contact jmcneil@tru.ca
10 a.m.–2 p.m.—ESTR's Market chili & bannock
by Elder Doreen Kenoras and ESTR students
There is a price per serving
Old Main, OM 2425
1-2:30 p.m.—Guest speaker: Dayna Danger
Old Main, OM 3732
5 p.m.—TRU Traditional Fashion Show and more
Grand Hall, minimum $5 donation
---
Thursday, March 1
8 a.m.—Morning smudge
behind Cplul'kw'ten
10 a.m.–2 p.m.—ESTR's Market chili & bannock
by Elder Doreen Kenoras and ESTR students
There is a price per serving
Old Main, OM 2425
---
Friday, March 2
8 a.m.—Morning smudge
behind Cplul'kw'ten
10 a.m.–noon—Guest speaker: Ed Jensen
Tk'emlups Land, Water and Resources
Old Main, OM 3612
2-3:30 p.m.—Lahal games and student tournament
Campus Activity Centre, TRU Students' Union boardroom
---
Saturday, March 3
2–5 p.m.—Secwepemc Language Film Festival and Book Fair
Free
House of Learning, Barber Centre