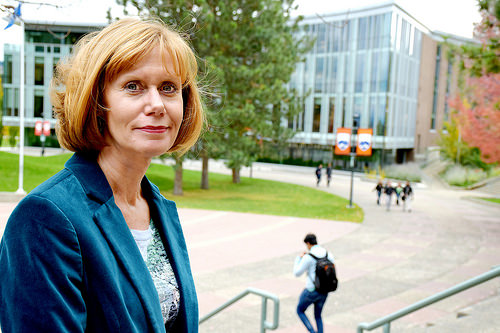 Hear the words economics and economists and what comes to mind for many of us? Spreadsheets with endless columns and rows?
Economics is so much more than numbers and finances. Economists also explore people and their well-being, their patterns and more. The information they gather and analyze helps organizations and governments with their planning, forecasting and creating policy that can shape the lives of people whether they are minutes away or around the world.
In other words, economists blend the businesses world's use of numbers with social science's understanding of people.
To deconstruct the field, its various forms and what economists do, TRU economics faculty member Laura Lamb stopped by Kamloops station Radio NL for a chat with TRU Talk to the Experts host Paul Graham.
The conversation also touched on Lamb's research interests, her economic impact studies of BCLC and TRU on Kamloops and how communities can weather financial cycles and events through a healthy mix of small and large employers.
"We live in a very dynamic world. Wherever we live, we are affected by all types of local and global shocks, so a healthy community—a healthy and vibrant community—is one that's sustainable and in other words, it's one that can roll with the punches," said Lamb.
The interview is below and for your convenience, is split into five topical pieces.
Clip 1 — 5:58 — Laura Lamb introduction, her time in real estate, economics looks at many factors, how she became interested in research, her research interests
Clip 2 — 7:41 — Aboriginal policy issues, impacts of economic security on mental health, community economic development explained, diversified economies are strong economies
Clip 3 — 6:19 — Importance of small businesses, international students at TRU, research reveals why tech companies like Kamloops
Clip 4 – 6:24 — Community economic development courses offered at TRU, TRU's new economics master's degree blends business and environmental economics, BCLC economic impact study on Kamloops, BCLC's impact financially and socially
Clip 5 — 6:28 — Kamloops volunteers, TRU impact study and spinoffs, Paul suggests a hotel study, impact of TRU employees on Kamloops
---