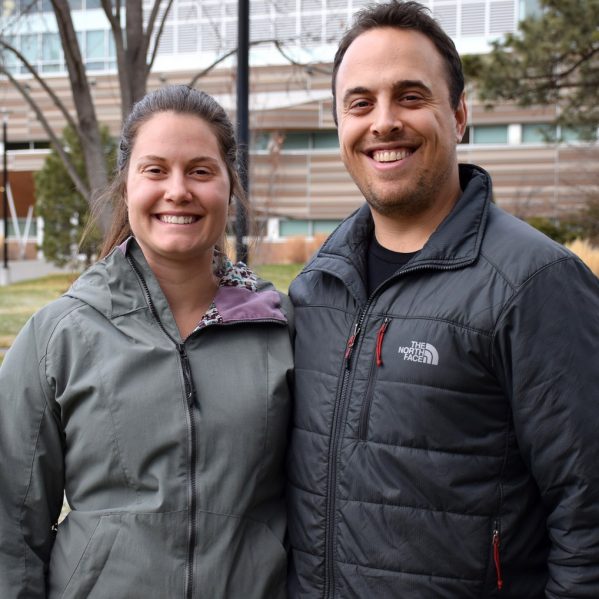 Completing a graduate degree involves passion, dedication, and a significant amount of stress, so to receive one of two $7,500 Environmental Science and Natural Resource Science Fellowships relieves considerable pressure.
Master of Science in Environmental Science students Jordann Foster and Jared Maida are buoyed by this most recent honour.
Foster and Maida were awarded the Fellowships as a result of their commitment to research, and potential for future contributions to their respective fields.
Foster, whose research explores the impact of the invasive spotted knapweed on native plants and insects in the region's grassland ecosystem, said that her research project has expanded, so the Fellowship has come at an opportune time.
Under the supervision of Dr. Lauchlan Fraser, Foster has completed the required fieldwork for her project, and is currently working in TRUGen, Dr. Jonathan Van Hamme's applied genomics laboratory. When she began her research, she intended to send her samples to the University of Guelph for metabarcoding. Now that TRU has its own high-throughput genomic sequencing lab, however, she's able to do the work herself, and can quickly identify insects using a fragment of their DNA.
>Read: TRU genomics lab a first for the BC Interior, InsideTRU, Dec. 11, 2017
"The project has been a lot of work so far, and a lot of stress, but it's extremely rewarding to be able to pursue this research, and the funds will go a very long way," said Foster, who is also a Graduate Student Research Mentor.
"It is really nice to be recognized as a researcher."
Maida, who is just months away from completing his thesis agrees, and said the funding is appreciated during this home stretch.
"It's an honour to be recognized for my hard work and dedication to research with such a prestigious award," he said. Maida's research focuses on rattlesnake ecology in the South Okanagan, with a focus on habitat fragmentation and habitat loss due to construction and development. He expects to defend his thesis this summer.