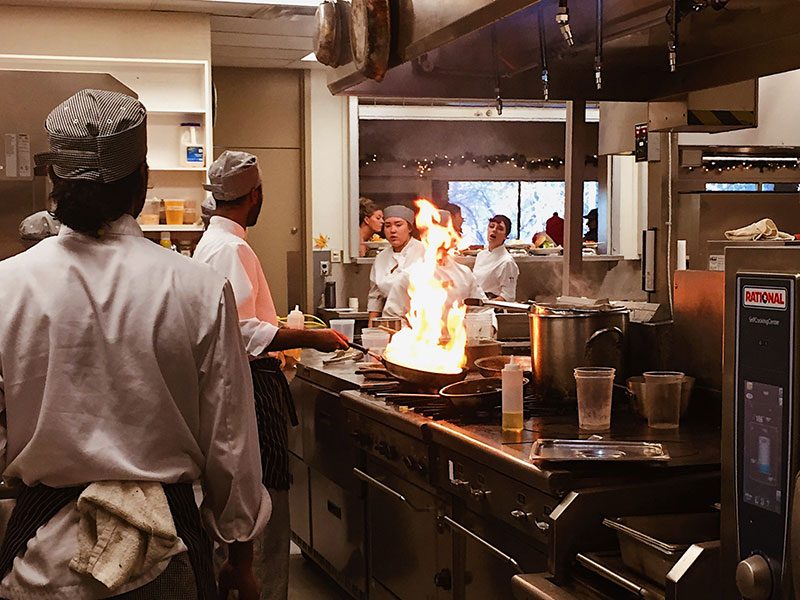 Whether you're looking forward to showing off your skills this holiday or you despise spending more than ten minutes in the kitchen during festivities, we have a few tips on how to ramp up your cuisine in the easiest of ways.
Ten tips for your holiday meal from culinary faculty and students

Brine your fresh turkey overnight in salt, water, sugar and cloves for extra juiciness.
"Add bacon to your stuffing, cook your brussel sprouts in the leftover bacon grease."

—

Kiara Felts,

first year culinary student

Debone your turkey and brown the bones in the oven for your gravy for an easier carve.
"The holidays are all about eating good food with your family, enjoying a lot of spiced wine and celebrating the great times of the past year."

—Abhishek Vijayakumar, first year culinary student

Cook your turkey for a minimal amount of time so that it doesn't dry out. Start high and keep it low.
"Spice up your holiday desserts with pecans, raisins, cranberries and local honey."

—Zahyna Lewis, first year culinary student

Think about presentation when plating dinner, the plate is a clock face and the protein is traditionally between three and nine o'clock
"Score the top of your ham and add a yummy glaze of honey, brown sugar and mustard."

—

Kiara Felts,

first year culinary student

"If any of your desserts require a custard element, combine one tablespoon instant vanilla pudding mix with one cup of cream for a nice light custard that won't fall even if you prepare it hours ahead of time."

—

Kimberly Johnstone, culinary faculty
"We don't do turkey, but other kinds of braised and grilled meats. Really the most important part of our meal is the Bûche de Noël, find a nice, delicate yule log recipe!"

—Himanshu Krishna Somah, first year culinary student
Culinary faculty Ed Walker explains key points with the turkey process at TRU's Scratch Café.
You can aspire to be a professional cook at home, but if you're interested in becoming a Red Seal Chef, TRU has Professional Cook 2 and 3 right here, on campus.
A tested and true Canadian Classic, the butter tart.
We caught up with culinary faculty member Kimberly Johnstone and student Zahyna Lewis who showed us their process for butter tarts at TRU's bakery.
The TRU Classic Butter Tart
Mealy pie dough for the crust
1/2 cup lightly packed brown sugar
1/4 cup + 2 Tbsp light corn syrup
1/4 cup unsalted butter melted, slightly browned
2 Tbsp honey* or maple syrup
1 egg
1/4 vanilla bean or 1 tsp vanilla extract
1/4 tsp salt
1/2 cup raisins, pecans or walnuts
Wrap dough in plastic wrap and let rest in the fridge for about a half hour
Roll out on lightly floured surface, cut into rounds with four inch cutter, fit into muffin cups
Chill in the fridge or freezer while you prepare the filling, cold pastry heading into a hot oven will always be flakier
Combine all filling ingredients except raisins, mix well
Sprinkle raisins in a single layer in the bottom of the pastry lined muffin cups
Fill 2/3 full with syrup mixture
Bake on bottom shelf of oven at 425 degrees F for 12 to 15 minutes
Cool completely on a wire rack and remove tarts from pans
*TRU honey is available for purchase at the ESTR Market in Old Main