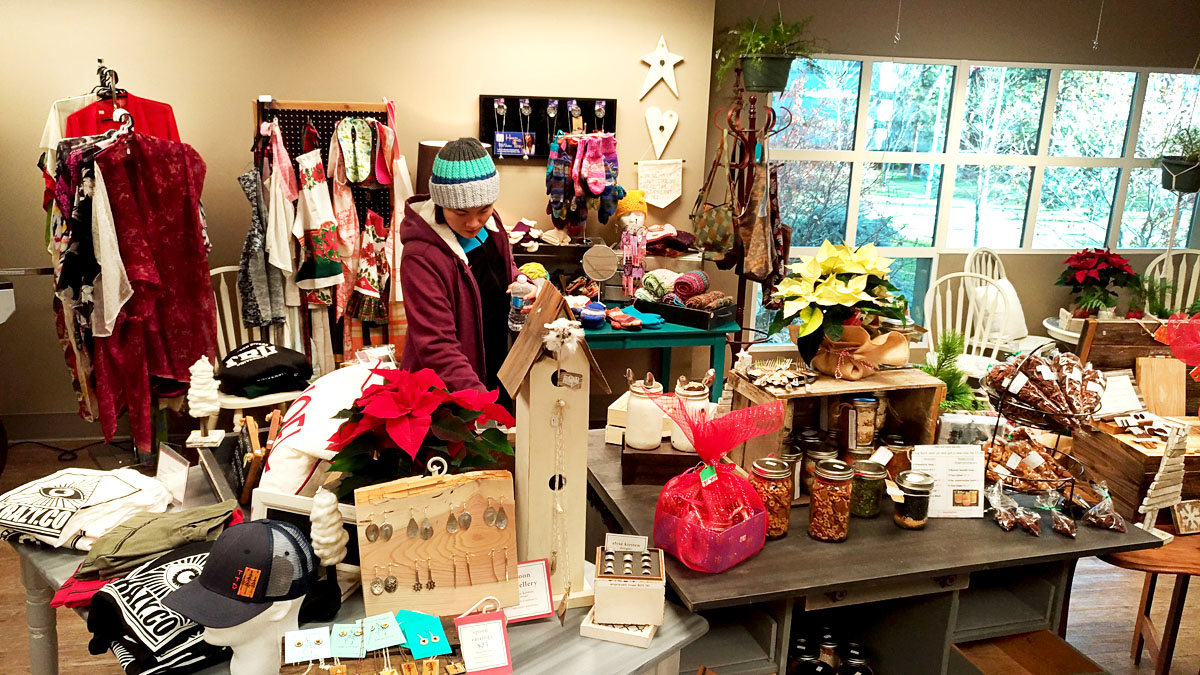 On the surface, ESTR's Market is TRU's newest retail and lunch counter space.
But it's so much more than that.
The market is one piece of the Education Skills Training (ESTR) program for students with cognitive disabilities and provides students with hands-on kitchen and retail experience in real customer environments. And while they're learning the hard skills, soft skills are coming their way like customer service, planning and monitoring inventory, troubleshooting and offering suggestions for improvement. And overall, the learning leads to greater confidence and the realization they can participate in a world of numerous possibilities.
Open most Wednesdays and Thursdays during the fall and winter semesters, the market has grown from being a mobile cart in Student Street since 2014, to having dedicated space on the second floor of Old Main in room OM 2231. Retail items include products made by ESTR students along with artisan items on consignment like jewelry, clothing, home decor and food items. The lunch counter offers two soup flavours and your choice of a regular biscuit or one that's gluten-free.
Each year ESTR offers a retail stream and a kitchen stream, with each being nine months. Often, students will complete one and take the other for a two-year stay at TRU.
A grand opening was held Nov. 22-23, which included an invitational lunch on Nov. 22. The lunch was also an opportunity to explain how the program has grown and evolved in its nearly 30 years.
Among the attendees was 2016 alumna Autumn Greenaway. Asked to give an impromptu speech, she voluntarily rose from her seat, left her table and went up to the front.
"I was pretty shy when I first came to ESTR and I didn't really have very much confidence. I wouldn't have been able to come up here. ESTR helped me to be able to speak to the public and helped me to find a side I never thought I had. The program helped me make a lot of good friends," said Greenaway, who is a cashier at Value Village.
She shared going through job loss after graduation, "but that is part of the job experience," before landing her current one. She mentioned ESTR faculty assisted with updating her resume and preparing her for the job search.
"I love being able to work out in the public and I'm happy to be here and represent everything the ESTR program does," said Greenaway.
Attendees also heard from current students Brody Leonard Antoine and Kaytee-Anne Ovington from the kitchen program and Andrew Freund and Caleb Krause from retail. Faculty members Saskia Stinson and Leanne Mihalicz.