Culinary and hospitality students at Thompson Rivers University (TRU) have a rare opportunity to learn and be inspired by an acclaimed local chef this semester with the Culinary Arts program's first Chef in Residence.
Jared Summers, executive chef and partner of the award-winning Noble Pig Brewhouse and Underbelly restaurants in downtown Kamloops, has taken over Accolades, the program's limited-run restaurant on campus. As the chef in residence, he is also teaching advanced culinary techniques to Cook 3 students in their final semester. For Summers, the role has rekindled past passions and he's enjoying a style of cooking that hasn't been part of The Pig's business model.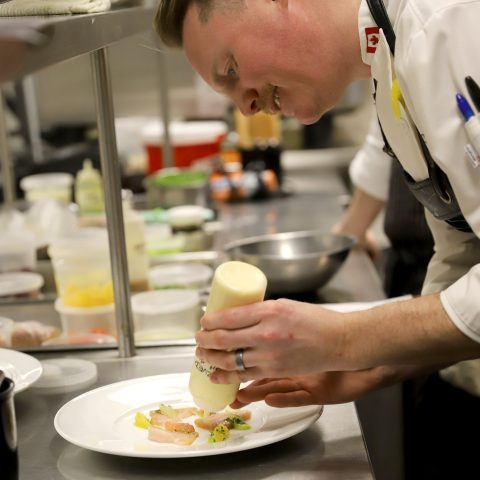 "I get to pull out some old stuff that's a little bit fun, and fulfil the curriculum in a way that can show the students not just what's within the ITA and textbook, but how you can take that to the next level. How new and old techniques can come together," he says.
(The ITA is the Industry Training Authority, which certifies students in the program.)
The businesses have been Summers' priority since he joined the Noble Pig team in 2011 with his wife Maeghan, a TRU culinary arts alum. But teaching has always been in the back of his mind. Last year, the restaurants reached a point where he wasn't needed so regularly, and he could take the opportunity TRU offered, starting with a sessional role last fall.
Next level refinement
Summers has embraced the challenge of a different format for Accolades under the Chef in Residence program this semester. It's a fine line, he says, between delivering the advanced curriculum for students preparing for their final exam and trades certification, and delivering the best product for Accolades guests.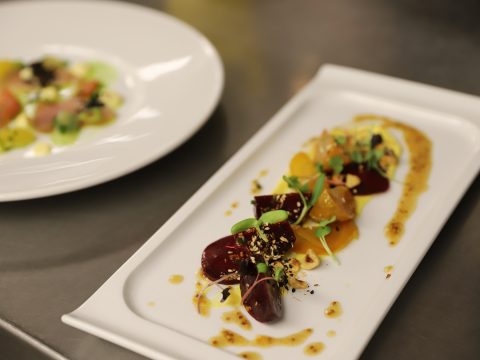 "The menu is inspired by the curriculum," says Summers. "My expectation is that we make the best food we possibly can. This classical French style is very much where the fundamentals of the curriculum are, but it's delivered in a very modern fashion, and it utilizes as many seasonal local ingredients as possible."
Students in Summers' class are already working in the industry, and are expected to perform tasks at a high level. The menu he developed for Accolades fits within the Cook 3 curriculum, and the food students produce in class contributes to the restaurant. However, on the two nights when Accolades is open, it's just Summers, two staff and a few student volunteers in the kitchen. Teaching classes on separate nights from service, he finds creative ways to tie the two together. The students learn portions of Summers' Accolades menu in a staggered approach — elements like accompaniments one week, seafood the next — as the chef pushes the students and himself.
"Their dishes (in class) are not necessarily exactly as presented on the Accolades menu. I want to show that next level of refinement that goes beyond the curriculum. But every piece of the menu is an opportunity to work on that particular technique — hopefully something that is within reach, but pushes them a little."
Refreshing an industry
In the front of house, Accolades is effectively a lab for hospitality management students, most of them new to the industry and some unfamiliar with the style of food being served. They learn how servers assist guests to have the best possible experience, as the chef teaches his menu from another perspective: from the ingredients' origins and sustainability to potential dietary considerations. It's a hands-on, exacting introduction to an industry that is changing rapidly.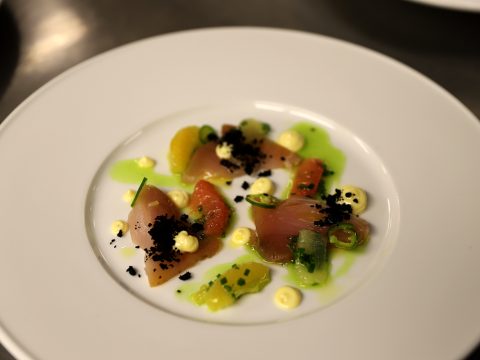 "The culinary and hospitality world is coming to a strong realization that it needs to modernize and change, and we try to be on the forefront of that," says Summers. "COVID was a big factor as far as the perception of work, work-life balance, who's in what industry and what are they there for. In that refreshing of the industry, the people who are getting into (culinary arts) now, or still into it, really want to be here."
Summers is aware that culinary programs need conduits within the industry and support from it. The Chef in Residence program is a win-win for him as a business owner. Young, keen students may be a good fit for his restaurants, and as members of his own team seek their Red Seal certifications, he is expanding his ability to coach and mentor them.
"If I'm here, it brings the system all together. Everybody has a role to play."
Accolades, which was sold out before the semester began, serves its last seating of the year on April 6. Students finish their apprenticeship soon after, and with it Summers' residency is over. Culinary Arts plans to welcome new chefs to the Chef in Residence program in the future.