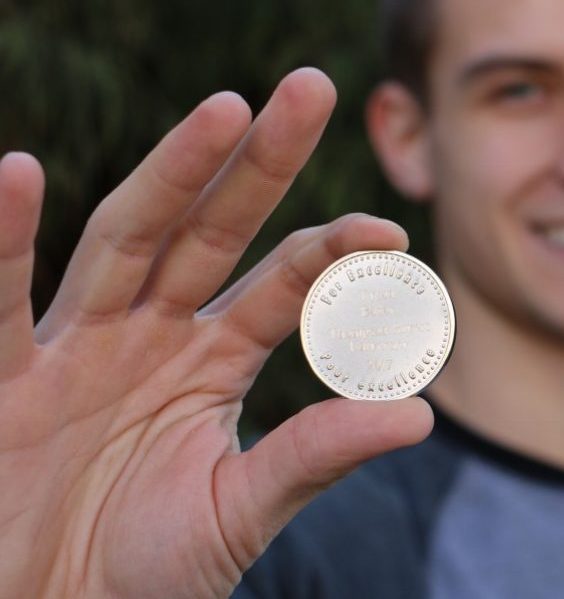 They both discovered their love of chemistry after arriving at TRU. They both aspire to do more. And they both found out at the same time they were being honored with the 2017 Canadian Society for Chemistry Silver Medal.
Two graduating TRU students are recipients of the annual award that goes to the top chemistry students at each Canadian university entering their final year of chemistry, biochemistry, or related programs.
Tyson Bodor and Mathias Imeson were awarded with the Chemistry and the Environmental Chemistry silver medals, respectively.
The two top chemistry majors were together when they found out about their CSC awards.
"It was actually kind of funny," said Mathias. "We were finishing up some work in the lab with our professor, Dr. Sharon Brewer. When the rest of the students left she said, 'Well, since you're both here' and then she told us the good news."
"I was surprised!" Tyson said. Both award recipients shared that while they were familiar with the CSC, neither of them had heard of the Silver Medal award before.
Mathias added that he was doubly shocked, because until he was told about the award he didn't even realize that he was a top student.
Tyson didn't take chemistry at all in high school, but like Mathias, he fell in love with the subject early on in his studies at TRU.
"What I appreciate most about chemistry is how there are so many applications of it. There is pharmaceutical chem, mining chem, wood-processing chem… the list goes on. I love seeing the real-world application of chemistry," Tyson said.
Even though he is set to graduate with his Bachelor of Science degree in June, Tyson has already been applying his chemistry knowledge to the real world in the mining industry.
With help of TRU's Undergraduate Research Experience Award Program, Tyson spent his summer at New Gold's New Afton Mine working on his research project titled Method development for determination of xanthate compounds in mining process waters by capillary electrophoresis.
Inefficiency in chemical purity is an issue in the mining industry, as purities vary with each supplier. While at New Afton Mine, Tyson separated and measured the purity of xanthates used during flotation to separate gold from ore.
Tyson will continue his research project after he graduates, as he has accepted a full-time researcher and sessional faculty position in TRU's chemistry department. He hopes that after a few years, he'll achieve another academic goal that will get him to his dream job.
"Over the next couple of years, I am going to be applying to medical school. I'll keep applying until I get in. I really want to become a doctor," he said.
Tyson knows he eventually wants to specialize, though he's not yet sure in which area.
"It would be interesting to specialize in addiction services… the human aspect is what interests me most," he noted.
Graduating next fall, Mathias is interested in pursuing a career before furthering his education.
"After I graduate, I'll probably look for work for a few years, hopefully in a mine doing lab work and sample testing," he said. "Then I'd love to earn my Master's in Chemistry. I'm really interested in organic and metallic chem."
Mathias's passion for chemistry stems from the science's ability to solve problems with renewable sources.
"We can apply chemistry to so many things, like renewable energy sources and making water treatable for consumers everywhere. It used to be so arduous to treat, but now with chemistry today it's become easier, cheaper and faster," he said. "The world is all about chemistry and physics when it comes to renewable sources."
TRU's two top chemistry students look back fondly on their time in the chemistry department.
"The chemistry classes are a lot smaller than the biology classes," Tyson noted, a factor he and Mathias agreed enhanced their academic success.
"Chemistry is one of the smaller departments, where class sizes are usually between five and 20 people, and I've definitely found that that learning environment has helped me achieve my best grades," said Mathias. "That, and knowing how to actually study."
Mathias shared a few of the studying methods that helped him become the top environmental chemistry student.
"I struggled in the first couple years of this program because I didn't really know how to study," he said. "Then I learned to write and re-write cue cards and notes. I learned to ask my professors to explain concepts to me, and then write the definitions in my own language. If you can explain scientific concepts in your own words, it will help you provide better explanations on tests other than what the professor told you."
While studying tips and class sizes can help, both CSC Silver Medal winners attributed the majority of their success in chemistry to their passion for the subject.
"Passion and drive make studying easier," Mathias said.
"I really believe that you have to do something that you're passionate about," Tyson said. "It's a lot easier to get good grades when you're interested in what you're doing."