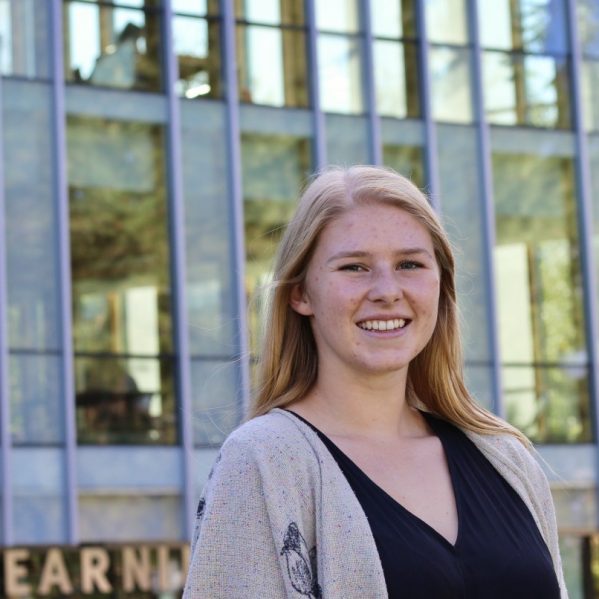 They're community builders, athletes, volunteers and scholars. In our TRU Trailblazers series, we're profiling some of our 2017 major scholarship winners. Read on to meet TRU's most accomplished first-year students and learn their best study tips, volunteer suggestions and leadership advice.
TRU Trailblazer: Mackenzie Byers
Meet Mackenzie Byers: Abbotsford Traditional secondary school graduate, youth council member and hospital volunteer.
Mackenzie is one of six recipients of the 2017 TRU Ambassador's Entrance Scholarship, a $22,000 award recognizing exemplary leadership and community service combined with strong academic performance.
Before being accepted into TRU's nursing program, Mackenzie was already laying the ground work for a successful career in health care. Donating her time regularly as a volunteer team leader at Abbotsford Regional Hospital, Mackenzie was able to familiarize herself with a medical environment. This experience confirmed her dreams of becoming a registered nurse.
"My goal after I graduate nursing school is to work in a hospital and advance in a career in pediatrics. In the future, I'd like to pursue a Masters in Nursing degree," she said. "I'd also like to become involved in research on health care ethics."
In addition to her hospital volunteering, Mackenzie's other volunteer efforts include running children's camps and building aqueducts on a two-week trip to the Dominican Republic, increasing her high school's awareness of the environment by serving on the Green Team and shadowing Abbotsford's mayor and deputy mayor during her time on the Abbotsford Youth Council. Mackenzie also dedicated a significant portion of her time as President and Treasurer of the Key Club, a branch of Kiwanis club that focuses on helping children around the world.
Through her volunteerism Mackenzie has learned what it takes to become a strong leader, a skill she knows will benefit her both in her program and in her career.
"It is important to listen to other people's ideas and not be pushy or abrasive with your own. Otherwise, no one will listen to you. The nicer you are to people, the more likely they are to listen to you and follow you as a leader."
When she's not volunteering, you can find Mackenzie swimming, playing basketball with her friends or enjoying the outdoors.
"That's one of the things I was most excited about moving to Kamloops," she said. "There are just so many opportunities for outdoor activities here. TRU is such a conveniently-located campus, and the transit system in town is really good. I also really like how Kamloops has distinct sub-communities and neighborhoods."
However, life in Kamloops is not all exploration and play. Mackenzie has had to schedule a significant amount of studying time in order to succeed in her nursing studies.
"It's nice to study in groups, but I find that one of the best ways to study is to plan out specific study time alone and away from friends," she said.
When asked if she had any advice for current high school students looking up to her and hoping to win scholarships, Mackenzie's advice was simple—volunteer and follow your heart, just like she did.
"Have faith in yourself," she said. "Get really involved in your school and be up for any challenges or opportunities that are offered to you. Look for something you're really passionate about because you're going to strive in that field. All of your time is going to go toward that cause, so you want it to be something you enjoy."