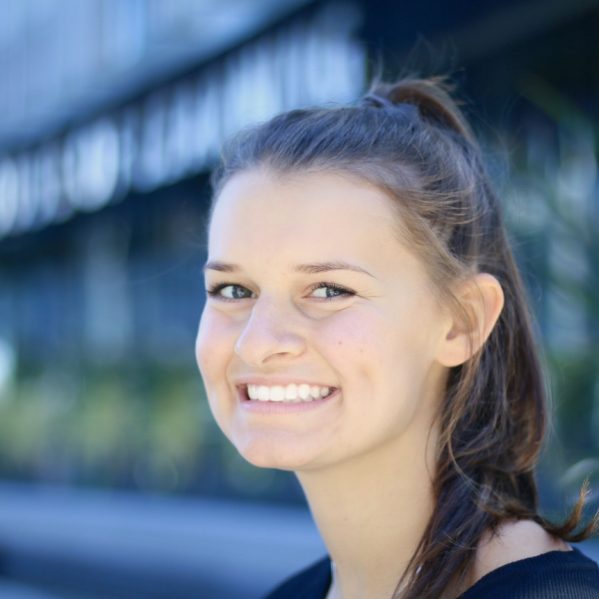 They're community builders, athletes, volunteers and scholars. In our TRU Trailblazers series, we're profiling some of our 2017 major scholarship winners. Read on to meet TRU's most accomplished first-year students and learn their best study tips, volunteer suggestions and leadership advice.
TRU Trailblazer: Alley Corrado
Meet Alley Corrado: Kelowna secondary school graduate, WolfPack basketball player and volunteer lifeguard.
Alley is the recipient of the TRU Leadership Entrance Scholarship, a $4,000 award that recognizes documented leadership and community service combined with strong academic performance.
"I'm really excited to be studying nursing. It's my dream to become a registered nurse, and TRU was the right fit for me in all aspects," she said. "I like that the nursing program is fairly new, and I really appreciate the small class sizes."
Her high school basketball coach suggested that she check out TRU's entrance scholarships, and Alley jumped at the opportunity to apply.
"Kamloops is such a university town. It's so athletic, and its great family atmosphere makes it an amazing town to play sports in," Alley said.
Hailing from Kelowna, Alley noted that playing university-level sports in Kamloops offers a welcoming experience so warm that it even beats playing in her own hometown.
"The WolfPack has a lot more consistent fans than other schools. The stands are always packed in Kamloops, as opposed to UBCO where the gym always looks kind of empty," she said.
One thing Alley loves about being a WolfPack player is the chance to inspire younger female players.
"All of these little girls always come up to you at the games and they want to be you. I remember when I was that young and how I looked up to older girls playing, so it's really nice to feel like I can be that positive role model for them," she said.
Alley knows the importance of being a positive role model, and she believes that handling it with grace comes down to good leadership practices.
"Spread positivity," she said. "Negativity doesn't work because naturally, no one wants to screw up. Use constructive criticism and lead by example. Another important thing for leaders to do is to socialize with people. Put yourself out there and make new friends."
Alley is a leader both on the court as a guard and in the community as a volunteer. She volunteers as a lifeguard for the Lifesaving Society, and as a member of her school's grad council she helped plan all of her grade's graduation events. Alley has also volunteered as a basketball coach since grade 10, an experience that undoubtedly prepared her for serving as her high school basketball team captain for the last two years.
"I think the best advice I can give to teenagers looking to volunteer is to start by getting involved with your school. Once you get a feel for that then start reaching out in your community. Get involved as much as you can in the areas that you care about most," she said.
Between daily practices, conditioning sessions and weekly tournaments, most students would feel swamped by the pressure of school. However, thanks to the positive studying habits she picked up in high school, Alley still finds time to keep up her high grades.
"I say my notes out loud. I also rewrite my notes a lot, and I read somewhere that writing in blue pen helps you remember the information better," she said of her studying tips.
While her life on the court keeps her busy, in the future Alley hopes to be fully immersed in the nursing lifestyle.
"Ten years from now I see myself living in Kelowna again and hopefully working at Kelowna General Hospital as a registered nurse. I'd like to be married and established in the career that I love. I really look forward to exploring during my time at TRU and finding a specialty that I really enjoy."