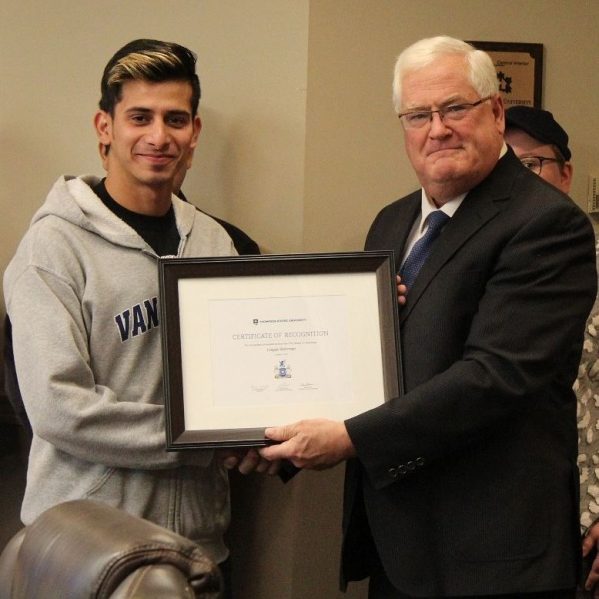 Designed to build a foundation and community for over 150 Muslim students on campus, TRU Muslim Students Association (MSA) is developing on-campus services and initiatives.  Along with other MSA representatives,  Vice-President Inayat Ur Rehman strives to connect with students and inform them about where to find the Multi-Faith Room and local Mosque. "Prayer takes place five times a day.  If students don't know where to go for these rituals or where to turn for support, it can add to their struggles."
Sharing holidays, rituals and cultural events allows students to remain connected, stay grounded and prevent homesickness.   Last year, Inayat felt impacted by the absence of an Eid celebration, so when the time came to celebrate earlier in the summer, MSA worked alongside the TRUSU Pakistan Club, TRUSU Bangladesh Club and the Saudi Club. "It was amazing to work together. We had one goal—to create a successful Eid celebration," Inayat reflected on the sold-out, family-friendly event.
To better connect with the Muslim student population, the board will continue to cross-promote and plan events through the many groups. "I strongly believe in the power of collaboration," Inayat remarked.
Beyond the intention to unite Muslim students, Inayat works to promote anti-Islamophobia initiatives. "Islam is a religion of peace. Misconceptions in the media and a lack of knowledge contribute to harmful prejudices and stereotypes."
As for those seeking a broader sense of understanding about Islam, Inayat welcomes respectful inquires. "I encourage people to engage in conversation.  I have infinite patience when the questions come from a good place in their heart. Knowledge is everything."
Islamophobia is not something he has often encountered on campus or in Kamloops. However, Inayat admitted that he was recently the subject of a racial slur, which was delivered in the form of a backhanded comparison to a negative stereotype. The comment was defended and dismissed as being "just a joke."
"My father always told me: 'think 100 times before you speak.' Bruises heal, but words stay with you. Words cannot be taken back," Inayat said.
Ultimately, when faced with Islamophobic rhetoric and attitudes, Inayat strengthens his resolve with his religion.  "We cannot return that anger. We must reach for stories from the Quran, which teaches you how to act, react peacefully and forgive."
Following the January murders of Muslims in Québec—which followed the US travel ban on people from seven Muslim majority countries – TRU responded by inviting Muslim students and colleagues to an Information Session. Representatives from TRU World, the Multi-faith Chaplaincy, Student Counselling services, the Ayesha Mosque, the RCMP, and senior TRU leaders were in attendance. Inayat praised the diversity of individuals in attendance, and members of the MSA appreciated the outpouring of support.
In addition to his MSA role, Inayat—who is completing his Post-Baccalaureate Diploma in December 2017, is also the President of the Pakistan Club and is a social media ambassador for TRU World.  He recently received a Certificate of Recognition from the TRU Board of Governors. He and the MSA team are planning more events including social gatherings, a cricket tournament and other anti-Islamophobia initiatives; all are invited to participate, collaborate and contribute.
Inayat concluded, "I have a passion for my community and a responsibility to my community. I want others to feel safe and supported, so they can find success off and on campus."
Click the link for information about the TRU Muslim Students Association and their upcoming General Annual Meeting.