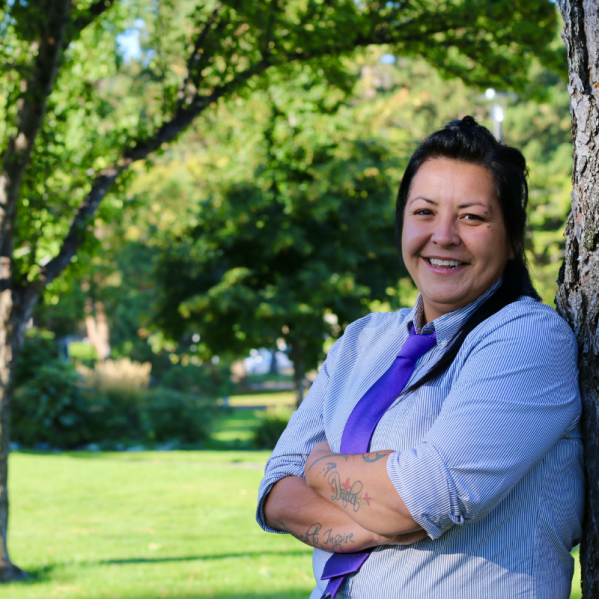 They're community builders, athletes, volunteers and scholars. In our TRU Trailblazers series, we're profiling some of our 2017 major scholarship winners. Read on to meet TRU's most accomplished first year students and learn their best study tips, volunteer suggestions and leadership advice.
TRU Trailblazer: Eureka Carty
Meet Eureka Carty: passionate youth softball coach, McLeod Lake Indian Band trustee and future small-business owner.
Eureka is the recipient of the TRU Potential Entrance Award, a $4,000 scholarship awarded to applicants whose past experiences and accomplishments indicate their ability to unleash their untapped potential through a TRU education.
While most creative students at TRU pursue visual or literary arts routes, Eureka is exploring a different medium: meat.
"I almost think if of it as art. Knife manoeuverability and carving a fine cut off the bone… I find it fascinating," she said, explaining how she sees meat cutting as more of a passion than a profession.
With her bold, hearty laugh and warm personality, Eureka has a magical way of making you feel like you're her best friend. Her positive energy and charisma make it easy to see how she has become a well-respected member of her community and a dedicated youth role model.
"I'm pretty heavily involved in my community back home," Eureka said. "I'm passionate about sports, particularly softball, and I dedicate a lot of time coaching, managing and fundraising for youth teams."
Eureka's volunteer accomplishments are numerous and eclectic, with highlights including volunteering in Tanzania to build a water reservoir and dancing in the 2010 Winter Olympic Opening Ceremony.
She is also active within the McLeod Lake Indian Band.
"As a member serving on the board of trustees, I manage the community trust fund and I'm responsible for a lot of different community projects and group events," she said.
A graduate of Kelly Road secondary's class of 1998, Eureka is no stranger to post-secondary education. In fact, she's a Thompson Rivers University alumna. In 2005, Eureka earned a General Science certificate from TRU, back when the school was still the University College of the Cariboo. She then went on to earn a National Aboriginal Trust certificate from Lethbridge College before moving on to University of Northern British Columbia to earn her certification in wildlife monitoring.
Now Eureka is a student in TRU's Meat Cutting program.
"Starting meat cutting at TRU is the first time I've ever been excited to go to school," she said. "I've experienced the most amazing days since being here and I feel like I've finally found what I want to do when I grow up—at 36 years old!"
The decision to enroll in meat cutting was easy for Eureka.
"I'm old-fashioned in nature and in soul. I love working with my hands and I love manual labour. I believe it teaches discipline and perseverance. I grew up in the outdoors and I've learned a lot about both wildlife monitoring and hunting for sustainability. Plus, I absolutely love eating meat. Jerky for days!" she said with a laugh.
When meat cutting began to appeal to her, she knew exactly where she wanted to study. "TRU is the only place with an accredited foundation studies program and a meat cutting apprenticeship, and I love the comforting vibe here. Not a single person on campus is an outsider because everyone here is unique."
Home is in Northern BC and Eureka hopes to return after she is finished perfecting her craft. She has big plans for using what she has learned in her program as a way to keep giving back to the youth in her community.
"My dream is to open up my own custom meat cutting shop, preferably in the Rocky Mountains. I want to be able to continue supporting youth sporting programs, and I'd like to sponsor youth teams through my shop. I'm really dedicated to helping the less fortunate have more opportunities," Eureka said.
She also had advice for students wanting to become leaders in their own communities.
"Be patient. Be resourceful. Look not at the obvious, but look deeper into the problem. Ask questions and be willing to have conversations. Networking is huge. Don't be afraid to make relationships," she said.
Eureka stressed that this advice also applies to achieving success in school.
"Reach out to classmates and support each other. Always encourage everyone and provide positive feedback. Ask your instructors for help. If you're in the meat cutting program, talk to Cory. He's amazing. He's super knowledgeable and trustworthy. Find an instructor like that in your program and ask for help."
While Eureka continues to carve out her future, she encourages others to work hard to shape their own path to success.
"Plan ahead. I planned a whole year ahead when I applied for this program. It might seem hard but you have to be willing to be patient and persevere. In the end it's simple, but you need to put in the time. Don't ever give up."