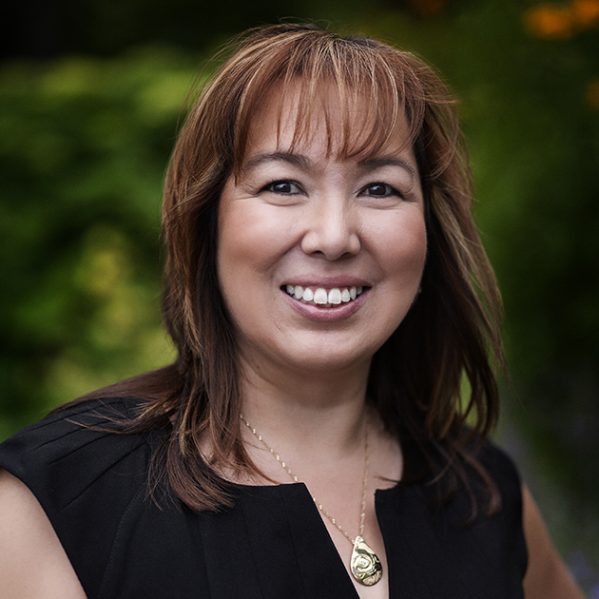 School of Business alumna Francyne Joe has been elected President of the Native Women's Association of Canada (NWAC), a position that will see her play a critical role as a voice of Indigenous women at the national and international level.
Joe stepped into the position as interim president 10 months ago and was elected to a three-year-term at NWAC's 43rd Annual General Assembly (AGA) on July 15, 2017 in Edmonton. 
"The job is extremely demanding, it's basically 24/7 and requires me to be on the road a lot, but it's also afforded me opportunities that I never dreamed of, like speaking on the National Inquiry into Missing and Murdered Indigenous Women and Girls (at the UN in Geneva), or meeting with Prime Minister Justin Trudeau," said Joe.
"Sometimes it's really nerve-wracking and other times I'm like, 'I got this.' The skills I have developed throughout my career and during my time at TRU have given me a network to draw upon, and I do so frequently."
Joe hails from the Lower Nicola Indian Band and spent a lot of time on campus as both a student and a career mentor.
She says the greatest challenge is being taken seriously by the federal government as an organization deserving to sit at the consultation and negotiation table along with the Assembly of First Nations (AFN), Inuit Tapiriit Kanatami (ITK) and Métis National Council (MNC) and lobby for the core operating funds necessary to continue to do advocacy and research for Indigenous women's issues. She also wants to make it clear that NWAC is more than the National Inquiry into Missing and Murdered Indigenous Women and Girls, because NWAC is also empowering women by being involved in developing and chang­ing legislation which affects them, and by involving them in the development and delivery of pro­grams promoting equal opportunities.
"One of the programs I am most excited about is the Aboriginal Women's Business Entrepreneurship Network (AWBEN) program which invites interested and established women entrepreneurs to serve as a Mentor for Métis, Status and Non-Status women interested in starting their own business," she said.
"I love seeing women become financially independent, work together, and contribute to their communities. It's inspiring to see that women can do whatever they want."
Joe will spend the next month meeting with the new NWAC Board of Directors and team in Ottawa, setting up a strategy for the next three, six and nine months. And while she hasn't had a moment to slow down and reflect, she says, "you never know what can change your career path, but I think it's important to take risks and put yourself out there because it's totally worth it."