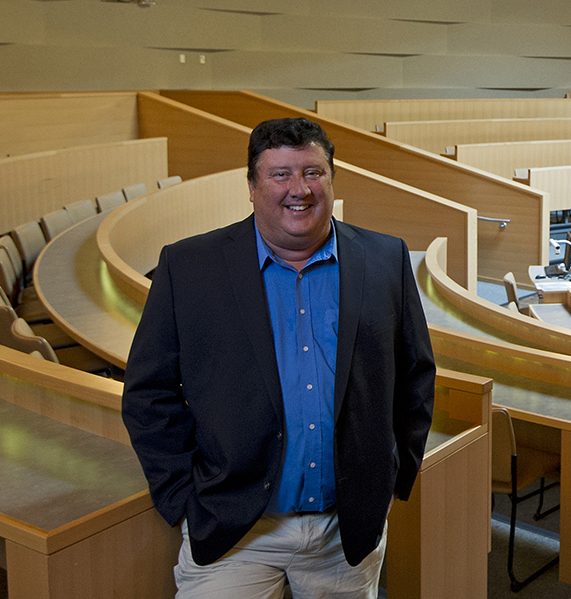 An international network of Indigenous health researchers and knowledge keepers now have a home at TRU thanks to a $1 million Canadian Institute of Health Research (CIHR) grant, making this the largest health research grant in TRU's history.
Led by Dr. Rod McCormick (Kanienkehaka), BC Regional Innovation Chair in Aboriginal Health, this network provides Indigenous health graduate students and new researchers with opportunities to learn about traditional healing, fully preparing them to become leaders in their chosen fields. Funded through the CIHR's Institute of Aboriginal People's Health Indigenous Mentorship Network Program, TRU is now home to the international and eighth branch alongside Canada's seven regional networks.
Called Ombaashi, an Ojibwe word meaning to soar upwards or to be lifted by the wind, this network of Indigenous research experts and mentors extends through Canada, Australia, Fiji, Mexico, Nicaragua, Norway, New Zealand, Samoa, Tonga, and the United States.
Through Ombaashi, Canada's regional networks will provide international Indigenous outreach and opportunities beyond our borders, including online workshops in Indigenous healing, and workshops in Indigenous health research. The objective is to provide trainees and new investigators with the chance to learn about traditional healing knowledge and medicine, and to obtain guidance and support from traditional healers and knowledge keepers worldwide. A feature of the Ombaashi project will be the annual congress bringing together all eight branches of the Program.
The development of Ombaashi is based on the Calls to Action within the Truth and Reconciliation Commission's final report, which asserts that in order to affect change, we must recognize the value of Indigenous healing practices, and calls on the government to increase the number of Indigenous professionals working in the health-care field.
"If you're going to work in Indigenous health you should have knowledge of traditional healing," said McCormick, explaining that this mentorship network will foster "cultural competency."
"This network won't train investigators to be traditional healers, but it will provide them with the opportunity to learn about traditional healing," he said, noting that there is a desire within Indigenous communities to ensure health care practitioners and researchers are knowledgeable and supportive of traditional medicines and practices.
McCormick, an international expert in First Nations mental health, has spent his career focused on research projects that involve Indigenous youth suicide prevention, Indigenous career and life planning, as well as Indigenous mental health and counselling. He has a long history of working with CIHR, and has been the Primary Investigator or Co-PI on more than $29 million in research grants.
The CIHR's Indigenous Mentorship Network Program is transformative and paradigm shifting by creating a national and international Indigenous Mentorship Network that meets the needs of First Nations, Inuit, and Métis health trainees and New Investigators. This timely, unique program will accelerate the advancement of First Nations, Inuit and Metis new investigators in Indigenous health research. 
Quotes
"We are so proud of the critically important work Dr. McCormick has undertaken to establish traditional healing, knowledge and medicine at Thompson Rivers University."
Cathy McLeod, Member of Parliament for Kamloops-Thompson-Cariboo and Official Opposition Critic for Indigenous Affairs
"I acknowledge Professor McCormick's great vision of Ombaashi and his dedication and perseverance in making it a reality through this grant from the Canadian Institute of Health Research (CIHR). I am humbled and honored that he and his outstanding colleagues from nine other countries chose TRU to host the international component of Canada's Indigenous Mentorship Network. This is an important step towards cultural competency on the path of reconciliation."
Alan Shaver, TRU President and Vice-Chancellor
"The genius of Ombaashi's approach is the way it regards research as a form of service while recognizing mentoring as interdisciplinary, international, and intergenerational in nature. This grant provides further national and international recognition for the work of Dr. McCormick and his team — and for the importance of creating a space where both Western and Indigenous ways of medicine can meet."
Will Garrett-Petts, Associate Vice-President of Research and Graduate Studies
"Professor McCormick is nationally and internationally renowned for his research and vision of how we might all contribute to Indigenizing the health sector and research. This is vital for Indigenous families and health workers, and vital to building a better future for Canada. The Faculty is thrilled that our colleague and the Ombaashi network of more than 20 Indigenous researchers has received government support to grow Indigenous capacity in Canadian health training and research."
Airini, Dean of the Faculty of Education and Social Work
More information
Danna Bach, Communications Officer
dbach@tru.ca
250-371-5676
---
The Research Support Fund provides a portion of the costs associated with managing the research funded by the Natural Sciences and Engineering Research Council, the Social Sciences and Humanities Research Council, and the Canadian Institutes of Health Research, such as salaries for staff who provide administration support, training costs for workplace health and safety and maintenance of libraries.