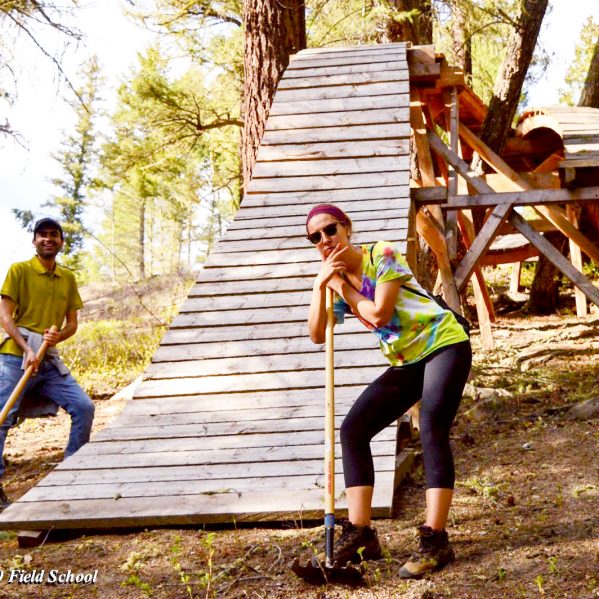 Adventure studies students got more than they bargained for during a two-week field study course that combined sustainable trail development with a unique Indigenous component.
The domestic field school took students across multiple communities to gain an understanding of the policies, procedures and consultations around trail development, trail tourism and mountain bike tourism. The first-time course offering also gave students the opportunity to gain hands-on experience while exploring unique cultural perspectives of BC First Nations.
"When the opportunity arose to craft a field school to encompass getting outdoors while learning about our local communities, I jumped at the opportunity. Partnering with Recreation sites and Trails BC, First Nations communities as well as industry partners made this course a varied and extensive learning opportunity for all involved," said Adventure Studies faculty member, Craig Campbell.
"It's great that we are able to provide unique opportunities for students to expand intercultural understanding through outdoor activities and real-world application while also achieving the course outcomes of understanding policy and procedures."
The course offered students a unique learning experience that would be hard to find anywhere else in the country. Students created a detailed blog outlining their experience throughout the two weeks.
Participants visited communities including the Chief-Will-Yum campsite in Williams Lake, the Xat'sull Heritage Village near Soda Creek, the Esk'et Sqlelten tiny house project in Alkali Lake, and the Simpcw First Nation. They camped out at a recreation site and learned the ins and outs of the trail building industry. Not only did the students gain insight into what it takes to conceptualize and develop multi-use trail systems, they built relationships with First Nations and gained a new respect for the land and the people.
Students learned provincial trail policy and consultation, how to create trail master plans as well as layout and construction. Trail building is a growing industry and not only does it drive tourism, but for communities like the Simpcw First Nations, they provide an avenue for health and wellness while promoting positive habits and community building for youth.
"I developed skills and knowledge that I truly didn't even know I could gain, and tested boundaries that I thought I would never cross," said third-year Bachelor or Tourism Management student, Christine Fergin.
"Being able to meet the incredible people from the Xat'sull, Esk'et, and Simpcw First Nations communities that we did, and the ability to develop relationships with some awesome industry professionals such as Thomas Schoen from Ride the Cariboo and Alan Pine from Alpine Tracker truly enhanced the overall course experience."
The next section of this course will be offered in May 2018.