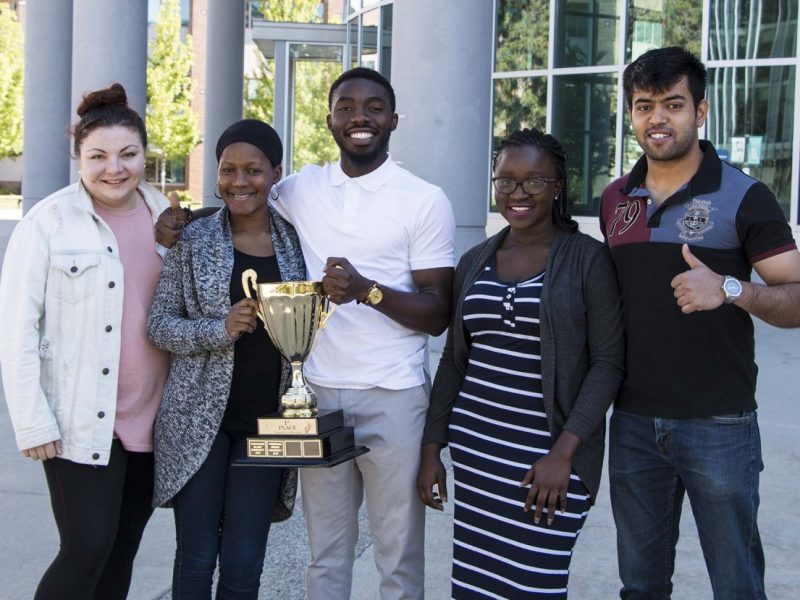 Master of Business (MBA) students want to see you this Saturday for a competitive day of cases, rec sports and spirited hunts.
It's all in preparation for this fall when the School of Business (SoBE) will host the BC MBA Games.
SoBE's MBA students won the games last year in Nanaimo—resulting in the cup coming to Kamloops—and the event being hosted on TRU turf.
An organizing committee of students is gearing up for the games this fall. The first order of business is to put on a one-day-long mini games version, happening this Saturday, June 17.
"The mini games are comparable to the BC MBA Games," said Fatimah Abdullahi, MBA student and volunteer coordinator. "The purpose for this Saturday is to provide more information about the games to students, to have potential participants try out in all competitions and to have volunteers sign up."
From this point until the games in October, approximately 50 to 75 students will need to be recruited as volunteers for the games.
"Volunteering at the BC MBA Games is a brilliant way to discover new interests. It's a great way for students to boost their social skills and to expand their network circles," added Abdullahi.
"A volunteer experience always looks great on a resume and it's important to help make this year's games memorable. The duties of volunteers include but are not limited to helping with logistics, managing the info desks, giving out refreshments, acting as runners, guides and assisting with the sporting events."
The mini games this weekend will consist of a case competition, a scavenger hunt spirit competition, a basketball and a dodgeball competition throughout the day, as well as a free lunch.
The organizing students, who've already been in regular meetings, developing a theme, working on logistics and selecting a charity for the BC MBA Games are excited to showcase TRU, Kamloops and the MBA program as hosts this fall.
They're hoping to gain some additional experience and inspire excitement for the games this weekend.
"The games is an excellent opportunity for the community and school to come together to show the friendliness and inclusivity this city is known for. It is also an excellent way for businesses to get recognition by providing support and sponsorship," said Abdullahi.
The students have a common goal, which they plan to share on Saturday—they want to leave the legacy of having hosted the best games ever.
"From early morning meetings with team members to late night parties and nerve-racking waits while judges decide if your team goes on to the next round, the National MBA Games was so much fun," said Tomi Owoyemi, current MBA student and member of the organizing committee. "The boat cruise and opening ceremony were my most memorable events and I will gladly give up sleep once again to be a part of the experience."
Details on the games this Saturday
When: June 17, 8 a.m. to 5 p.m.
Where: TRU, International Building Foyer, first floor
How to register
Send an email with your team name and members.
Don't have a team?
No problem, come participate!
Confirm your individual or group participation by sending an email to tfedotova@tru.ca by June 14 at 4 p.m.
Team Events
Case Competition: teams of three to four

Sports Events
Morning Basketball: teams of three
Afternoon Dodgeball: teams of five
Spirit Competitions
Scavenger Hunt: teams of two to four or individual
For more information
Tomi Owoyemi
owoyemio15@mytru.ca